Here is our guide to 10 of the best Peak District walks.
Easy:
Curbar Edge to Froggatt Edge Walk – A nice gentle walk through Curbar Edge and Froggatt Edge with excellent views and endless rock climbing opportunities. The walk is 4 miles and will take 2 hours to complete.
Exploring the Chatsworth Estate Walk – Walk through one of the most beautiful estates in the Peak District. The walk is a total of 8 miles, however, can easily be shortened.
Robin Hood Stride – This walk centers on the view of a beautiful rock formation called Mock Beggars Mansion. The walk will take 2 and a half hours, however, please note there are some steep drops.
Hike to Thor's Cave – A 3 hour hike to one of the Peak District's most iconic landmarks, Thor's Cave.
Medium: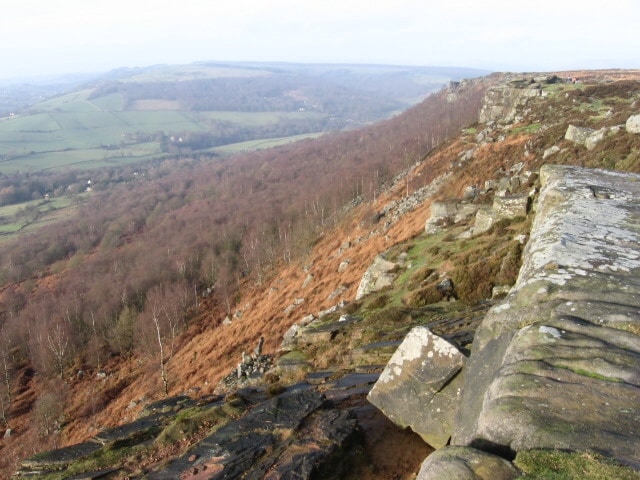 Curbar Edge Walk – Slightly more difficult than the Curbar Edge walk above as it passes over rough and steep ground at times. It is just less than 7 miles and will take between 3 and 4 hours to complete.
Two Dales Walk – Walkers will head around both Monsal and Miller's Dale. The walk may be strenuous for some people but will gift you with fantastic views of a railway viaduct. The walk will take around 4 hours.
The Dovedale Walk – Walk high above Dovedale in the Dovedale ramble. The walk will take you up steep hills during the second half, although it will certainly be worth the climb.
Hard:
Kinder Scout Walk – One of the harder walks in the lineup. Almost 9 miles of rocky terrain to reach the highest point in Derbyshire.
Rowtor Rock Walk – A hard walk due to the series of different terrains and a good set of boots will be required. It will take 4 or so hours over steep fens and moorland, however, it does start and end at a pub.
Eyam and Abney walk – Take a walk around the famous plague city. A brave small village that self imposed a quarantine and let no one in or out. 4 hours walk over rough terrain.