Nestled in Derbyshire's High Peak, Castleton is a historic village renowned for its blend of rugged beauty and tranquil surrounding landscapes.
It boasts a rich tapestry of medieval history, ancient lead mines, and enchanting caverns. Today, this former mining hub is a magnet for tourists, offering scenic walks, unique geological wonders, and a glimpse into its storied past.
Best Things to Do in Castleton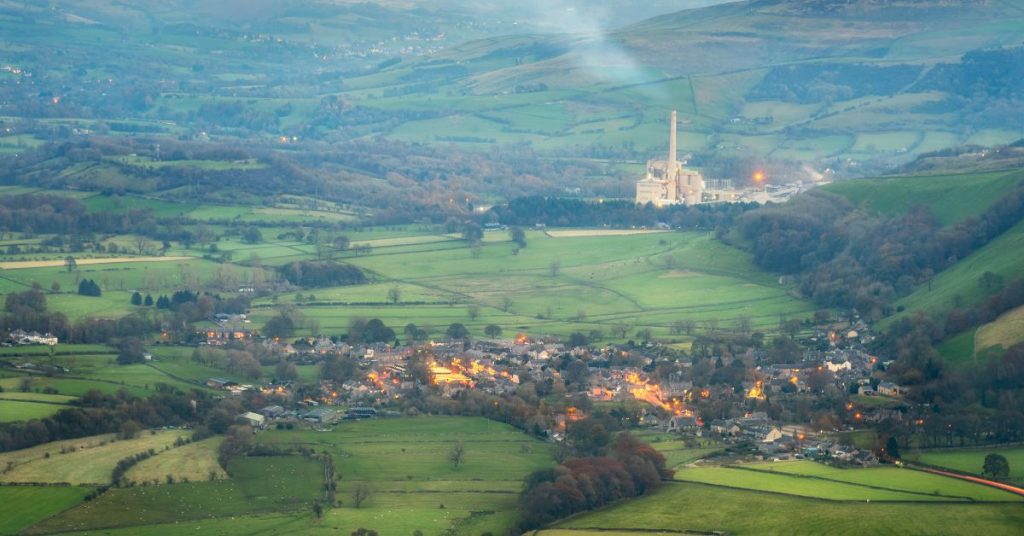 Castleton offers a rich blend of underground wonders, medieval history, scenic hikes, and traditional pub experiences.
From delving into the mesmerising Blue John Cavern to ascending the vantage point of Peveril Castle and indulging in local food, this guide provides an in-depth look into Castleton's best things to do.
In summary:
Visit A Famous Show Cavern
Visit Peveril Castle
Go on a stunning local walk or hike
Visit a local pub
Castleton Garland Day – May 29th
1. Visit A Famous Show Cavern
Castleton is known for its underground beauty. So much so that, there are 4 to choose from.
Below are summaries of each, followed by more detailed overviews:
Blue John Cavern: Best for Mining Heritage –

"Illuminated limestone caves with marine fossils, bones, Blue John mineral mines, plus a craft shop."

Peak Cavern – the "Devil's Arse": Best for Historical Intrigue (Closest to Castleton) –

"Enter the UK's largest cave entrance for guided tours of a cave network with unusual rock formations."

Speedwell Cavern: Best for an Underground Adventure –

"Boat tours of 18th-century lead-mining caverns 450m below ground and a huge subterranean lake."

Treak Cliff Cavern: Best for Natural Formations –

"Network of caverns with rare Blue John stone and stalactites, for guided tours and visitor centre."
The Blue John Cavern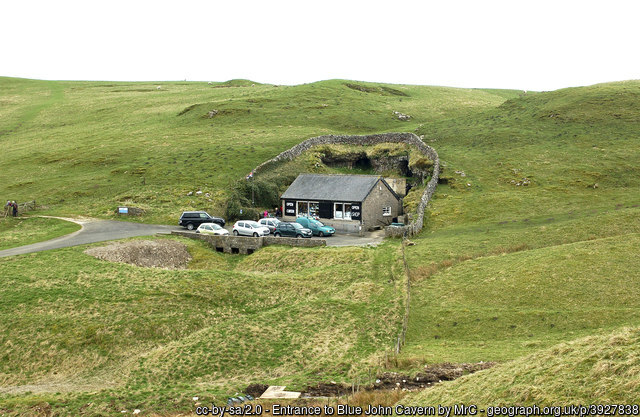 Address: The Blue John Cavern, Castleton, Hope Valley, S33 8WP
This cavern is known for its rich deposits of Blue John Stone, an exquisite mineral that has been mined for centuries.
With a history rooted in mining and the current mining activities still taking place, visitors get a unique blend of natural beauty and industrial heritage.
Visitor Information:
Opening Times: 9.30 am to 3:00 pm daily (winter hours). The first tour is at 10:00 am, and the last is at 3:00 pm.
Duration: Tours last between 50 minutes to 1 hour, with tours descending approximately every 45 to 50 minutes.
Admission:
Adults: £18.00
Children (5-15 years): £11.00
Senior Citizens & Students: £15.00
Family Ticket (2 adults & 2 children): £50.00
Group & school rates are available; booking is required.
Note: The Blue John caven contains 245 steps to navigate both down and back, so wear appropriate footwear.
Peak Cavern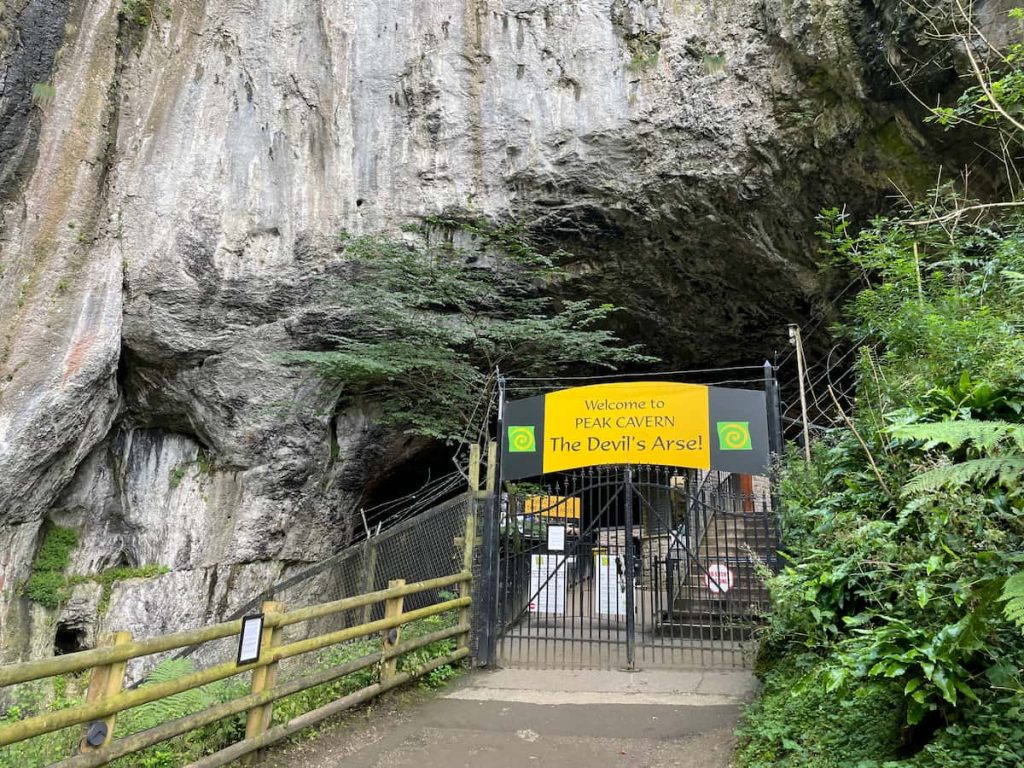 Address: Peak Cavern, Castleton, Hope Valley, S33 8WS
Known colloquially as the Devil's Arse, Peak Cavern has a storied past.
From housing the last of Britain's troglodytes to being a refuge for bandits and thieves, its history is as vast and varied as the chambers within.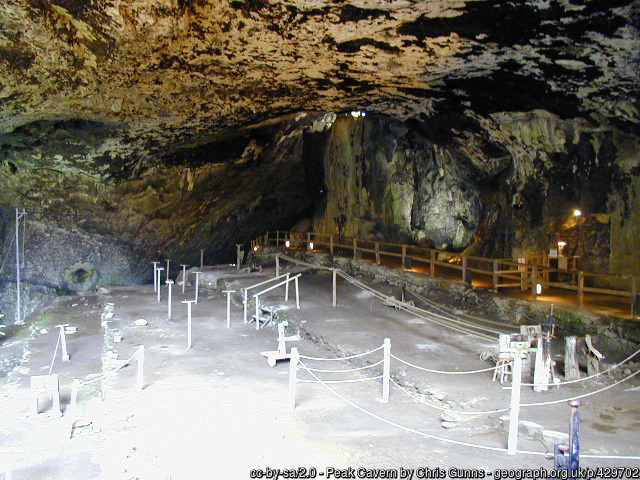 It's also just a short walk from Castleton.
Visitor information:
60-75 minute guided tours.
Starts daily on the hour, 10 am to 4 pm in summer.
Dogs on short leads are allowed; no wheelchairs/pushchairs beyond the entrance.
Facilities:
No toilets at the cavern; the nearest is in the village car park.
Admission:
Adults: £18.75
Children: £11.00
Note: The cavern's internal temperature is 8°C, so wear warm and waterproof clothing, as well as sturdy footwear needed.
Speedwell Cavern
Address: Speedwell Cavern, Winnats Pass, Castleton, Hope Valley, S33 8WA
With an 800-meter canal journey that plunges into the depths to explore the cavern, Speedwell offers an unparalleled subterranean adventure.
The boat journey and the stunning Bottomless Pit make this cavern an unforgettable experience.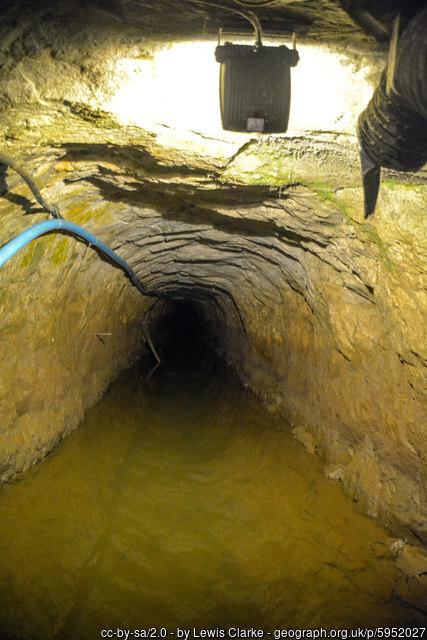 Visitor information
Duration: 40-65 minutes, depending on the season – Tours start 20 minutes after the ticket time.
Operating Hours:
April to October: Daily 10.00 am to 5.00 pm; Last Tour 4.00 pm (later at peak times).
November to March: Daily 10.00 am to 4.00 pm; Last Tour 3.00 pm.
Admissions:
Adults: £18.75
Child (5-15 Years): £11.00
Children 4 & Under: Free (when seated on an adult's knee).
Note: The entrance involves descending 106 steps on a 45° slope, as well as enclosed spaces. The inside temperature is 9°C underground; wear warm clothing and flat shoes.
Treak Cliff Cavern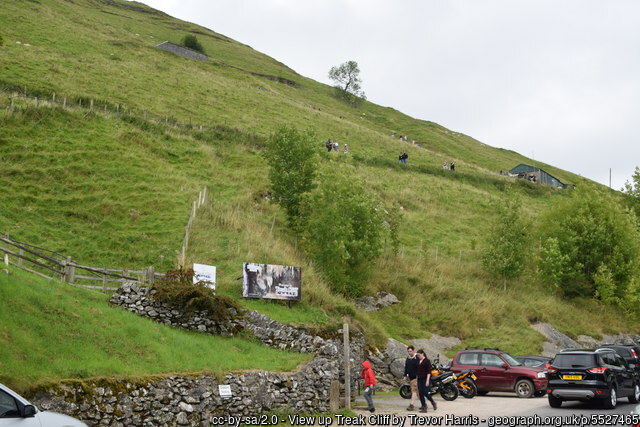 Address: Treak Cliff Cavern, Cross Street, Castleton, Hope Valley, S33 8WH
Treak Cliff boasts an array of magnificent stalactites and stalagmites, from the charming Fairyland to the colossal Dome of St Pauls.
Its geological significance is highlighted by the abundant veins of Blue John Stone and its status as a site of special scientific interest.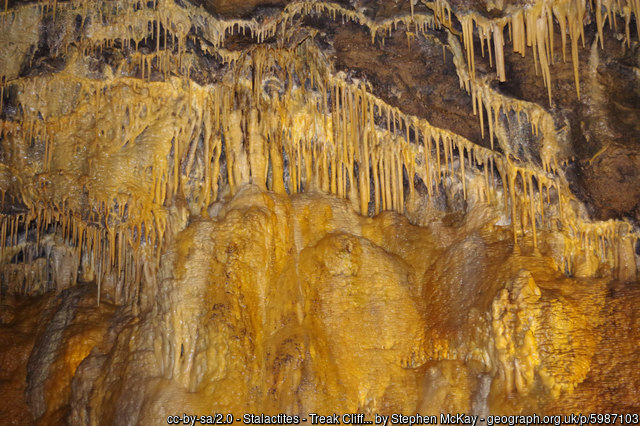 Visitor information:
Self-Guided Tours
Not wheelchair/pram friendly, but walking disabled can visit.
Dogs are allowed on leads.
On-site cafe open: 10 am – 4 pm
Open Hours:
Mar 1 – Oct 31: 9.30 am – 4.30 pm (Last entry: 4 pm)
Nov 1 – Feb 29: 10 am – 4 pm (Last tour: 3 pm)
Admissions:
Adults: £14.50, Early Bird Online: £11.50
Students (with ID): £11, Early Bird Online: £9
Children (5-17 years): £8, Early Bird Online: £6.50
Under 5: Free

Early Bird is online-only, before 10:55 am.
2. Visit Peveril Castle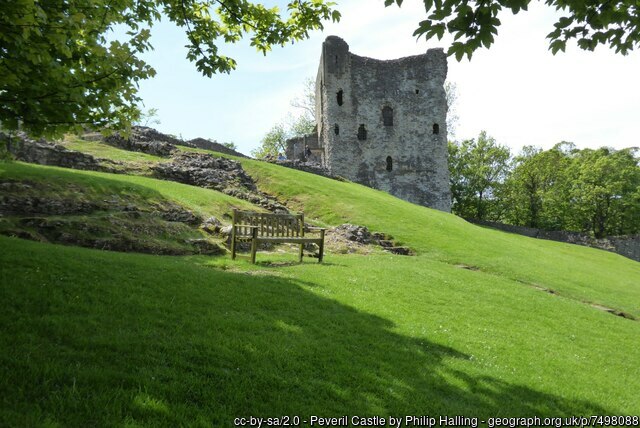 Address: Market Pl, Castleton, Hope Valley S33 8WQ
Perched majestically over the village of Castleton, Derbyshire, Peveril Castle offers visitors a journey through time.
Established sometime between 1066 and 1086, the castle was once the epicentre of William Peverel's vast estates.
Its ruins today echo tales of Norman conquests, royal feuds, and feudal baronies.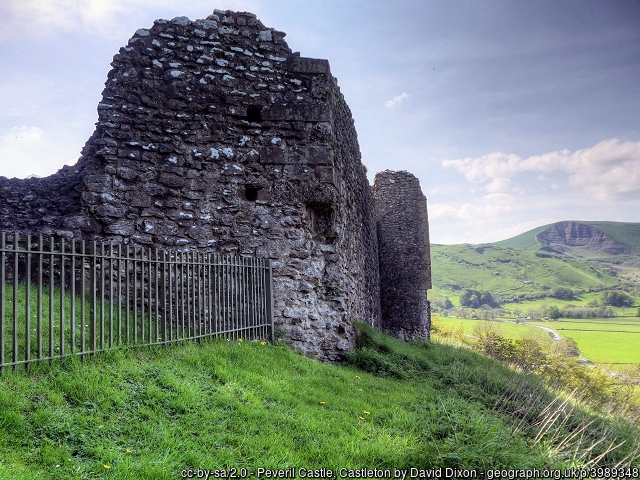 But the castle is not just a destination for history buffs; from its vantage point, the castle provides panoramic views of the Hope Valley and Cave Dale. It's a photographer's delight and a hiker's reward.
In the image above, if you have a keen eye, you should be able to see Mam Tor Hill on the right.
Visitor information:
Opening Times: Open daily from 10 am to 5 pm (times may vary seasonally).
Entry Fees: Adults – £7.50, Children (5-15 years) – £4.50, Family ticket (2 adults, 3 children) – £19.50. English Heritage members enjoy free entry.
Facilities: On-site parking, a gift shop, and an information centre. Wheelchair access is limited due to the terrain.
Events: Peveril Castle often hosts themed events, reenactments, and family activity days. Check their official website for the latest schedule.
View more information on the English Heritage Website
Tip: Wear sturdy shoes for the uphill trek
3. Hike in the Surrounding Area
There is a range of breathtaking Castleton walks, directly accessible from the village, that navigate through the valleys and across the peaks.
Some of the most popular include:
Mam Tor
Mam Tor is one of the most popular walks in the Peak District, offering stunning panoramic views of Castleton and the surrounding valleys.
Standing at 517m tall, the ancient hill has a well-groomed path which stretches for a long distance along the ridge line.
View all of the Mam Tor walks here (The circular route passes through Castleton)
Cave Dale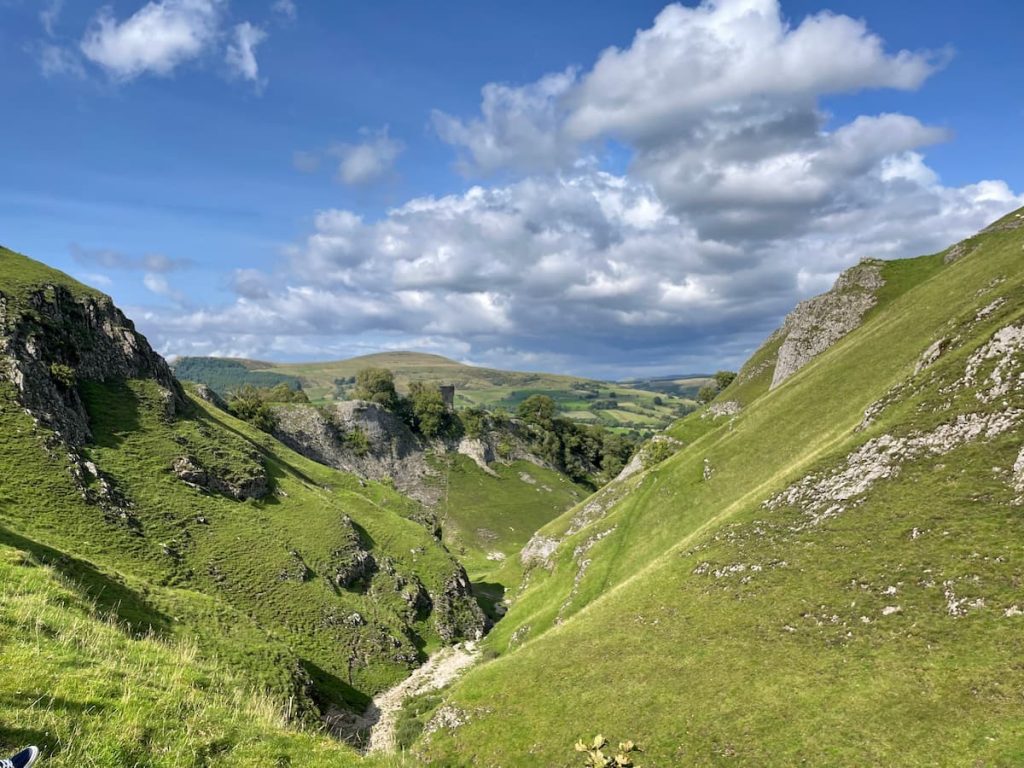 The Cave Dale walk starts in Castleton, where the valley sides are almost perpendicular and over 50 metres in height.
You'll ascend the limestone valley out of the village, offering picturesque views of the castle, where you'll also have the opportunity to explore some caves.
After, you'll turn back with stunning views of the surrounding valley, heading back into Castleton.
View, the full Cave Dale walk.
Winnat Pass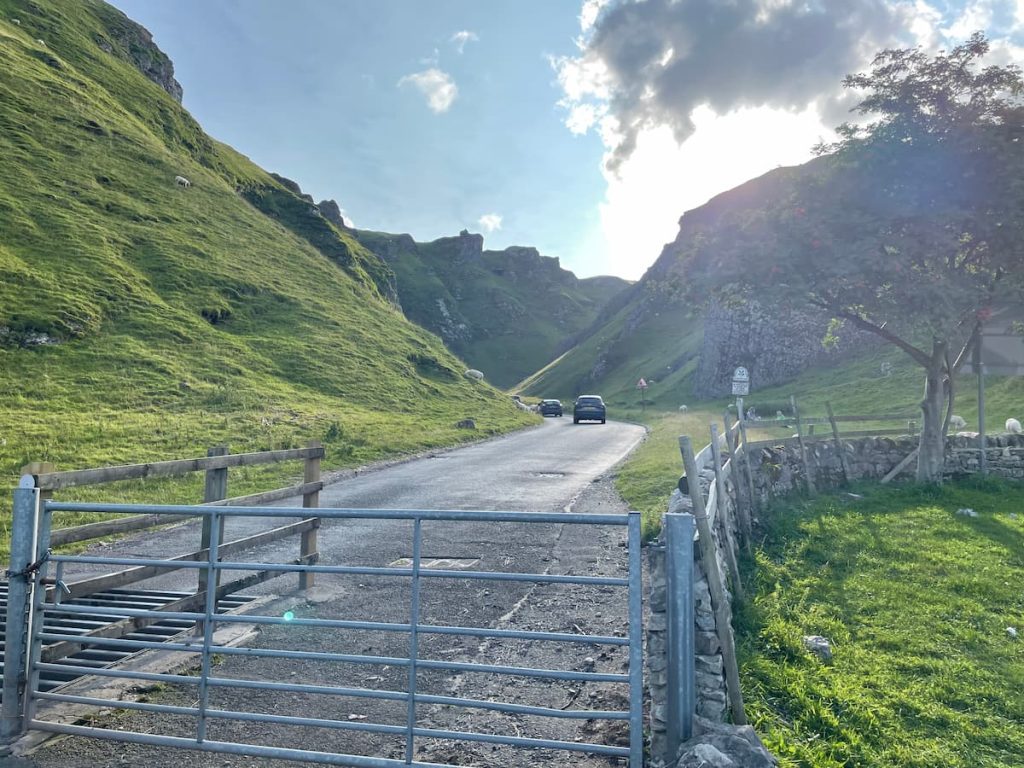 Winnat Pass is a steep road and gorge with a gradient of over 28%, banned for coaches and trucks.
Heading west out of Castleton, this walk offers views, from below, then above at this intriguing road.
Note: There are not many designated paths here, but visitors tend to follow the well-trodden path along the road or tracks that head up the hillside.
View my full guide to the Winnats Pass walk.
4. Castleton Museum & Visitors Centre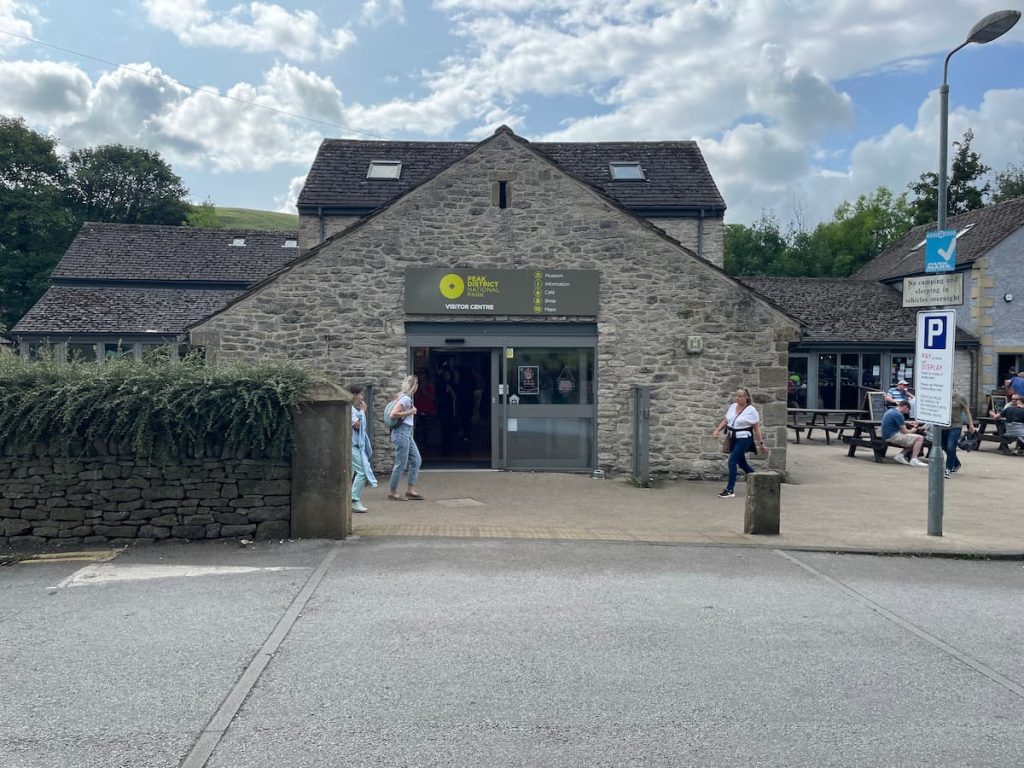 Address: Buxton Road, Castleton, Hope Valley, S33 8WN
The newly refurbished Castleton Museum and Visitors, is the main visitors centre for the peak district, offering an insight into the park and village's accent history with an interactive display made with cutting-edge technology as well as basic information about the Peak District.
While not a world-renowned museum, you're bound to learn something new if you stop here.
Open Hours:
Until 30 April:

Every day: 10 am to 4.30 pm

From 1 May:

Every day: 9.30 am to 5 pm
Admission:
*The car park is paid though
5. Visit a local Pub
Castleton has a range of fabulously old inns, serving refreshments and classic pub grub, perfect after a long walk in the surrounding landscape.
Some of the most popular pubs include:
Ye Olde Nags Head
Address: Cross St, Castleton, Hope Valley S33 8WH
The 7th-century former coaching inn, is a traditional village pub, with a cosy atmosphere.
Ye Olde Nags Head Menu & Pub Info
Bulls Head, Castleton
Address: Cross St, Castleton, Hope Valley S33 8WH
The Bulls Head is a cosy pub furnished with beamed ceilings, oak-panelled walls and log-burning fireplaces, serving classic pub meals. Outside seating is also available.
Bulls Head, Castleton Menu & Pub Info
The George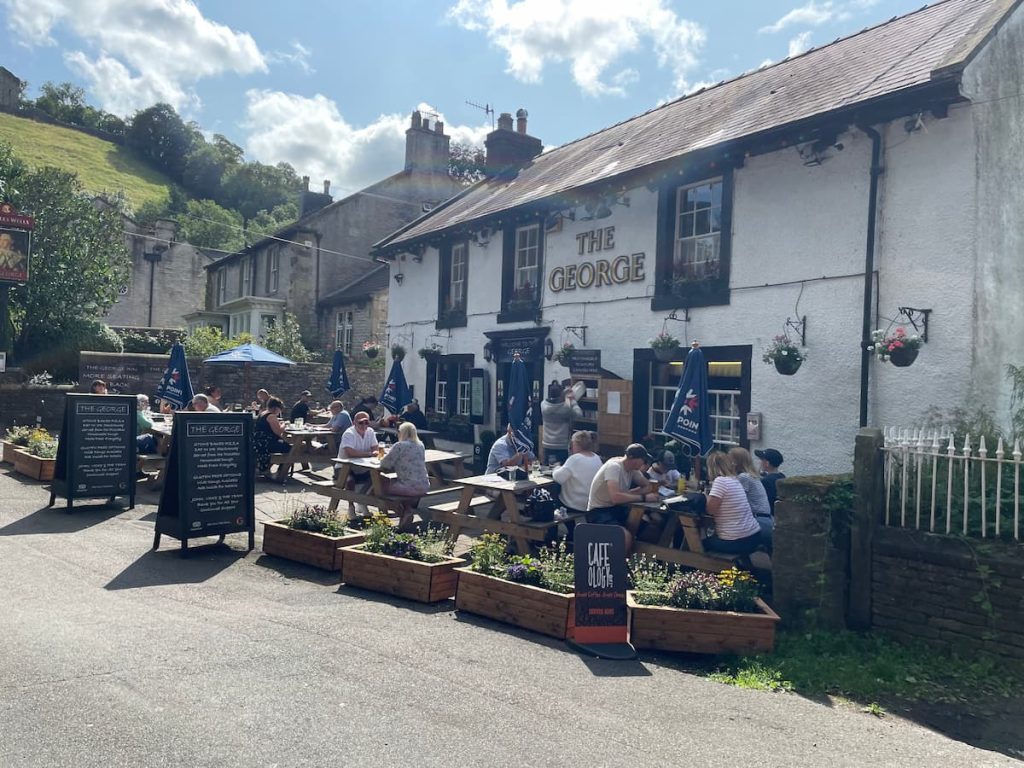 Address: The George, Castle St, Castleton, Hope Valley S33 8WG
The cosy bar has wood panelling, exposed stone walls and fireplaces, and offers a basic pub grub menu featuring local produce.
There's also a beer garden with castle views.
Ye Olde Cheshire Cheese Inn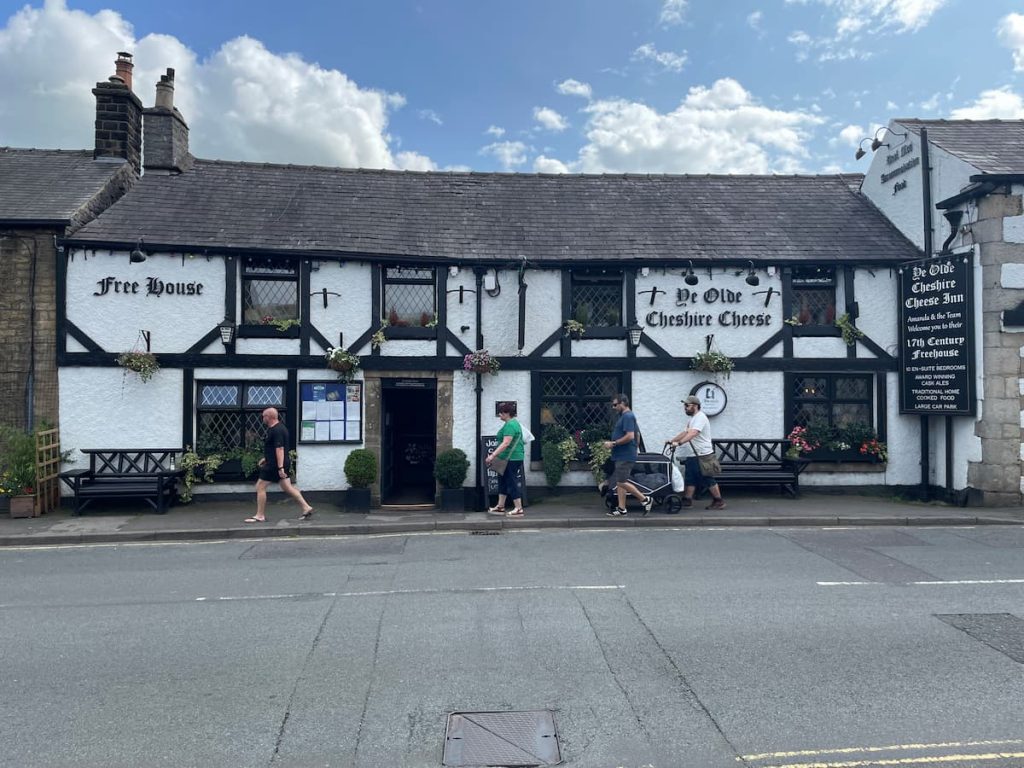 Address: How Ln, Castleton, Hope Valley S33 8WJ
The restaurant, also offers a pub grub menu, while the cosy, wood-beamed bar features local ales.
Ye Olde Cheshire Cheese Inn Menu & Pub Info
6. Castleton Garland Day – May 29th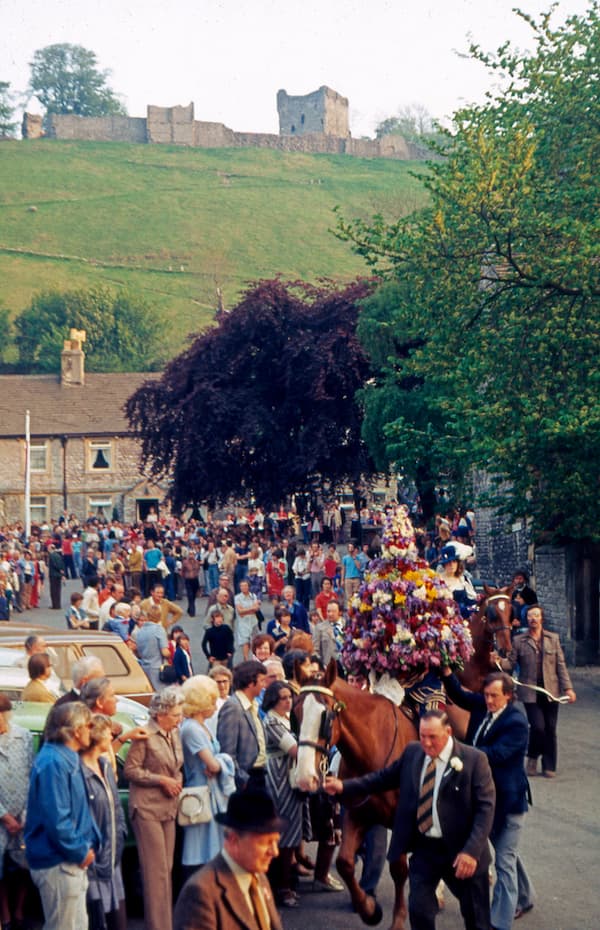 If you're lucky enough to visit on the 29th of May. Garland day awaits you.
Castleton's Garland Day is a unique and historic event celebrated annually. (The above image was taken on May 29th, 1976)
The tradition, which has its roots going back several centuries, is held on Oak Apple Day, May 29th, commemorating the restoration of King Charles II in 1660.
The central figure of the celebration is the Garland King, who is dressed in a Stuart costume and wears a heavy, bell-shaped floral garland over his head and body.
The King rides through the village on horseback, accompanied by his consort (the Queen), along with a procession of villagers and musicians.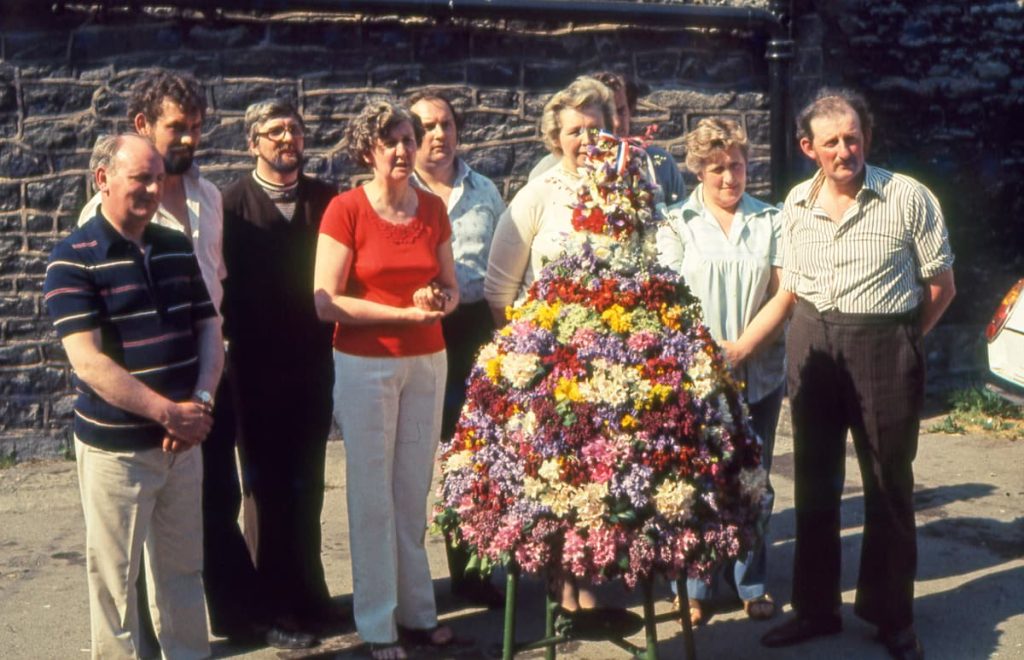 Garland Day (May 29), Castleton, Derbyshire, c1976. Garland King (not in costume) is on the far right.
This is then all followed by Maypole dancing.
For specific timings and more insights, explore the full itinerary on Castleton Garland Day's official site.
Castleton FAQs
Why is Castleton so popular?
Castleton is popular for a variety of reasons:
Natural Beauty: Located in the heart of the Peak District, Castleton offers stunning landscapes, limestone dales, and scenic views, which make it a favourite spot for, walkers, and photographers.
Caverns: Castleton is famous for its 4 main caves and caverns, which attract many visitors keen to explore these natural subterranean wonders.
Historic Sites: With historical attractions such as Peveril Castle, and a wealth of history dotted around the village. Castleton appeals to history enthusiasts.
Events: The village is also known for its traditional events, notably the Castleton Garland Day.
Facilities: Castleton has a range of facilities for visitors, including shops, pubs, restaurants, and accommodations, making it a convenient base for exploring the wider Peak District National Park.
What is the most famous cavern in Castleton?
Castleton is home to several caverns, but one of the most famous is the Blue John Cavern. It's renowned for its unique mineral deposits, particularly the Blue John stone, a semi-precious mineral used in jewellery and ornaments.
Can you go in Peveril Castle?
Yes, you can visit Peveril Castle. Managed by English Heritage, the castle is open to the public and offers not only a glimpse into its medieval past but also provides panoramic views of the Hope Valley and Castleton.
There's an entrance fee, but members of English Heritage can access it for free.
How to get to Castleton?
Castleton is located in the Peak District National Park in Derbyshire, England.
By Car: It's easily accessible by car and lies about 10 miles from Buxton and 17 miles from Sheffield. The main routes into Castleton are the A6187 from Sheffield/Hathersage and the A623 from Chapel-en-le-Frith/Buxton.
By Bus: Regular bus services connect Castleton with Sheffield, Hope, and other neighbouring towns and villages.
By Train: While Castleton doesn't have its own train station, the nearest station is in Hope, which is about 3 miles away. From Hope, you can take a bus or taxi to Castleton.
How much is the parking at Castleton Visitor Centre?
Prices are subject to change, but at the time of writing, the prices for cars were:
0-1 Hours: £1.60
1-2 Hours: £2.50
2-4 Hours: 4.00
Upto 10 Hours: £6.00
24 Hours: £7.00