Nestled just outside of Oldham and the village of Greenfield, Dovestone Reservoir is a tranquil spot on the western edge of the Peak District National Park, offering a leisurely and scenic walk suitable for all.
Whether you're a casual walker or an avid hiker, the reservoir's serene environment and picturesque landscapes provide a refreshing experience.
So lace up those boots, and let's discuss everything you need to know before your next visit!
Getting to Dovestone Reservoir
Dovestone Reservoir is best accessed by car, as there are limited transport options into the local area.
For many, the Reservoir is one of the Peak District's closest spots, just a forty-minute drive from Manchester and Huddersfield.
Dovestone Reservoir Parking
The primary parking area is located directly adjacent to the Dam embankment, not far from the sailing club. Alternatively, there is limited roadside parking available around the reservoir, which is free of charge.
Due to the reservoir's popularity and limited parking availability, it's advisable to arrive early or later in the afternoon to secure a spot.
Official Dovestone Reservoir Main Car Park (Paid)
Pay and Display Cost:
£1 – 0-2 Hours
£2 – 2-4 Hours
£4 – All-day
This is the primary parking area for the reservoir and has only 117 spaces. It typically becomes quite crowded, particularly during summer and on weekends. It is recommended to arrive early or later in the afternoon to secure a parking spot.
Note: RSPB members can park for free; simply display your membership badge on the windshield.
Lay-bys Along the A635 (Free)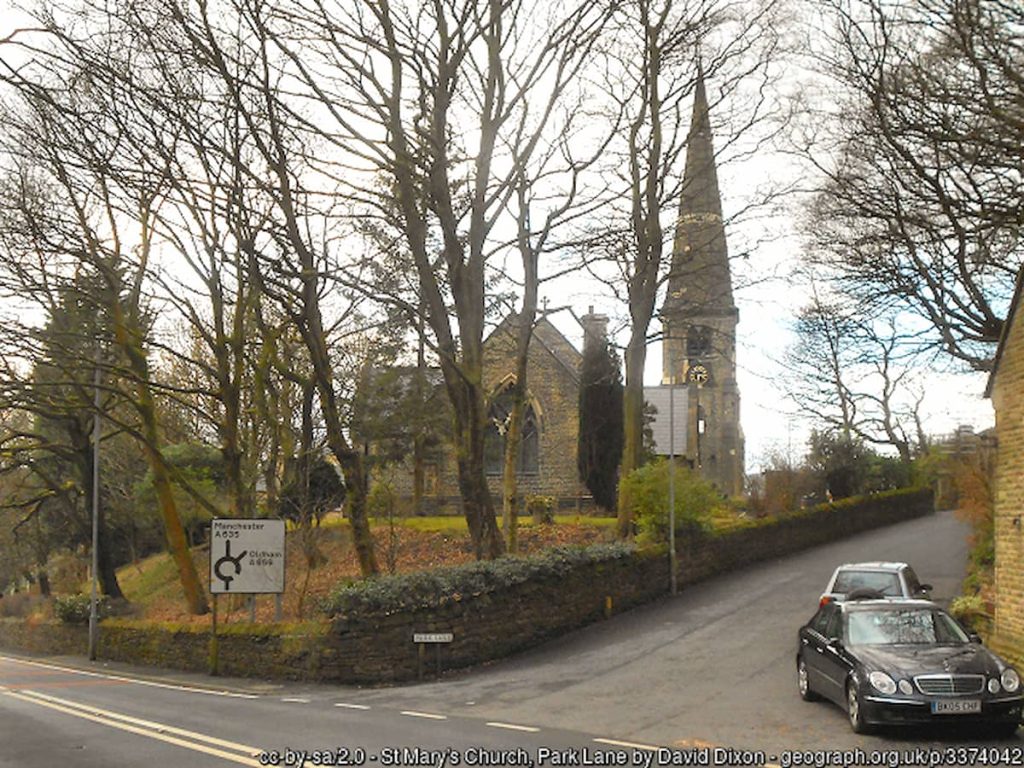 Should the official car park be full, additional lay-by and roadside parking are available on the A635 (Holmfirth Rd) and surrounding lanes. However, please ensure not to obstruct the road or local residences to avoid any issues or parking tickets.
From these spots, expect a 5-10 minute walk back to the Main Car Park, the starting point of this walking route.
Below are some specific spots I saw during my last visit:
Please note: Typically, there is an additional parking area known as "Binn Green car park" further along the A635, but it has been closed for construction since autumn 2023. If it has since reopened, please inform me so I can update this post – your help is greatly appreciated! Additionally, the toilets at Binn Green are temporarily closed due to the construction.
Dovestone Reservoir by Public Transport
Dovestone Reservoir is generally not easily accessible by public transport, as there are, to my knowledge, no regular bus or train services that operate close to the reservoir.
However, if public transport is your only means and you are determined to visit, you can take the Transpennine Express from Manchester to Leeds, getting off at Greenfield Station. From there, it is either a 40-minute walk or a short bus followed by a walk to the reservoir.
Dovestone Reservoir Circular Walking Map & Route
Download file for GPS
This easy circular walk heads out of the car park and straight onto the tarmac and gravel path, which gently runs around the complete edge of the reservoir with only a small amount of elevation gain.
You can also extend your walk further around to Yeoman Hey Reservoir or even higher through to Greenfield Reservoir and up onto Saddleworth Moor, The Trinnacle, as well as Dovestones Edge, offering terrific views across the reservoir and beyond into Greater Manchester.
Dovestone Reservoir Walk Step by Step – 4.3km (2.7mi) ~ 1-2 hr
1. Begin by exiting the top of the car park and ascending the stairs. You'll then be at the reservoir level, providing a comprehensive view of your upcoming walk.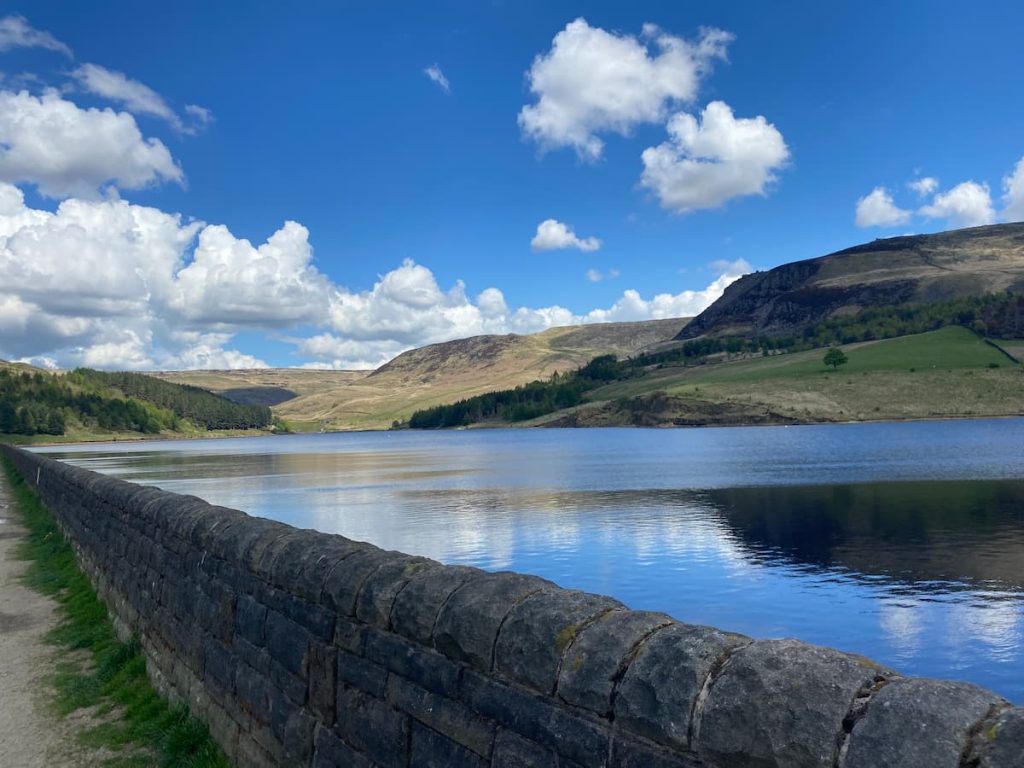 2. Proceed left along the dam wall footpath. Continue until you encounter the bridge over the slipway, then turn right, passing the plunge pools.

3. At this point, the path becomes more gravelly but remains accessible for most. Keep following the path as it winds around the end of the reservoir and along the tree line.

4. After an uphill stretch, you'll approach the Yeoman Hey Reservoir Wall. Follow the footpath directly across. This location offers one of the finest vantage points on the walk for breathtaking photos.


5. Resume your journey down the path on the opposite side, beginning to circle back. Soon, you'll arrive at Ashway Gap, the location of a once-grand house. With several picnic benches available, it's an ideal place for a restful break.

6. Continue along the path as it traverses a wooded section and curves around. Eventually, you'll cross a small brook and return to the tarmac at Chew Rd.
EXTRA: If you wish to extend the walk, turn left on Chew Rd and follow the footpath through Chew Valley to Chew Reservoir.
7. Opt for the right path and progress along the road, passing the boat yard and Dovestone Sailing Club. This will lead you back to the main starting car park.
Amenities & Facilities
The reservoir offers limited amenities, so please come prepared with all you need and ensure you take everything back with you to maintain the cleanliness and natural beauty for a walk in the Peak District.
Outlined below are the available facilities and amenities both on-site at the reservoir and in the nearby village.
At the Main CarPark & Reservoir
Public Toilets:


Operating Hours: Mon-Sat: 8 am – 5.15 pm, Sun: 8 am – 4 pm.

Ice Cream Van:


The ice cream van in the car park usually operates throughout the summer and on weekends. Additionally, a horse box drinks cart is often available, serving hot and cold beverages along with a limited selection of hot food items, such as hot dogs and sausage rolls.

Water Sports:


Dovestone Sailing Club welcomes both experienced individuals and those new to sailing, offering training and coaching to adults and young people. This instruction aims to develop skills necessary for participation in club racing and other activities. More information can be found here.

Orienteering:


Orienteering activities are also available, with a course maintained by GMOA. Additional information is available here.
Greenfield
Greenfield Village is situated a short distance from Dovestone Reservoir and is easily walkable for those desiring additional steps.
The village houses all the necessary amenities, including a large Tesco, along with various pubs and cafés. Below are some notable establishments I encountered during my visit:
This pub, located very close to the reservoir, offers outdoor seating and a wide variety of dishes, ideal for rejuvenating after a walk.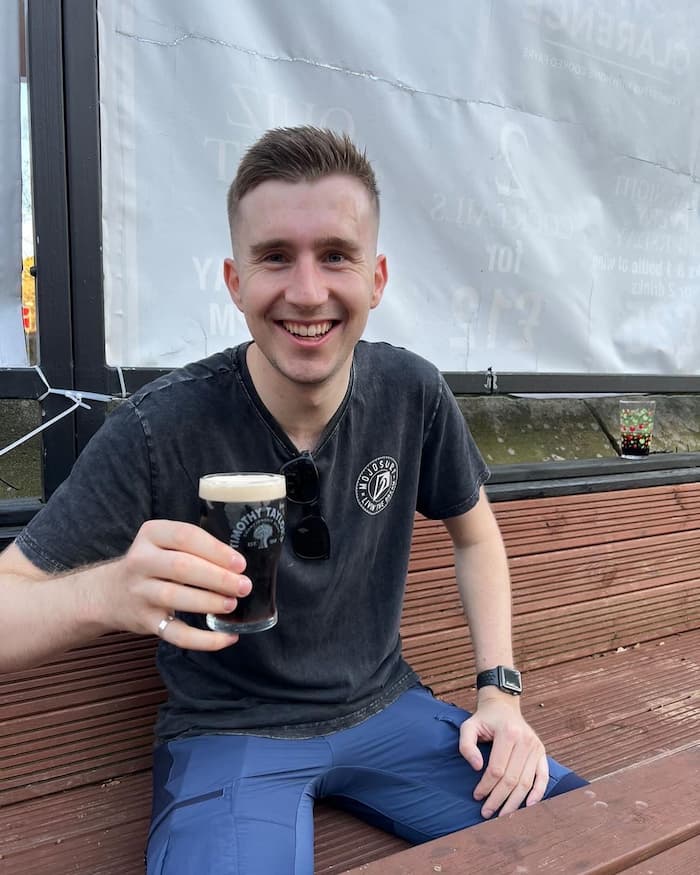 Although not within walking distance from Dovestones, Caffè Grande Abaco in Uppermill is a brief drive away and provides a pleasant coffee shop stop post-hike. The café serves a selection of soups, salads, sandwiches, and specials and is highly regarded in the local area.
History & Significance of the Reservoir
Nestled in Saddleworth Moor, it's steeped in rich history and architectural innovation. It was constructed as a part of a reservoir scheme by the Ashton-under-Lyne, Stalybridge and Dukinfield Waterworks Joint Committee, initiated in 1870, to collect water from the surrounding moorland and serve as a crucial water supply to the local area.
The reservoir also has historical significance, with former landmarks such as the Neo-Gothic mansion built by John Platt in 1850.
The construction of the dam features a unique design stretching 38 metres high and 550 long, devoid of a traditional spillway but equipped with an ingenious emergency overflow system and a large bell-mouth drop-shaft overflow, which the route walks past.
The reservoir is not just a testament to architectural brilliance but also serves as an ecological haven, hosting the "Life for a Life" plantation initiative, allowing individuals to plant trees in a loved one's name, and being managed in parts by the Royal Society for the Protection of Birds (RSPB) in association with United Utilities, to help protect this marvellous area.
Dovestone Reservoir – FAQs
How long is the walk around Dovestone Reservoir?
The walk around Dovestone Reservoir is approximately 4.3km (2.7 mi) long and typically takes around 1 to 2 hours to complete depending on your speed and excluding rest stops.
What time does the Dovestone Reservoir open?
Dovestone Reservoir is open to visitors 24/7
Can you swim at Dovestones Reservoir?
No, swimming is strictly forbidden at Dovestones Reservoir, as well as most reservoirs in the Peak District, due to the presence of deep water and outlet pipes that can create dangerous undercurrents.
However, activities like sailing and windsurfing are permitted, with regular races occurring at the reservoir.
Is Dovestone Reservoir pram friendly?
Yes, Dovestone Reservoir features a well-paved gravel path with only a few minor uphill sections, making it suitable for prams.
Can you cycle around Dovestone Reservoir?
Yes, cycling is allowed by United Utilities on the hard tracks around the reservoir areas and also on the Chew Rd leading to Chew Reservoir. However, cyclists must yield to pedestrians. Cycling is not permitted on other footpaths with soft surfaces, although is commonly used by mountain bikers.
Is dovestone reservoir dog-walking friendly?
Yes, Dovestone Reservoir is suitable for dog walking and is highly popular with dogs.