Imagine standing atop a hill, wind in your hair, with sprawling views of the magnificent Peak District's Ladybower reservoir before you. This can be you at Bamford Edge.
Whether you're a seasoned hiker or a leisurely walker, this guide equips you with everything you need to embark on this journey.
I'll address your parking worries, share insider information, and guide you through both the direct and circular routes.
Lace-up; your hike awaits!
Getting to Bamford Edge
Getting to Bamford Edge is best accessed by car as it is usually the quickest and most direct option. However, there are fairly good transport connections with a train station in Bamford. Rare for many popular peak district spots.
Bamford Edge – By Car & Parking
By car, you have the main Heatherdene car park. There are also free layby where you can park, but these can tend to get full.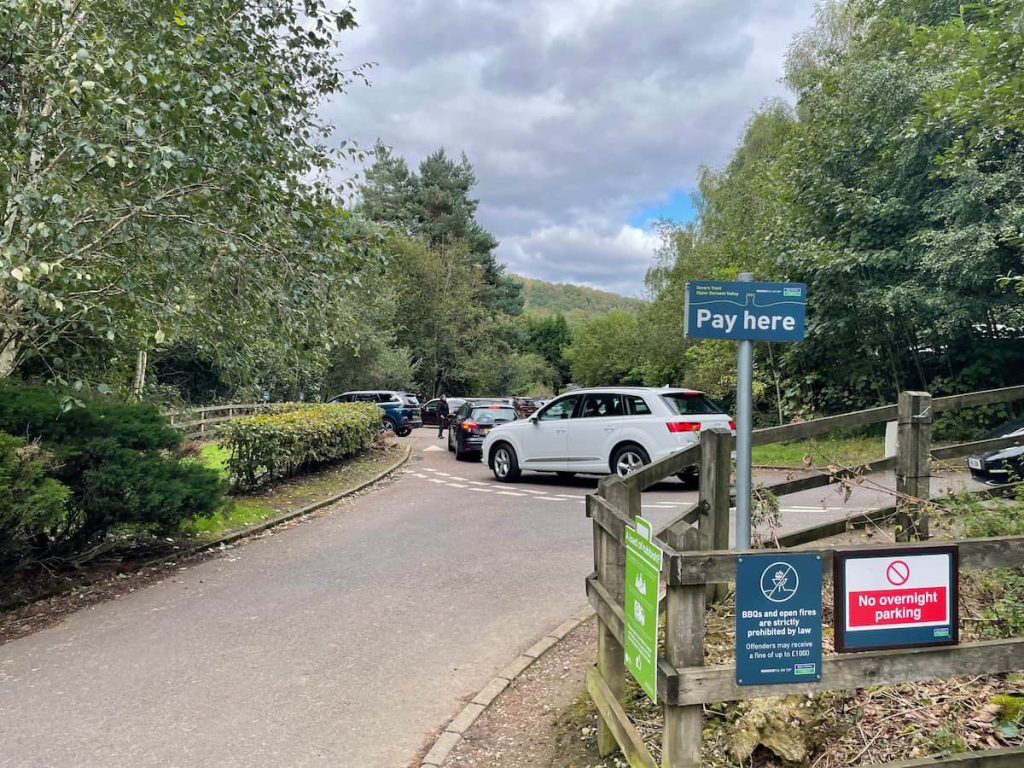 What Three Words: ///halt.bandaged.hindering
Postcode: S33 0AQ
Heatherdene car park is a major parking area for the Ladybower reservoir, with ample parking and great access to this route to Bamford Edge.
Price update: As of September 2023, the price was £3.50 for 2 hours or £6.00 for all day. You can pay via contactless or use coins, should you prefer.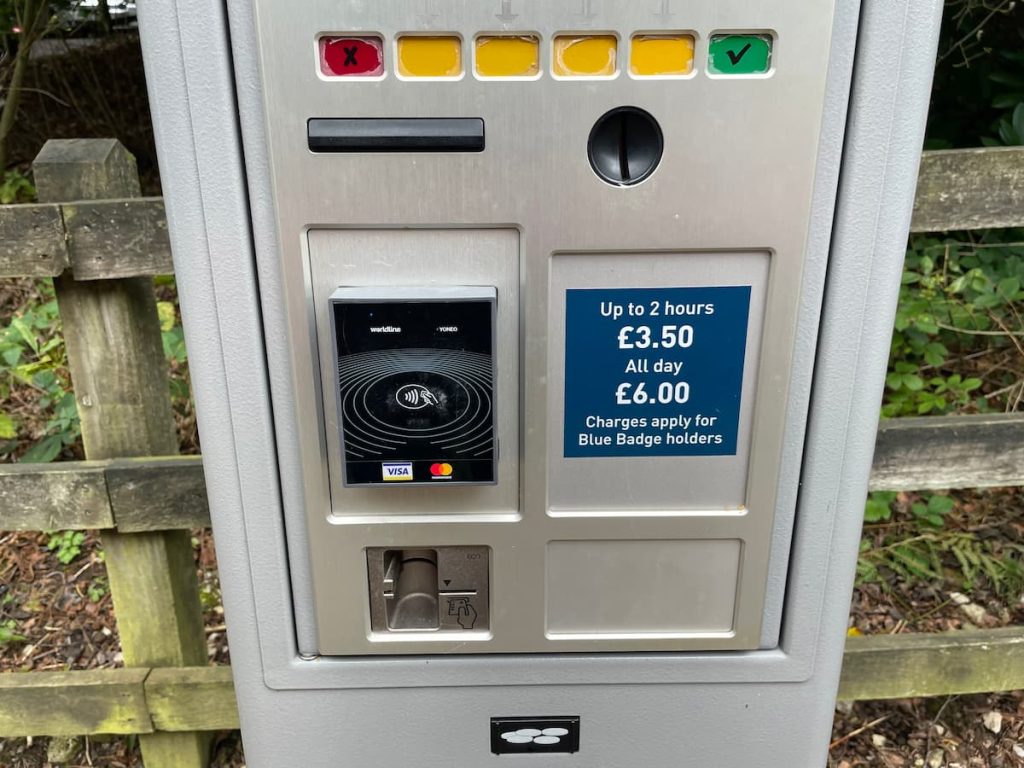 Most walks to the major landmarks in the area, including Bamford Edge or Win Hill , will usually take over 2 hours to your probably safest getting the all-day parking.
The car park also has toilets, water fountains and usually an ice cream van near the reservoir on a hot summer's day.
Layby
What Three Words: ///visits.completed.truck
Postcode: Not accurate enough
New Rd, has free laybys, but there are only 10-15 spaces, so it can get quite full.
If you park here, you'll be joining the route further along, but you can still quickly access the Bamford Edge viewing point (closest access) or do the full walk mentioned in this article.
Public Transport Options to Bamford Edge
There are surprisingly good public transport options, with a train station in Bramford and a regular bus route that passes by.
Train
There's a Northern Line train from Sheffield-Manchester which runs hourly, stopping at Bamford Station, followed by a 15-minute walk to Bamford village, where you'll be able to join the circular route, which goes to Bramford edge, or go anti-clockwise to get direct access to the route.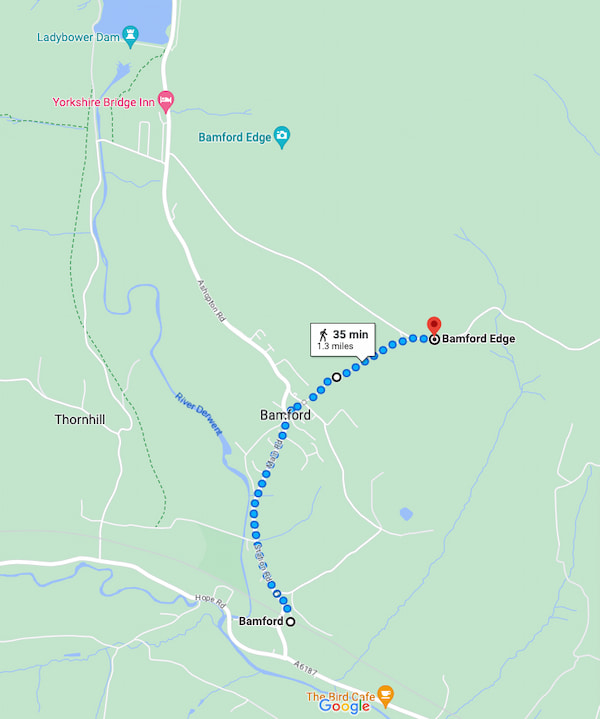 The above image shows the walk from the train station to the nearest accessible point to reach the Bamford edge viewing point.
Bus
The bus 257 Bakewell, which runs from Sheffield, stops right outside Heatherdene's car park, so could also be a good option as well.
Bamford Edge Walk Maps & Routes
A: This is a direct 5km (3.3mi) walk that climbs quickly and steeply from Heatherdene car park to the Bamford Edge viewing point, at which point you will return down the same route.
B: The alternate 9km (5.5 mi) route offers a round trip, passing through the village of Bamford before looping back, crossing the base of the Ladybower reservoir and eventually rejoining the car park.
Direct 5km (3.3mi) Route – View OS Map
Circular 9km (5.5 mi) Route – View OS Map
1.A&B. Start by following the path out of Heatherdene Car Park, passing the public toilet for several hundred metres until you reach a fork. Here, take a left turn into a forested area.
2.A&B. Navigate through this forested area and into a clearing used for power lines; continue following the path until you encounter a wall, which you'll need to cross.
3.A&B. The next stage is a steep ascent up the hill along a path. At this point, you might also be able to spot the cliffs of Bamford Edge. Please note that the paths in this section split and can be quite overgrown, but they all generally lead upwards, away from the tree line.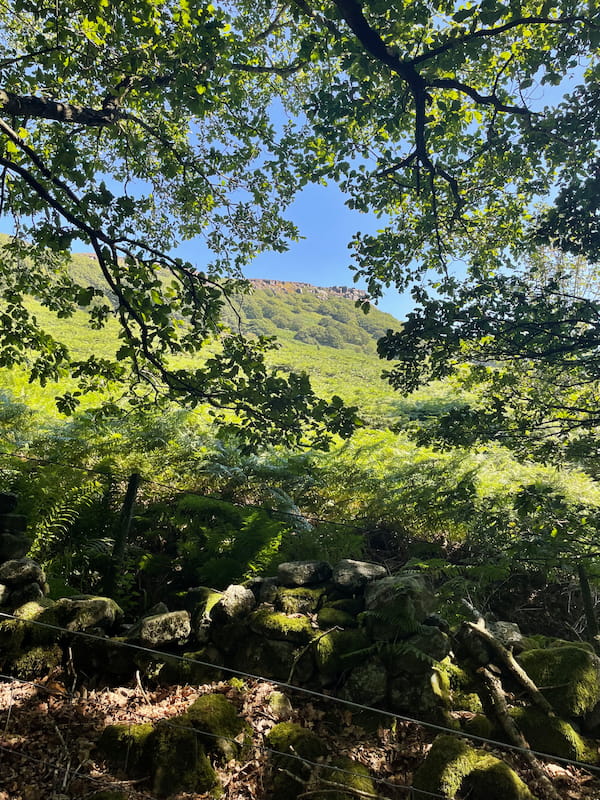 4.A&B. With the Ladybower Reservoir in clear view behind you, you'll keep accessing until past the treeline.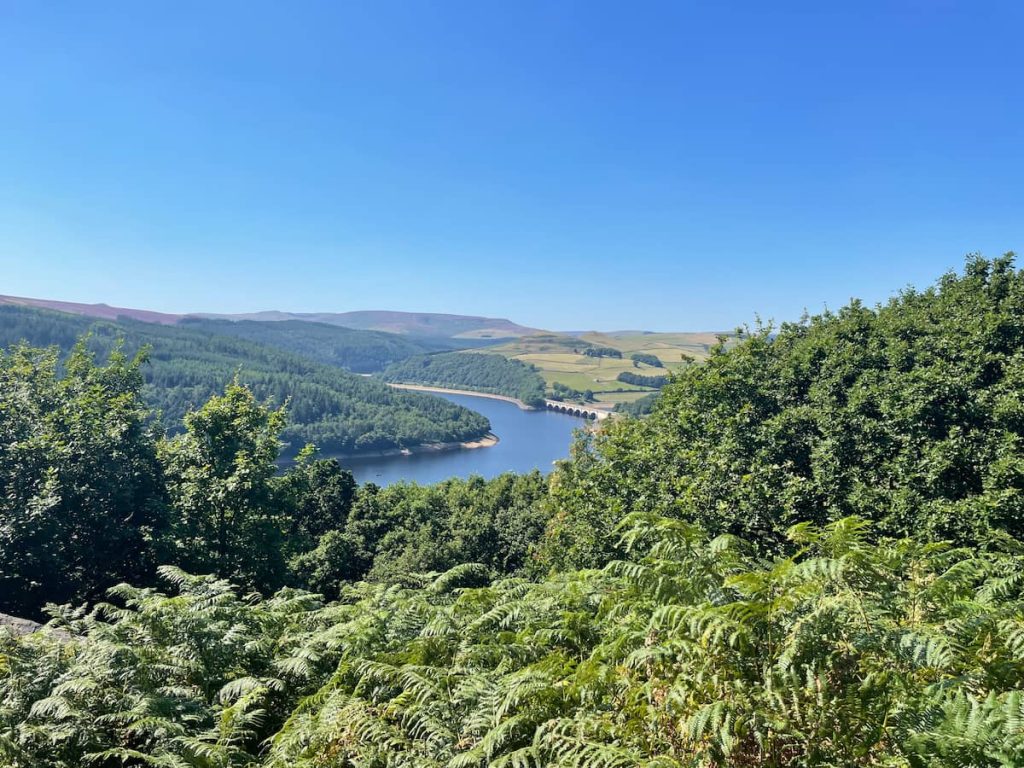 5.A&B.The path ahead will meet another from the left. Take a right turn here, slowly gaining more height, and you should soon see Bamford Edge ahead of you for the next 1km.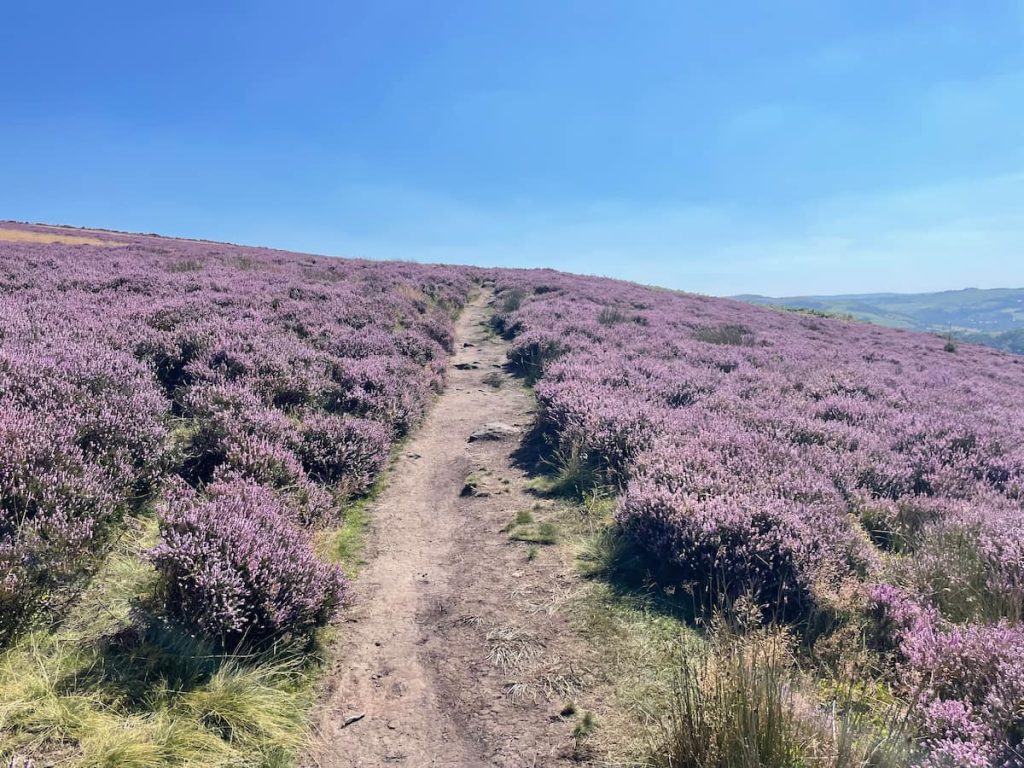 6.A&B. Once you've reached the iconic Bamford Edge cliffs, take a moment to snap some pictures. If you're on the short, direct route, this is your turnaround point. If you're on the longer, circular route, continue along the path by the cliffs.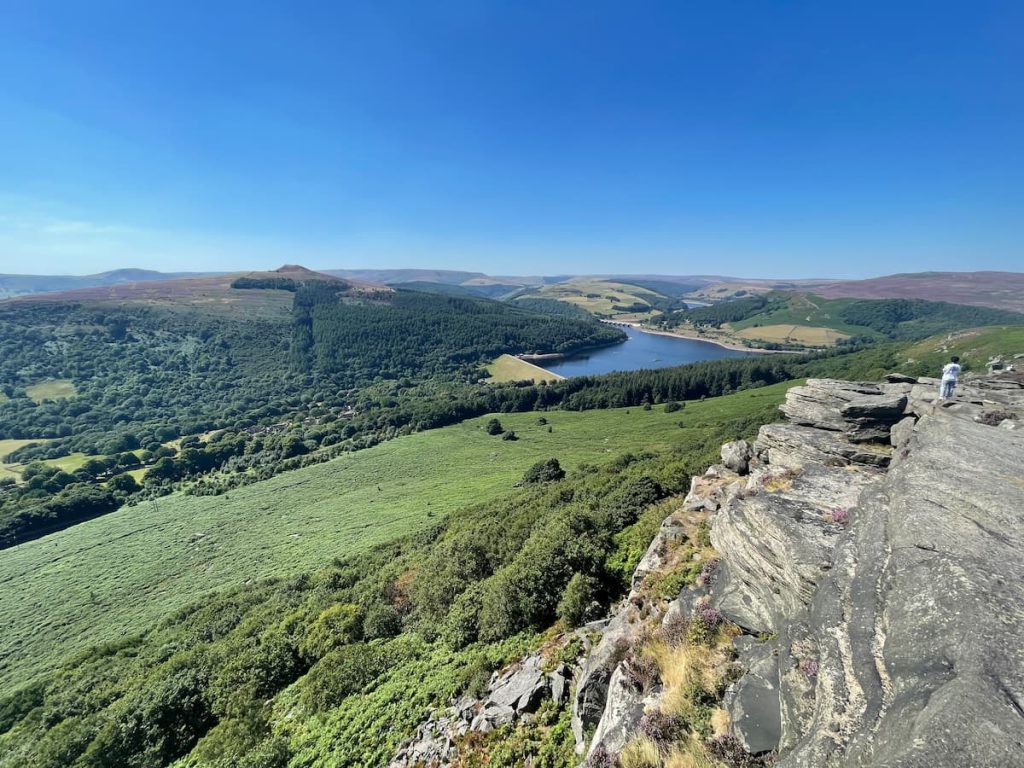 7.B. Now at the route's highest point, your journey from here is mostly downhill. Continue to follow the path down until you reach a road with a layby (which also serves as alternative free parking).
8.B. When you reach the road, take a right and bear left off the road just 100m down, onto a downward-sloping track covered by trees.
9.B. Follow this track downhill until you reach the village of Bamford. Here, you might want to take a break at The Angler's Rest, the only major place for food and drink along the route.
10.B. Walk through the village and cross the river on a small wooden bridge at Bamford Mills, where you'll rejoin the footpath.
11.B. Follow the path until you reach the bridleway, which you can then follow all the way back to Ladybower Reservoir.
12.B. Once at the reservoir, cross over on the path, then cross the main road to join the original path leading out of the car park. Simply follow this path back to reach Heatherdene Car Park.
Bamford Edge Amenities & Facilitates
It's important to note that there are no amenities directly on or near the Bamford Edge viewing point, so prepare accordingly before their walk.
Heatherdene Car Park serves as the starting point for the walks, and it offers some facilities. Here, you can find public toilets and a water fountain. Additionally, on sunny days, you'll often find an ice cream van stationed here, perfect for a refreshing treat.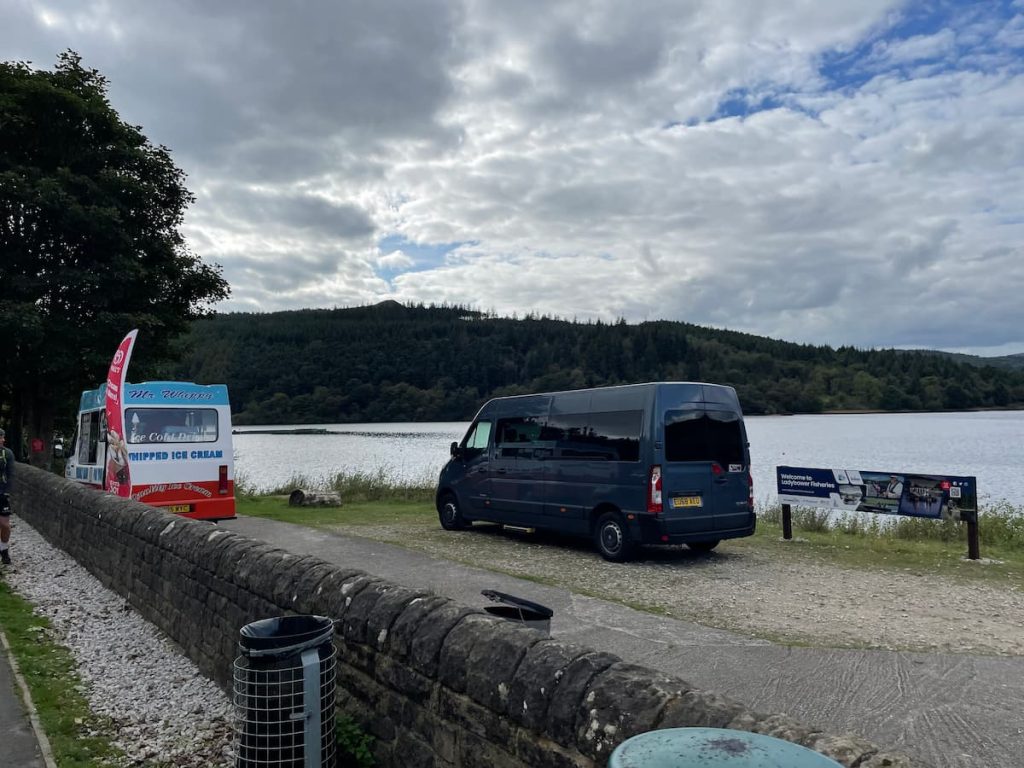 For those undertaking the longer, circular route, the village of Bamford offers additional amenities. The Angler's Rest, a local pub, is an ideal spot for rest and some nourishment and has good reviews (However, it is closed on Wednesday and Thursday). The village also has public toilets for your convenience.
If you require additional supplies, the nearest shop is the Texaco petrol station located near the train station. While it may not offer a wide variety of goods, it can provide basic supplies for your walk.
Bamford Edge Walk – FAQS
Here are some commonly asked questions about Bamford Edge and the walk:
How long is the walk around Bamford Edge?
The walk around Bamford Edge varies in duration depending on the chosen route. The direct route typically takes between 1 and 2 hours, while the circular route can take between 3 and 4 hours. Extra time should be factored in for photography and lunch.
Can you walk on Bamford Edge?
Yes, Bamford Edge is a popular walking area with beautiful views and well-established paths. The rocks at the viewing point can also be walked and sat on, but be careful of the drops.
How do you climb Bamford Edge?
The article outlines a detailed route to climb Bamford Edge. Simply follow the directions and maps provided.
If you like Bamford Edge, you may also like Stanage Edge.
How to get to Bamford Edge from Bamford Station?
Bamford Station is well-connected by the Northern railway line from Sheffield-Manchester. After disembarking at Bamford Station, it's a 15-minute walk to Bamford village. From there, you can join the circular route to Bamford Edge or take a direct route.
Is Bamford Edge steep?
Yes, there are parts of the Bamford Edge walk that are steep, particularly the ascent towards the viewing point.
How high is Bamford Edge?
The highest point on the Bamford Edge walk, at the iconic viewing areas, is 390 meters (1280 ft). However, the elevation varies throughout the route.
What is the postcode for the Bamford Edge walk?
The postcode for the starting point of the Bamford Edge walk at Heatherdene Car Park is S33 0AQ. For a more exact location, you might also want to use the what three words ///halt.bandaged.hindering.