Are you looking for a relaxing spa break? How about a relaxing spa break in the Peak District? Sounds even better!
For me, venturing into the Peaks makes me feel at ease. As soon as I see the green rolling hills, beautiful landscapes and head through the picturesque villages, my stress levels immediately drop.
So, what better place to head for a spa break?
This post will take you through the 4 best spa hotels in the Peak District. Covering a range of hotels and price points, we'll cover a spa break for everyone in the Peaks. Let's take a nice, calming, deep breath and get to it.
In a hurry? Here's an overview:
Best Overall Spa Hotel – Ensana Buxton Crescent Spa
Best Spa Hotel for budgets – Three Horseshoes Country Inn and Spa
Best Spa Hotel for location – Losehill House Hotel and Spa
Top Peak District Hotels with Spas
The Peak District is a popular spot for those looking to unwind and connect back with the countryside. Here are the best spa hotels in the Peaks for ultimate relaxation
Location: Buxton, SK17 6BH (In Buxton)
Pricing: From £150 per night
Looking for one of the best Peak District spa experiences? The Ensana Buxton Crescent could well be the one.
This luxurious and historic hotel is located right in the centre of Buxton, a lovely Derbyshire spa town itself. The building is amazing. Its curved architecture dates back to 1780, when it was a go-to Georgian retreat for people looking to bathe in the waters of Buxton.
Now, if the building is impressive, the spa facilities match it every step of the way.
From traditional spa therapies to holistic treatments, the Buxton Crescent spa has everything you need for maximum relaxation. You can choose from one of three pools, including the beautiful rooftop pool with two integrated jacuzzi zones, which transition seamlessly to the indoor pool.
There's a bio-thermal sauna, CO2 mineral bath, infra-red sauna, aroma steam room, Finnish sauna, relaxation pool, ice fountain and salt cave. Mega. I already feel all zen just thinking about it all!
There are 80 hotel rooms at the Ensana Buxton Crescent, all of which are all classily furnished. You can even book a room with a four-poster bed and freestanding bath.
Pros
Top-class spa amenities: The hotel offers real high quality spa facilities and amenities. You'll do well to find better facilities anywhere else.
Location: Buxton is a beautiful spa town with plenty to see and do.
Rooms: Recently refurbished rooms that are furnished to a high standard.
Cons
Price: Due to its luxurious offerings and great location, the Ensana Buxton Crescent Spa is a little on the expensive side. But it's worth it in our opinion.
No parking: Because of its location, there isn't on-site parking.
Location: Hope Valley, S33 6AF (Near: Hope, Castleton & Edale)
Pricing: From £140 per night
Losehill House Hotel & Spa is a boutique hotel located right in the heart of the Peak District.
It's an ideal spot for those seeking a countryside escape – you can't get a much better Peak District location than at Losehill House. This spa hotel offers guests stunning views out over Win Hill and, one of my favourite spots, Hope Valley.
The spa itself features a relaxing indoor heated pool, sauna and top-notch outdoor hot tub with unbeatable views. Losehill Spa offers a range of treatments, massages and services to make sure you leave as relaxed as can be.
The hotel itself has 22 four-star en-suite bedrooms and suites. Customary robes and slippers are provided, too.
Pros
Location: Losehill House Hotel & Spa is situated right in the centre of the Peak District National Park.
Spa facilities with a view: The hotel features an indoor heated pool, sauna and outdoor hot tub with panoramic views over the Peaks.
Dining: Looking to really treat yourself? Guests can enjoy exquisite cuisine at the on-site and award-winning Grafene Restaurant.
Cons
Limited availability: Being a boutique hotel, the spa does get booked up. You can book in an hour slot, but half days may also be available depending on availability.
Location: Leek, ST13 8TW (Near: Roaches & Lud's Church)
Pricing: From £95 per night
Located just on the edge of the Staffordshire Peaks, the Three Horseshoes Country Inn is charming, peaceful and memorable. This delightful inn and spa hotel is privately run by the Kirk Family, who've had the establishment since 1981.
Although in a secluded location, you're only a short 20-minute drive from the likes of Thor's Cave, and just 5 minutes from the wonderful ridge known as The Roaches. It's also only 20 minutes away from Alton Towers if you want some thrill-seeking before your spa day!
This country inn is home to the luxurious Mill Wheel Spa. Yes, it actually features a real-life mill wheel, which doubles up as a hot and cold shower, right next to the cedar plunge pool.
The Mill Wheel is a quaint spa with lots of comfy seating both inside and out. It's also got fantastic facilities. One of them is called the beach hut, which mimics the positive impacts of lying on a bed of warm sand with an experience taking you from darkness to sunrise, peak sunshine and sunset. What a great idea.
You can also experience the Farmer's Sauna and book in for the Rasul (a unique mud treatment) and the Peak District Stonebath experience. It's all pretty exceptional.
What I also like about this place is that you've got a proper pub on site. The bar is well-stocked with cask ales (my favourite), gins and wines, plus the restaurant serves great quality food.
Pros:
Unique spa facilities: The spa offers a variety of treatments and truly unique experiences, such as the Alpine cabin/Farmer's Sauna, rasul and stone bath treatment.
Pub and dining: On-site country pub serving award-winning local food.
Close to walks: The Three Horseshoes Country Inn is located in a quieter spot of the Peaks, but you're still within touching distance of great walks and scenery.
Cons:
Location: Although the location is quiet and secluded, it's on the edge of the Peak District and may be out of the way for some.
Location: Cheshire, SK10 5SB (Near: Lylm Park)
Pricing: From £80 per night
Set in 262 acres of grounds on the Cheshire edge of the Peak District, Shrigley Hall Hotel & Spa is an elegant spot to sit back and unwind in style.
This former Georgian country house has it all going on – 154 bedrooms, an 18 hole golf course and the quite remarkable Bazaar spa.
First up, the spa at Shrigley Hall is located in a former chapel. There's no doubt that you'll be in the midst of truly stunning surroundings. The chapel itself is home to a relaxation pool, whirlpool spas and steam room. The Lime Grove is where you go for any treatments and relaxation sessions.
Outside, there's another pool with views over the golf course and Cheshire countryside. All very bliss indeed.
Being a lovely hotel, you also have the option of breakfast and dinner in the stunning restaurant. Afternoon tea is served in the Public Rooms.
Pros:
Beautiful spa building: The former Chapel might make you think you've died and gone to heaven.
Full health facilities: Health club and gym, golf course, spa and pool
Dining options: Fine dining experience with locally sourced ingredients available, as well as afternoon tea
Cons:
Location: Similar to Three Horseshoes above, Shrigley Hall Hotel is a good spot for walks, but it's on the edge of the Peak District.
Honourable mentions for Spa hotels just outside the Peaks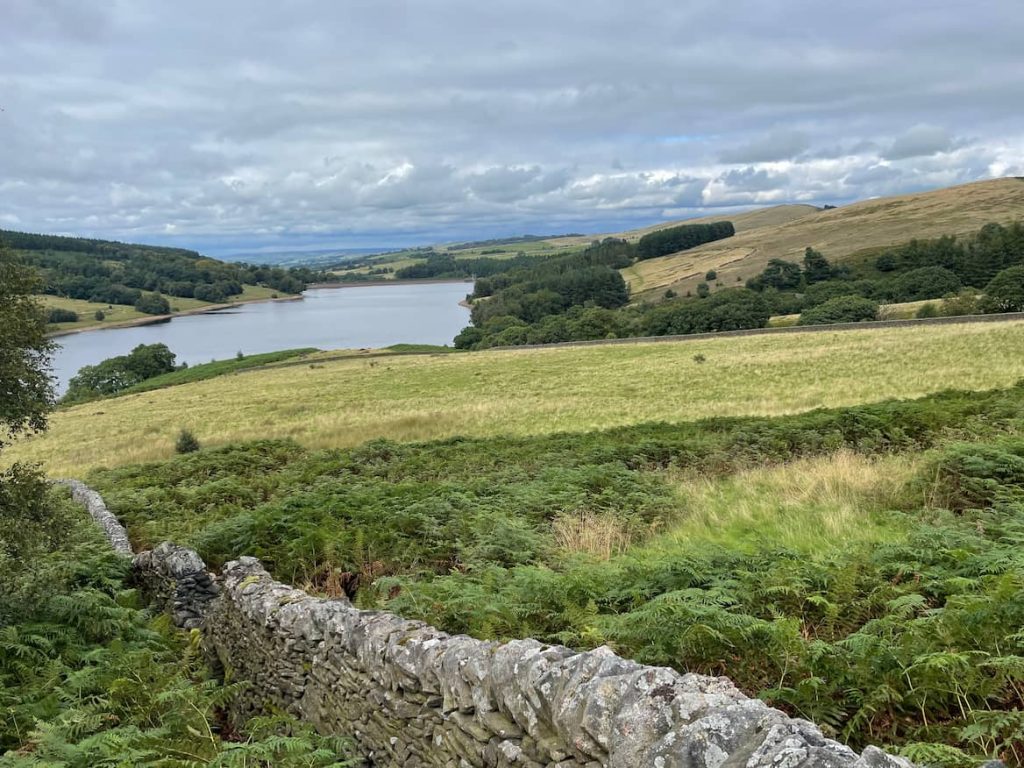 Being a national park with protected areas, the number of spa hotels within the boundaries of the Peak District is limited. And that's for good reason. We do need to preserve these magical areas as best we can.
That said, there are some beautiful spa hotels and ultimate relaxation options still available, as we've covered above.
If you venture a little bit outside of the national park boundaries, more options open up.
Here are some honourable mentions for spa hotels just a stone's throw away from the Peak District:
Mottram Hall is an impressive and historic manor house. It's nestled amidst the tranquil Cheshire countryside, just a 10-15 minute drive from the Peak District edge. Mottram Hall offers luxurious 4-star accommodation and great dining options. It's also a superb choice for a spa retreat.
The spa at Mottram Hall comes courtesy of Champneys, in a £10 million state-of-the-art facility. Let yourself unwind in the lovely indoor pool with a hydro pool and poolside cabanas. There's also a sauna, steam room and private treatment rooms available.
Hoe Grange Holidays & Glamping
If you're looking for something a little different, head to Hoe Grange Holidays, located just outside the Matlock area. Hoe Grange offers a cosy and peaceful holiday retreat in a beautiful countryside location.
There's a range of self-catered accommodation at Hoe Grange, all with a solid eco-friendly ethos. You can choose from a range of log cabins and 'gorgeous' glamping pods. All are dog-friendly too. You can also arrange a private pamper session and make use of the hot tub and log-fired sauna – wonderful stuff.