Buxton, in the heart of the Peak District National Park, is known as the coldest and highest market town in England.
This picturesque spa town offers a range of experiences, from the ethereal echoes within Poole's Cavern to the architectural splendour of Buxton Crescent.
Whether you seek the thrilling heights of adventure at Go Ape or a serene stroll through the lush Pavilion Gardens, Buxton extends a hand, inviting you to explore its treasures.
This guide ventures through the nooks and crannies of this quaint town, offering glimpses into its rich heritage, cultural hotspots, and natural wonders, ensuring unforgettable memories.
In a hurry? Summary of the best things to do:
Art & Museum Fans: Buxton Museum and Art Gallery
Thrill Seekers: Go Ape
Nature Lovers: Poole's Cavern or Solomon's Temple
History & Local Culture: Buxton Crescent, Pavilion Gardens and the Devonshire Domes
With all this being said, Buxton is a fairly small town, so even within one day, most of these sites can be visited, with many being in or near the town centre.
1. Buxton Crescent
Address: The Pump Room, The Crescent, Buxton SK17 6BH
Buxton Crescent is a magnificent Georgian Grade-I listed building nestled in the centre of Buxton.
With its splendid façade, graceful interiors, and a rich history deeply intertwined with the town's spa heritage, the Crescent stands as a timeless testament to the elegance and opulence of bygone eras.
Visitors are invited to traverse its regal corridor, which curves around the building.
Today the building is known as being one of the best Peak District spa hotels, Ensana Buxton Crescent Hotel.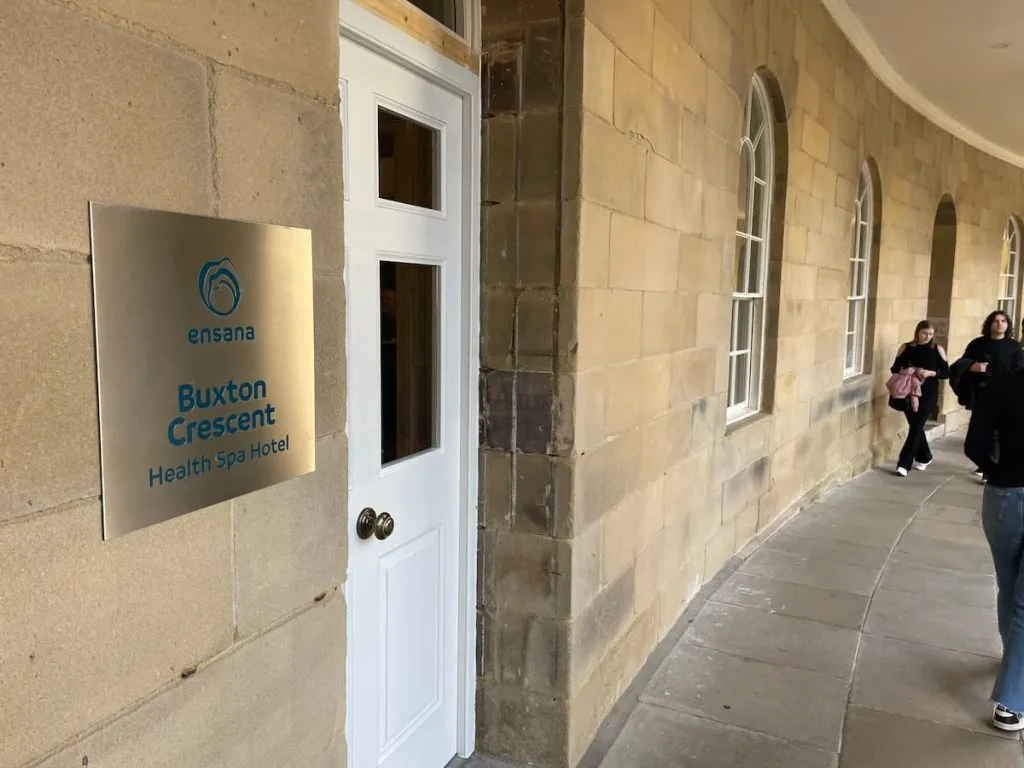 If you want to explore the landmark in attraction in another way, you can also opt for the Buxton Crescent experience, which guides you through the building's history and warmth from the natural springs beneath.
Tickets are:
Adult: £11.99 Young person
(8 -15): £7.99 Family
(2 Adults & up to 3 Young Persons): £33.00
Child (0-7): £0.0
If you wish to have a guided tour, premium tickets are also available. Find out more information here.
2. The Pumping Station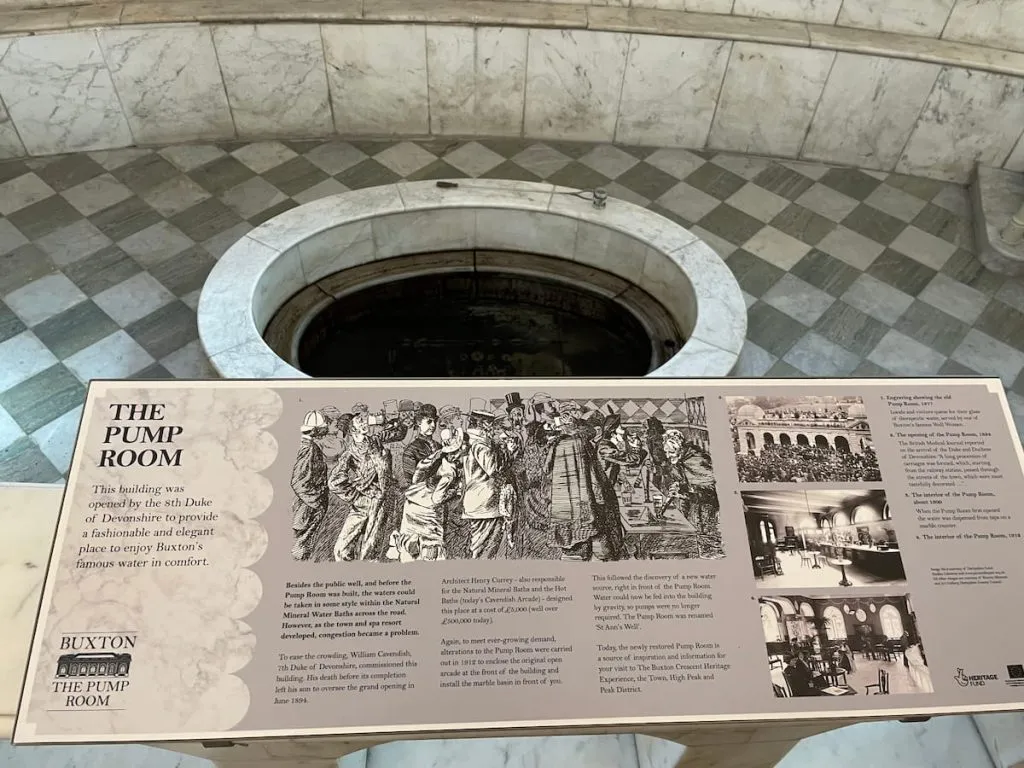 Address: The Pump Room, The Crescent, Buxton SK17 6BH (Alongside Buxton Crescent)
The Pump Room in Buxton, which is next to the Crescent, offers a fascinating look back into the spa town's past.
Opened in 1884 and meticulously crafted by architect Henry Currey, this distinguished establishment, once a cornerstone of the Buxton bathing experience, served as a sanctuary where the affluent could sip the famed waters for a mere penny.
Presented to the town by the Duke of Devonshire in 1894, it elegantly neighbours The Crescent and St Ann's Well, providing guests with a uniquely serene space to relax, all while being served by the historic "Well Women".
Now fully restored, The Pump Room has been repurposed to become the Buxton Visitor Centre since 2019, offering an insightful gateway into the town's rich spa history and architectural heritage.
Visitors are encouraged to see the well, which has been delivering fresh water to the local residents for millennia and literally tase the Buxton heritage, which even Mary Queen of Scots is said to have drank from in the 16th century.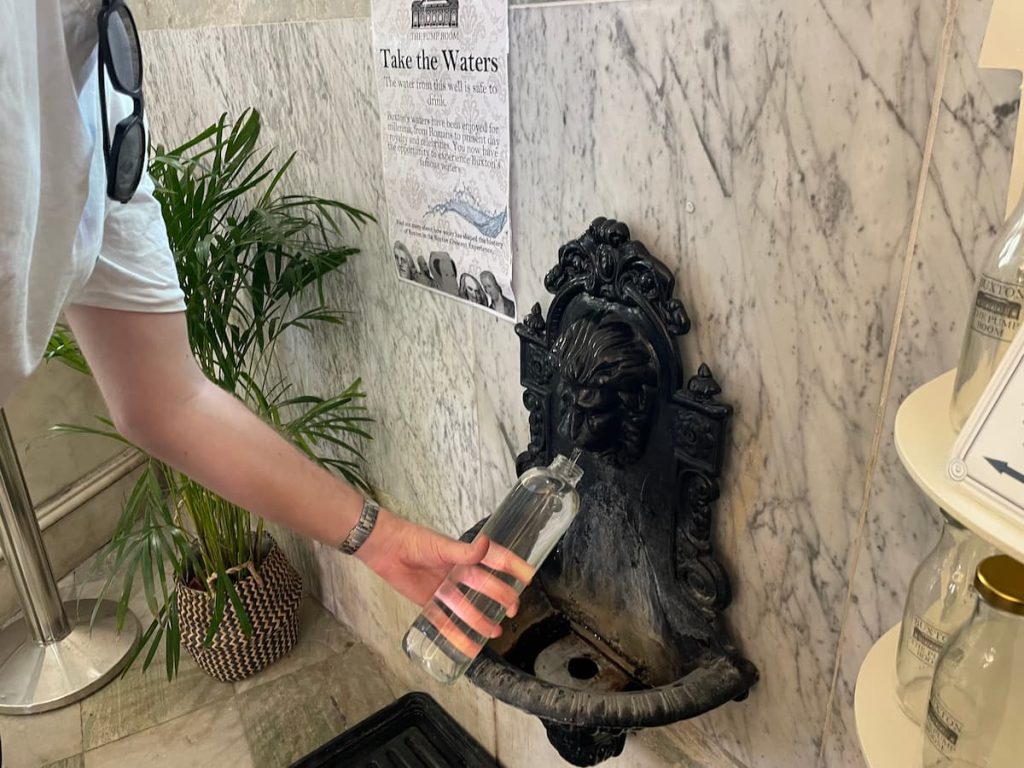 Tip: Make sure to bring your own water bottle so you can fill it up from the historic fountain. For those worried about drinking it, I can personally confirm it tastes fine.
3. Poole's Cavern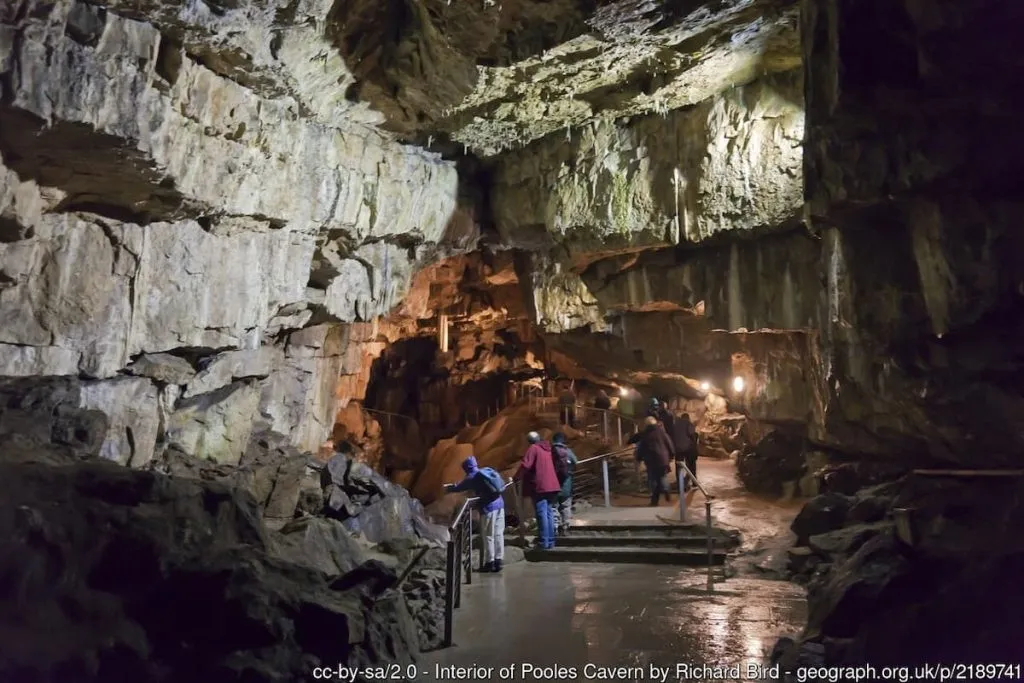 Address: Green Ln, Buxton SK17 9DH
Poole's Cavern, a two-million-year-old natural limestone cave, a once-forgotten show cave closed to the public for over a decade, was acquired and rejuvenated by Buxton Civic Association in 1977, bringing its underground mysteries back into the public eye.
Visitors are greeted by striking stalactites and stalagmites, notably the whimsically named "Flitch of Bacon" and the historically reverent "Mary Queen of Scots' Pillar".
The cavern also boasts stalagmites exhibiting a unique "poached egg" colouration and porous texture, a phenomenon attributed to minerals seeping from lime-burning activities on the Grin Low above.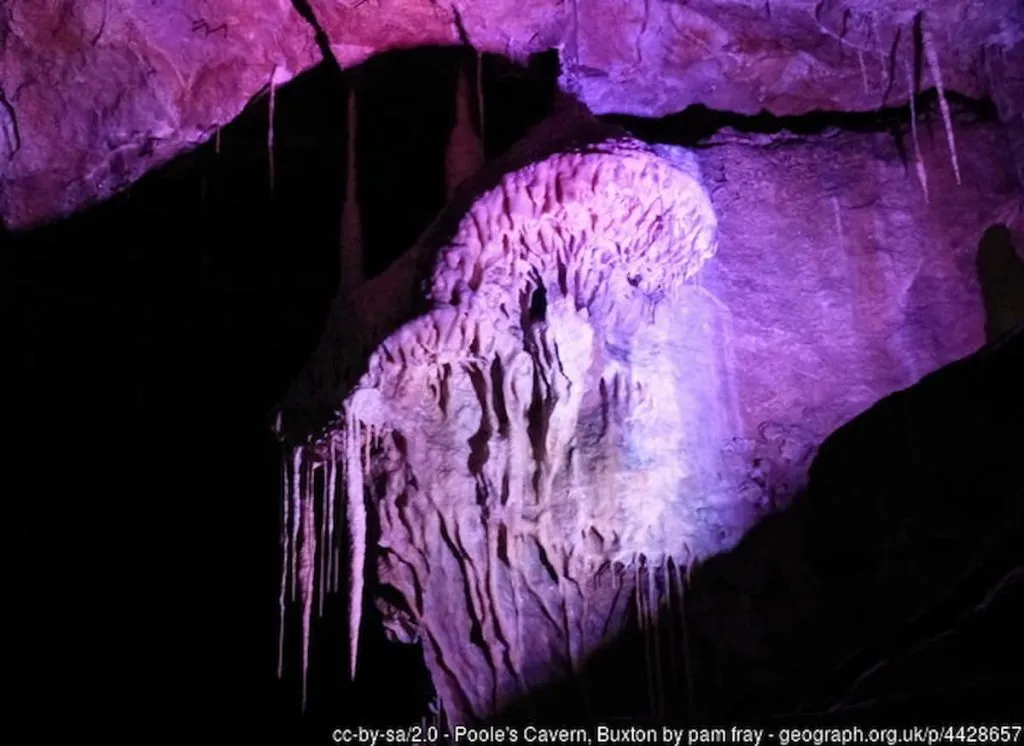 During the visitor's 30-minute tour, they can travel around 310 metres (1,020 ft), although it is believed to extend beyond this known area.
This is similar to the many caverns in the village of Castleton, which is just a short distance away.
4. Buxton Museum and Art Gallery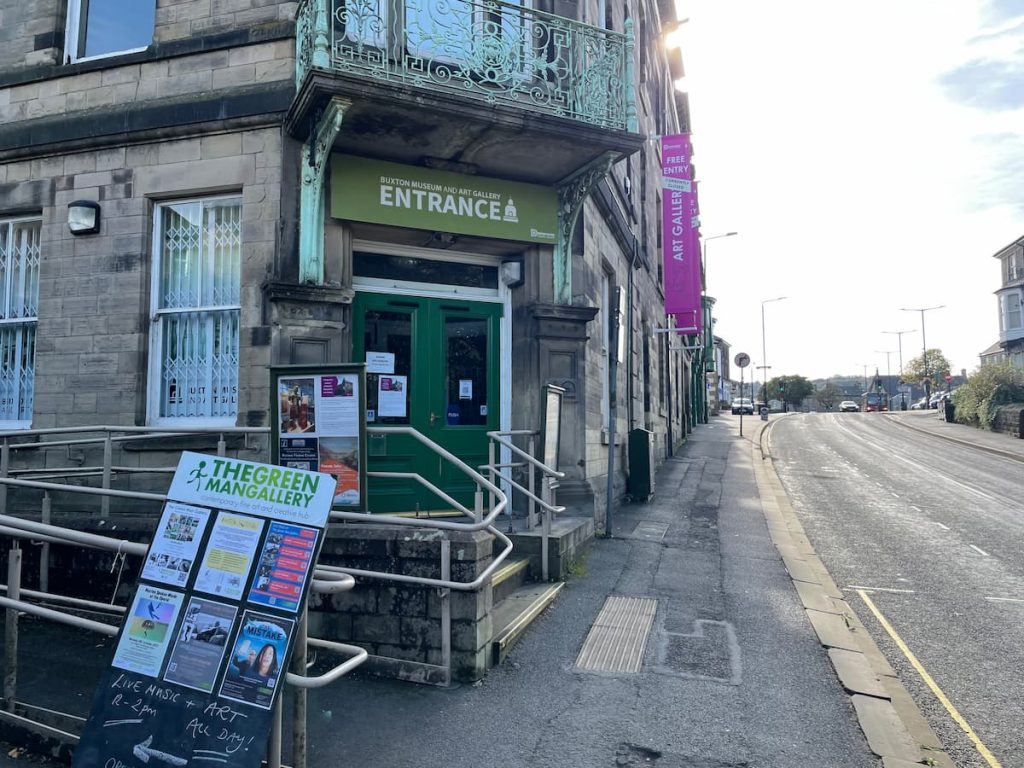 Address: Terrace Rd, Buxton SK17 6DA
IMPORTANT: At the time of visiting, the Museum was closed as the building was deemed unsafe. It should be updated here if it is now reopened.
Entry is FREE
Buxton Museum and Art Gallery offers a rich tapestry of art, culture, and history.
The museum boasts a diverse collection spanning millions of years. Notable displays include intricate archaeological artefacts (such as coins from Reynard's cave), showcasing the area's prehistoric to modern history (called "Wonders of the Peak") and geological exhibits that unveil the Earth's ancient past, specifically highlighting the mineral wealth of the region.
The art gallery is a beacon for art enthusiasts, featuring an eclectic mix of contemporary and classical works from both local and nationally recognized artists.
Temporary exhibitions also ensure there's always something new to discover, reflecting a wide range of artistic expressions.
In addition to its permanent collections, the museum hosts various educational programs and interactive sessions, making it an engaging experience for all ages. Expect a blend of learning and entertainment in a setting that celebrates both natural history and human creativity.
5. Pavilion Gardens
Address: St John's Rd, Buxton SK17 6BE
Pavilion Gardens in Buxton, a picturesque spa town in Derbyshire, UK, is a splendid Victorian-era treasure offering 23 acres of beautifully landscaped gardens and serenity.
This park, established in the 1870s, serves as a tranquil retreat from the town hustle, featuring a delightful blend of manicured lawns, ornamental flowerbeds, meandering pathways, lakes and expansive green spaces perfect for leisurely strolls or family picnics.
Beyond the natural beauty, the gardens are a hub of activity and entertainment, encompassing charming playgrounds for children, a miniature train ride that's a hit with families (Or a swan pedalo!), and a traditional bandstand where live music performances often bring the park to life.
The Pavilion itself, a historic building within the grounds, is a cultural hotspot hosting an array of events, including craft fairs, arts centre exhibitions, and private functions, as well as having public toilets and food and drink facilities.
Visitors to Pavilion Gardens can expect blends of Victorian heritage with the vibrant pulse of modern life.
If you enjoy florist and exotic plants, you may also want to check out the botanical conservatory, situated on the far end of the pavilion.
6. Devonshire Domes
Address: Devonshire Royal Campus, Devonshire Rd, Buxton SK17 6RY
The Devonshire Dome in Buxton, Derbyshire, is a stunning architectural masterpiece with a rich history dating back to the 18th century. Initially constructed as a stable and later transformed into a hospital by the 7th Duke of Devonshire, it now serves as a part of the University of Derby's Buxton Campus and a venue for a multitude of events.
Visitors to the Dome are greeted by its awe-inspiring dome ceiling, which is one of the largest unsupported domes in Europe, presenting an impressive span of 46 meters. The elegant interior is equally captivating, exuding a blend of historical charm and contemporary finesse. Today, the Dome houses a high-quality fine dining restaurant, offering a taste of the local culinary scene amidst a grand historical setting.
7. Buxton Opera House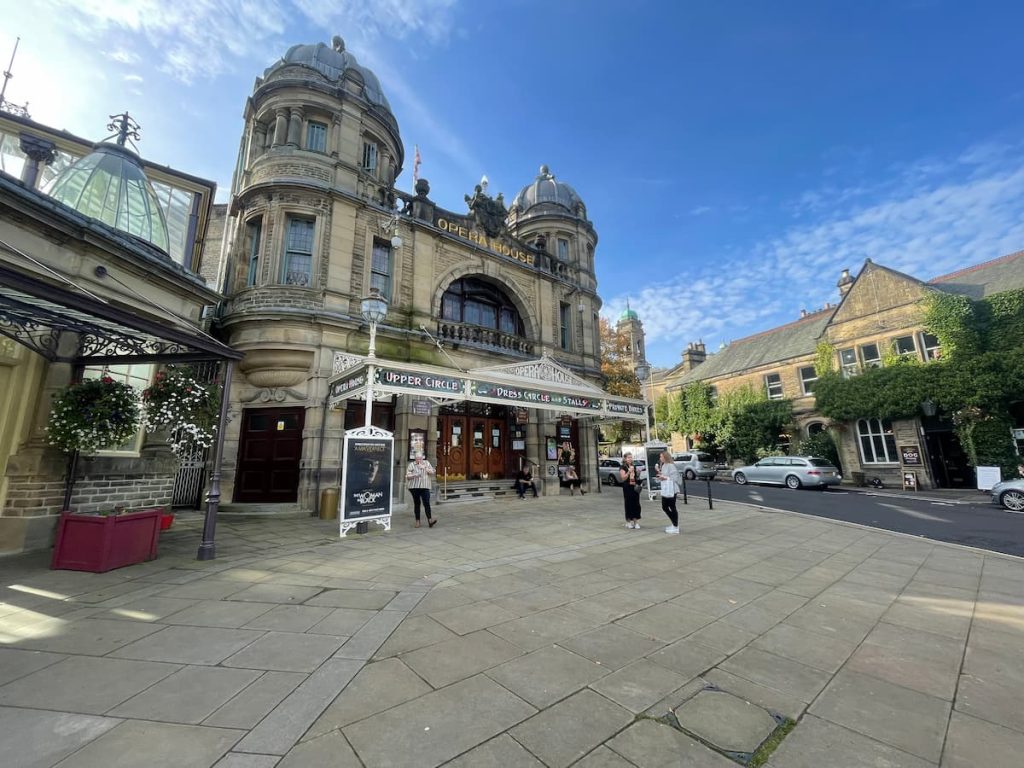 Address: Water St, Buxton SK17 6XN
Buxton Opera House, which was built in 1903 and designed by the renowned architect Frank Matcham, the opera house exudes Edwardian elegance, with its ornate interior and beautiful facade.
It hosts a rich array of performances year-round, including opera, ballet, musicals, and drama, attracting both local and international talent.
The venue is also home to the annual Buxton International Festival, a prestigious event celebrating opera, music, and literature.
Visitors to Buxton Opera House can expect a blend of historical charm and vibrant cultural experiences, making it a must-visit for art and history enthusiasts.
View what's on Opera House here
8. Go Ape
Address: Buxton Country Park Pooles Cavern, Green Ln, Buxton SK17 9DH (Same site as Pooles Cavern)
Go Ape, situated in the Buxton country park around Grin Low Hill, offers a thrilling adventure experience for individuals and families alike.
Known for its treetop challenge, Go Ape Buxton invites visitors to harness up and navigate through a canopy-level obstacle course, including a 159m Zip line, Tarzan swings, and precarious crossings that provide heart-pounding excitement along with a unique perspective of the beautiful surrounding high peak forest.
The atmosphere is brimming with camaraderie and the spirit of adventure, as both the young and the young-at-heart find joy in testing their mettle against the course's challenges.
Safety is a priority, with comprehensive briefings and quality gear ensuring a secure yet exhilarating adventure. With its blend of natural beauty and adrenaline-pumping activities, Go Ape promises a memorable outdoor experience that encourages stepping out of one's comfort zone amidst serenity and grandeur.
Expect your adventure to take around 2-3 hours, and prices start from £35 each. Find out more here.
9. Buxton Raceway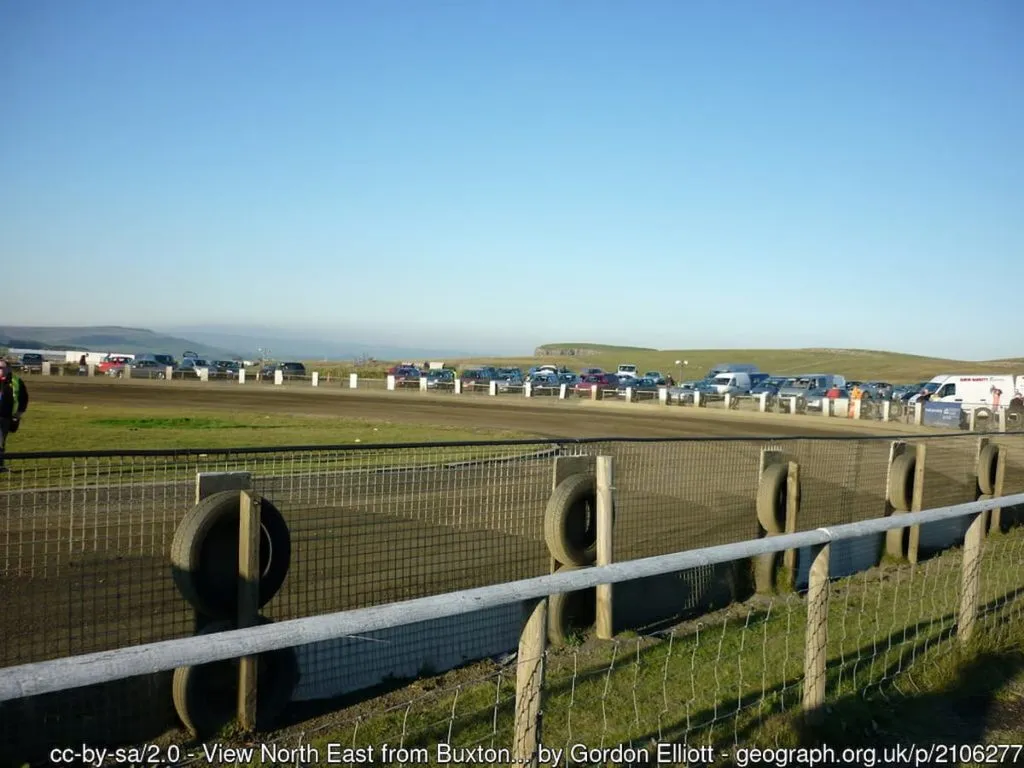 Buxton Raceway, located amidst the scenic hills just outside of Buxton town, is a hub of motor racing.
Known for its stock car and banger racing events, the raceway offers a gritty, adrenaline-fueled experience for motorsports enthusiasts.
The venue hosts a variety of racing events throughout the year, featuring different classes of cars and a range of competitive formats that promise high-octane action on the oval tarmac track.
Whether you're a seasoned racing veteran or a newcomer to the scene, Buxton Raceway offers a hearty dose of automotive exhilaration against a backdrop of picturesque English countryside.
Find out what's on at Buxton Raceway here
10. Walks in and Around Buxton
Buxton offers a range of walks directly from the town or just a short drive away.
Whether you're looking for a short stroll or a more intensive hike, see the options below:
Solomon's Temple (Grind Low Hill) – 5km (3.1mi) ~ 1-2 hrs
Stoloms Temple is an old Victorian monument built in 1896 by Solomon Mycock a local land owner, now acting as a great viewing point which sits atop Grind Low Hill in Buxton Country Park at an elevation of 433 meters.
The site itself is also steeped in many histories, with inhabitants in the area estimated to go back to the bronze age.
It's the best walk for those looking for a short walk from the town centre into the surrounding Peak District hills, which on a clear day, will provide a stunning view of the spa town of Buxton and the wider Peak District National Park.
View the full Solomon's Temple Walk
Further out
If you're willing to travel a bit further, the Goyt Valley is an excellent choice. Notable sites include Errwood Reservoir and Shining Tor, merely a 10-15 minute drive to the east, or Axe Edge Moor to the south.
Additionally, a famous Peak District waterfall is just down the road. The Three Shires Head, is a point where the three counties of Staffordshire, Derbyshire, and Cheshire converge. This spot is renowned for its picturesque waterfall.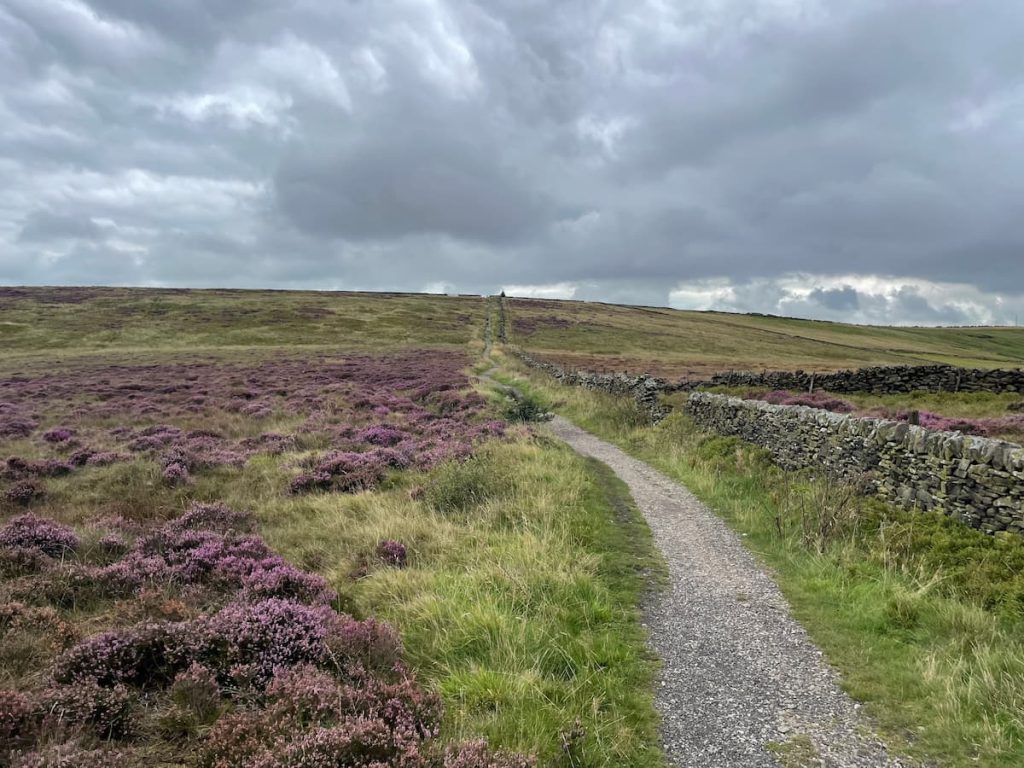 11. Visit a Local Pub or Cafe
There is an array of local pubs offering traditional fare, alongside independent cafes and restaurants catering to every appetite with a variety of food and refreshments.
Some of my favourites are:
The Old Sun Inn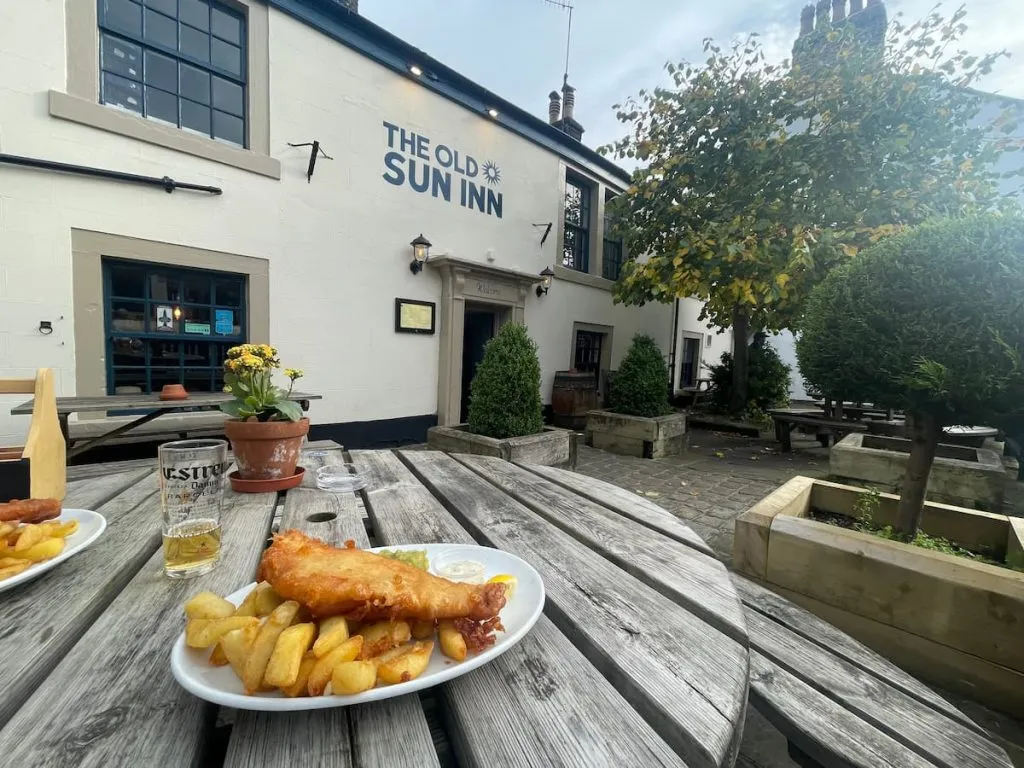 Address: 33 High St, Buxton SK17 6HA
Old Sun Inn, is a popular, newly restored 17th-century coaching inn with a large beer garden in the rear and ample cosy seating inside.
The pub is just a short walk from Buxton Market Square or can be reached via a detour on the way to Pooles Cavern, Go Ape or Solomon's Temple.
While I opted for fish & chips, the pub offers a range of classic pub grub as well as a mean carvery on a Sunday.
The Cafe At Green Pavilion
Address: 4 Terrace Rd, Buxton SK17 6DR
Just over the road from the crescent in Buxton's town centre, the Cafe at Green Pavilion offers a range of fresh seasonal food for vegetarians, vegans and meat eaters.
How to get to Buxton?
Buxton is easily accessible by both car and train.
Its location in the heart of the Peak District National Park makes it a picturesque journey regardless of your mode of transportation.
By Car:
Reaching Buxton by car is straightforward, with the town being well-connected to the surrounding areas via a network of main roads. From Manchester, it's a scenic drive of around 25 miles via the A6, which takes approximately an hour. From Sheffield, you can take the A623, a journey of around 27 miles which also takes about an hour.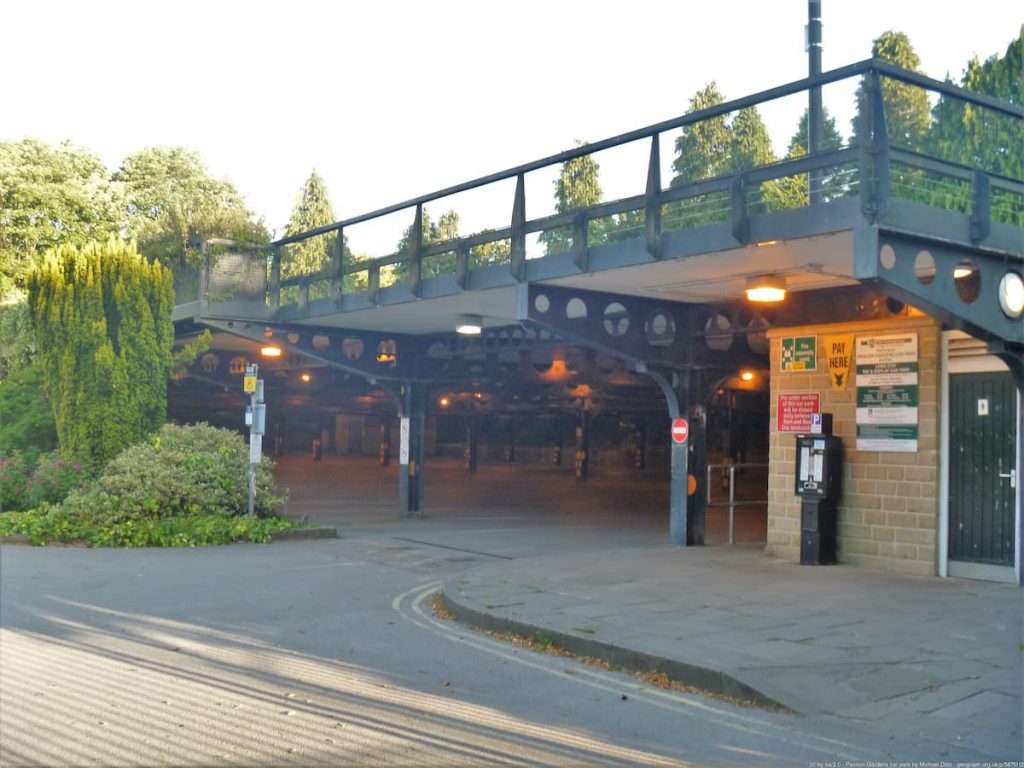 There are ample parking facilities available in and around the town, making it convenient for visitors travelling by car. Some popular parking areas include:
By Train: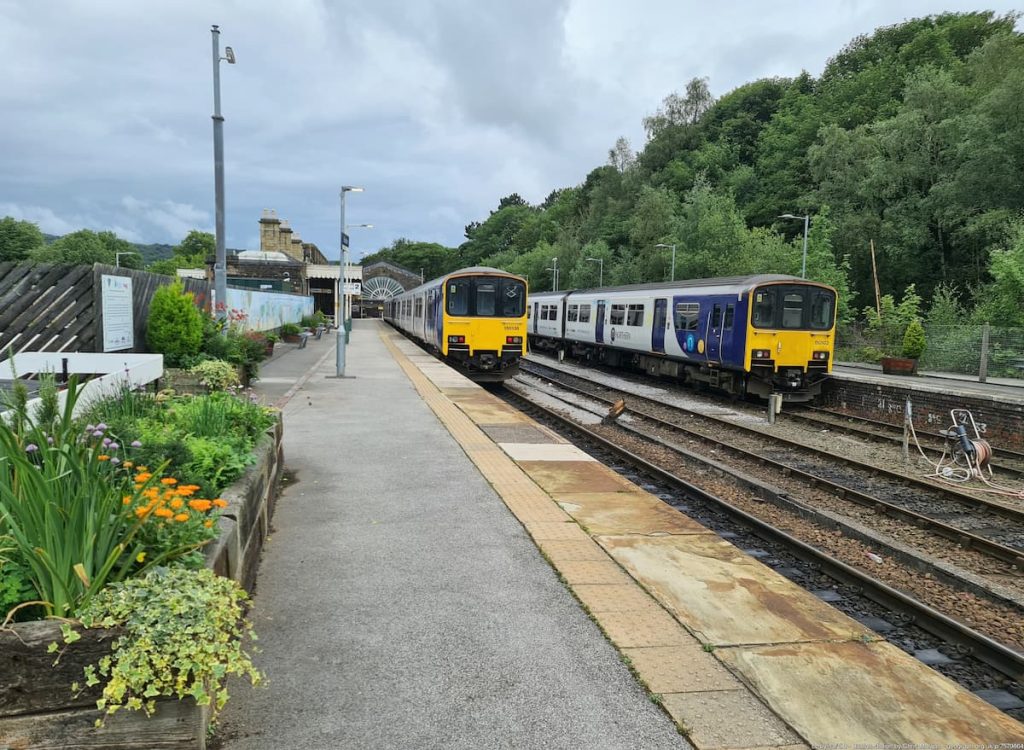 Buxton is served by a local train station, Buxton Railway Station, which is well-connected to surrounding areas.
Direct services run from Manchester Piccadilly to Buxton, with a journey time of around an hour.
The train journey offers a scenic route through the Peak District's beautiful landscapes, making it not only convenient but also a visually enjoyable way to reach the town.
Once arriving in the town centre, is just a short walk from Buxton station, providing easy access to Buxton's many attractions.
Visiting Buxton FAQs
What is Buxton famous for?
Buxton is renowned for its spa town heritage, being located in the Borough of High Peak, Derbyshire, and is England's highest and coldest market town.
Its fame grew due to the pale blue water bubbling from thermal springs beneath The Crescent, alongside its historical Georgian and Victorian architecture, and ornamental gardens. Buxton's bottled spring water is also globally recognized, and the town hosts numerous summer festivals which attract tourists​​.
How do I spend a day in Buxton?
A day in Buxton can be well-spent visiting top sites; with it being small, it would be possible to do most in just one day, with sites like the Cresent, Derbyshire domes, Pavilian Gardens and the Oprea house all next to each other.
Is it worth visiting Buxton?
Buxton offers a diverse range of activities, including shopping, dining, exploring natural wonders, engaging in outdoor adventures, or spa activities.
It serves as an excellent base for exploring the Peak District, and its timeless beauty, along with its historical relevance, makes it a worthy visit.
What things to do in Buxton at night?
Nightlife in Buxton revolves around the theatres, bars, and pubs, in the town. Live music is a common feature, and venues like Oprea House are popular.
What things to do in Buxton for free?
The Pavilion Gardens, a botanical garden conservatory and wider building, is a free attraction, offering events, fairs, and live bands.
Other free activities include exploring the town's historical architecture, The Cresent, and hiking trails in the surrounding areas​.
What Things to do in Buxton with a toddler?
For families with toddlers, Buxton offers activities like exploring the Pavilion Gardens or visiting the interactive Buxton Museum.
The gardens have a range of play areas, a ride-on train and pedalo swans to exict any toddler.
What dog friendly things to do in Buxton?
Dog-friendly activities include walking in parks like Temple Fields, dining at dog-friendly eateries like Cafe At Green Pavilion and Café at the Cavern, or exploring the Victorian Pavillion Gardens.
The town has dog-friendly attractions and beautiful scenery for walks, making it a pleasant destination for dog owners​​.
If you want a great video to watch, which covers many of the things mentioned in this article, I'd highly recommend watching Postcard And A Pint below: