On the lookout for the best waterfalls in the Peak District National Park? How about finding a beautiful waterfall surrounded by nature and away from the crowds?
We've got you covered with our fantastic list of Peak District waterfalls in this stunning national park.
Did you know the Peak District is the oldest National Park in the UK? This means there are tonnes of hidden treasures tucked away and left to their own devices over the years.
Among these treasures are waterfalls. As the 'Peak' District name suggests, there are lots of edges and rock faces throughout the park. Being high up and in the north of England, you also get plenty of rain. The perfect combination for waterfalls.
In a hurry? Here's an overview:
Best Waterfall in the Dark Peak – Three Shires Head
Best Waterfall in the White Peak – Lumsdale Falls
Best Secret Waterfall in the Peak District – Wessenden Waterfall
Top 5 Peak District Waterfalls
1. Three Shires Head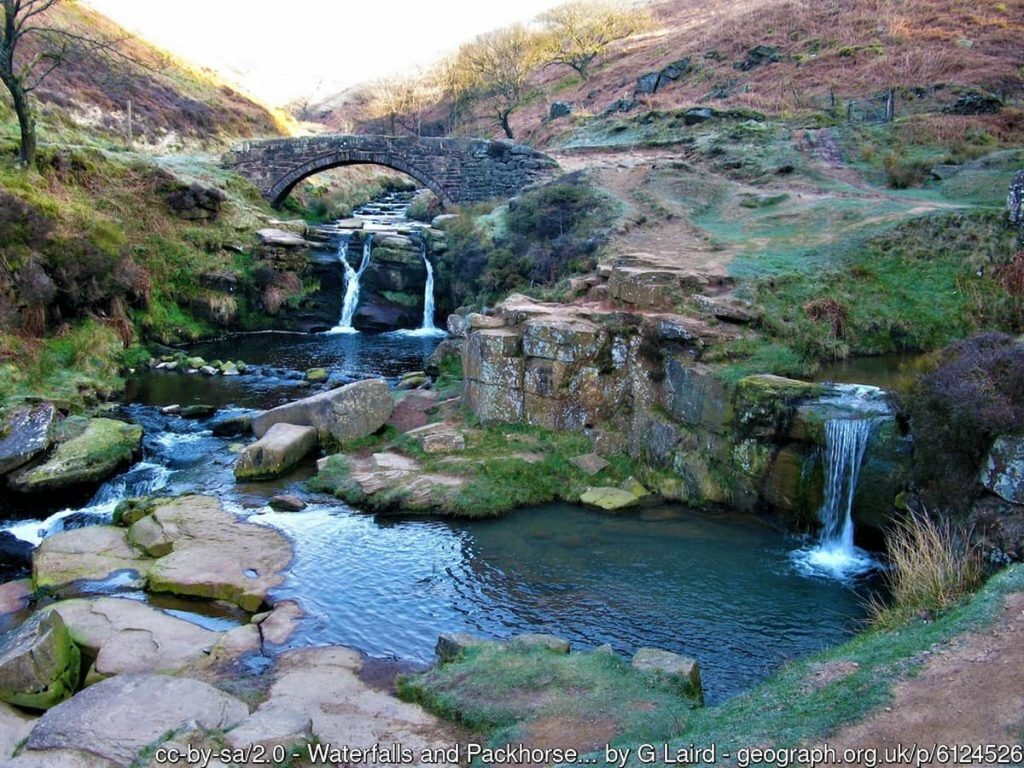 Quick info:
Three Shires Head is a scenic spot where the boundaries of three counties meet: Derbyshire, Staffordshire and Cheshire.
Nestled in a little valley where the River Dane runs through, you can find a number of waterfalls and pools, including Panniers Pool. As a former packhorse route, it's here where the horses used to stop off for a cooling dip. Nowadays, it's a popular place for wild swimmers.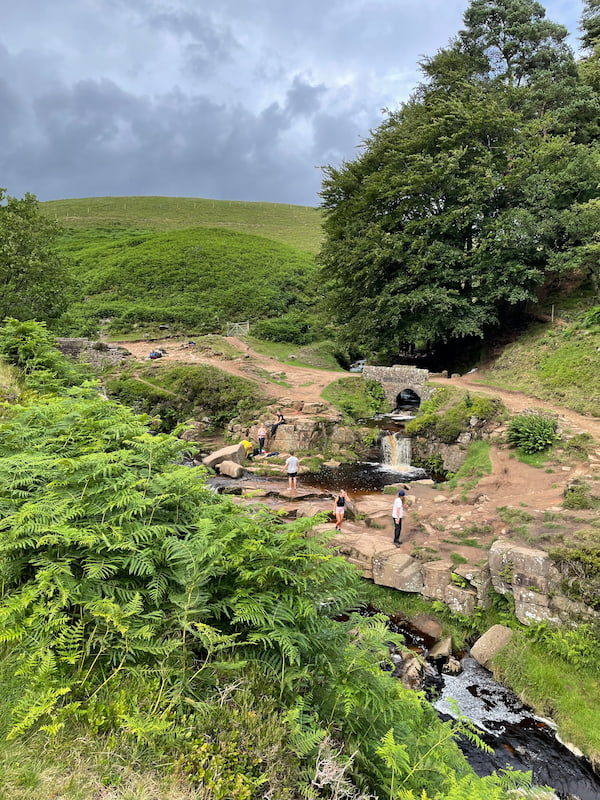 Getting to Three Shires Head is primarily accessed by car. Unfortunately, there's no public transport that gets you close.
If you fancy a short walk, you can find lay-by parking on the A54 that will give you a short walk into this beauty spot. If you're looking for a longer Three Shires Head walk, you have a few options.
To the northwest you'll find Clough House Car Park (SK11 0BD). This option provides you with a 7km circular walk and is probably your best bet. You can also find Gradbach Car Park (SK17 0SU) to the south and parking outside the New Flash Inn pub (SK17 0SW) to the southeast. All of these spots will give you a good two-hour plus walk through fantastic woodland, moorland and pastures.
Spaces are limited at all of the car parks, and this spot can get busy, particularly when the weather is good.
2. Kinder Downfall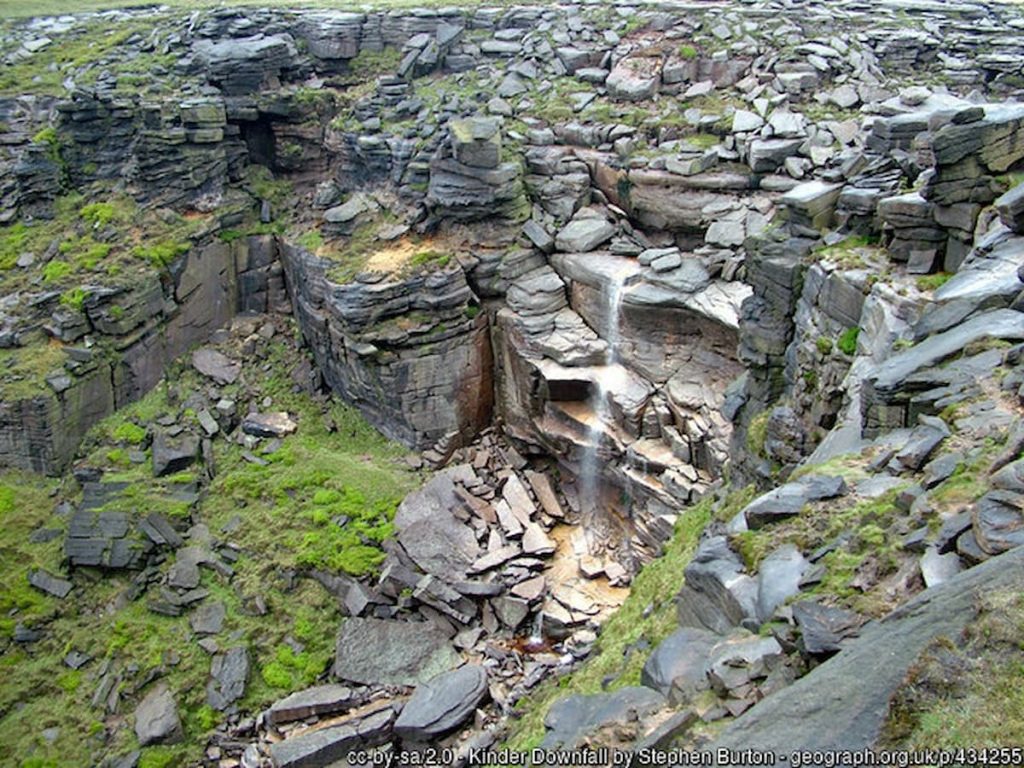 Quick info:
Found in the High Peak region, Kinder Downfall is the tallest waterfall in the Peak District National Park.
As you may have guessed, the waterfall is situated on Kinder Scout, a lovely stretch of moorland plateau and a popular spot for walkers and climbers. It gets its name from the River Kinder, which runs down into the reservoir.
The area is worth visiting for a number of reasons. Firstly, the Kinder Downfall offers stunning views and is pretty breathtaking in its own right, especially when it's in full flow. For this reason, it's best to visit outside of high summer when we've had a bit more rainfall. As you can see by the image!
Nearby you also have the 2000ft peak of Kinder Scout, the highest point in the Peaks, as well as Mermaid's Pool and Kinder Reservoir.
There are a couple of starting points when voyaging to Kinder Downfall.
The easiest spot is in the village of Edale where there's a good sized pay and display car park. This is just next to Edale Train Station. Unlike some of the other places on the list, this means you can access Kinder Downfall via public transport. From Edale, you're talking at least 3 hours along the Pennine Way for a beautiful return hike.
If you're looking to miss the potential crowds at Edale, you can park near Barber Booth and pick up the trail from here.
Another option is to start a circular walk from Hayfield. The best car park here is Bowden Bridge. This is small, but there are other options if it's full. Last time I checked, you needed cash, so make sure you've got some pound coins. I'd give yourself at least four hours for a return walk to Kinder Downfall from Hayfield.
3. Middle Black Clough Waterfall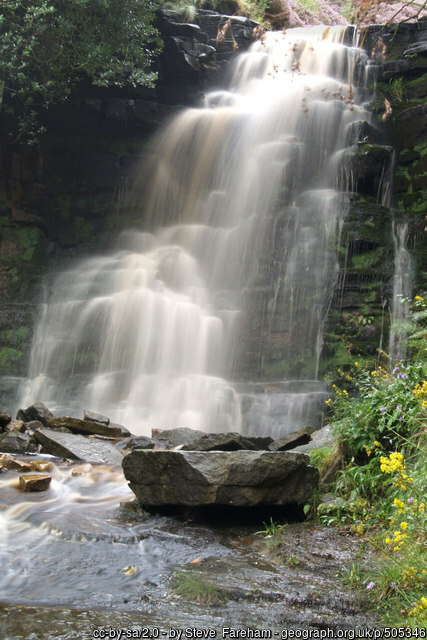 Quick info:
Middle Black Clough Waterfall is a beauty. You'll find it nestled in the fantastic scenery and nature of Longdendale Valley. This is one of my favourite spots.
Middle Black Clough isn't as easy to reach as some of the other waterfalls on the list. The upside of this is that it's generally not as busy. I'd definitely say this is a hidden Peak District gem – you feel like you're discovering a secret little oasis.
From the Trans Pennine Trail Car Park, the waterfall is roughly a 30-minute walk.
But to reach the treasure at the end, you'll need to do a bit of climbing up rocks and potentially some walking on undesignated paths. The trail starts flat, but don't let that fool you. Short, rocky and adventurous. Make sure you take the right footwear.
The short walk is worth it, though, and you'll be greeted with a proper waterfall with a 10m drop. The best time to visit Middle Black is after rainfall, but not during a rainy day, as it'll make the walk very tricky.
As well as the main car park, you can also park in various lay-bys along the A628, otherwise known as Woodhead Pass. As this is a secluded spot, be sure to take drinks and food with you.
Although you may see Woodhead Railway Station on the map, this isn't a working train station.
Unfortunately, there are no public transport options to get to Middle Black Clough.
4. Wessenden Reservoir Waterfall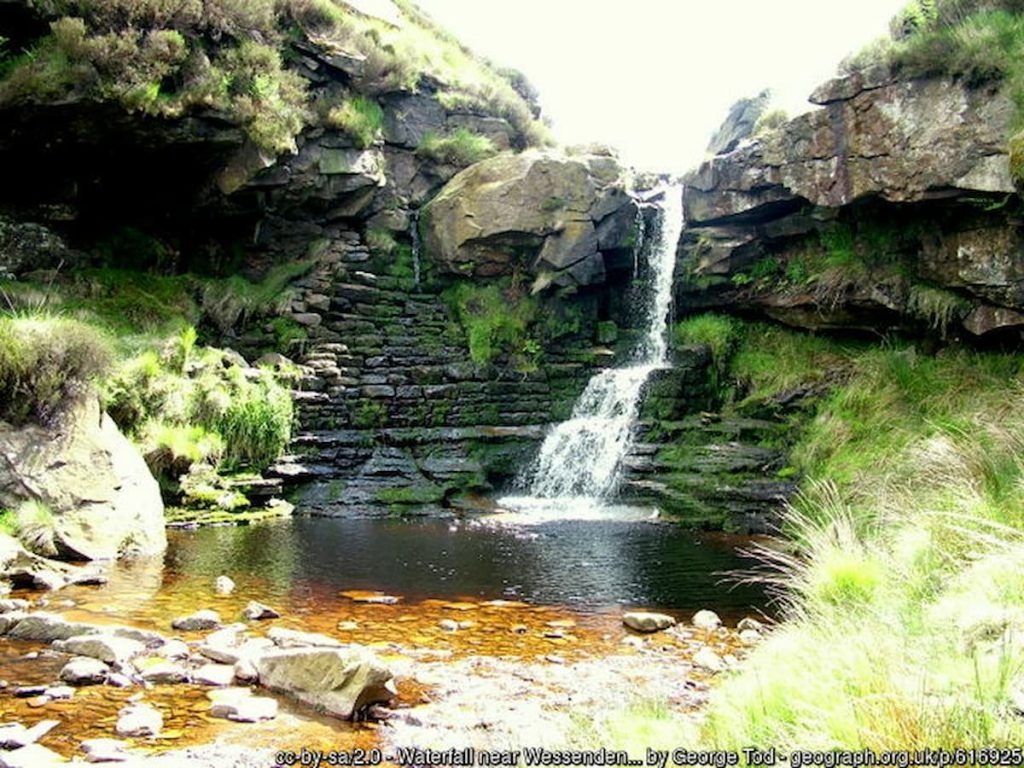 Quick info:
Right up at the north end of the Peak District is Wessenden Reservoir. Located in the tranquil Wessenden Valley, you'll find a series of waterfalls, pools of water and four reservoirs.
It's also a much quieter area to explore when compared to the central part of the national park. Another hidden gem I'd say.
The best place to park for Wessenden Reservoir is on Wessenden Head Road, where there's a large lay-by with space for 25 cars. If you're coming from the Manchester side, you can get to this road from the A635, which takes you past Dovestones. From the east, the best access is to come from Meltham.
From this starting point, the route to the waterfall and back is about 5 miles. So, roughly two hours. You can find the waterfall in all its glory just past Wessenden reservoir.
A word of warning though, this path is steep, can be slippery and involves peak district stepping stones. The walk isn't suitable for prams, and it'd be a struggle with young children. There are no facilities at the car park or along the way, so make sure you take everything you need with you.
5. Lumsdale Waterfall
Quick info:
Another special spot. Lumsdale waterfall is a captivating area situated just outside the town of Matlock in the White Peak.
It's gained more popularity in recent years, but is still much quieter than some of the other big Peak District attractions.
Found in the Lumsdale Valley, the waterfall is surrounded by nearby ruins, peaceful woodland and caves. It's actually an early industrialisation mill site that's gone back to nature. It's now a Scheduled Ancient Monument, meaning it's a fragile but important historical spot.
There's good parking available to the north and south of Lumsdale Waterfall on Lumsdale road. You're not short of options here. It's then only a very short walk to the waterfall, where you can take your time to explore this beautiful area.
If you fancy using public transport, Matlock Train Station is just less than two miles away, so about a 30-minute road walk.
Afterwards, make your way to the nearby Bentley Brook Brewing Co for a pint of the good stuff.
A couple of things to note. As the dilapidated buildings are being repaired, some parts of the site are closed off and not accessible at weekends.
Best of the Rest Waterfalls in the Peak District
The above are my top five Peak District waterfalls. But, this national park is blessed with plenty of other waterfalls that are well worth a visit.
Here are more falls to add to your list.
6. Lathkill Dale (Over Haddon, Bakewell)
7. Blackden Brook Waterfall (Kinder Scout area, off Snake Road)
8. Fairbook Waterfalls (Kinder Scout area, off Snake Road)
9. Tintwistle Seven Falls (Tintwistle, near Glossop)
10. Waterfall Swallet (Foolow, Eyam)
11. Crowden Clough (Near, Edale)
12. Birchen Clough Waterfall / Issue Clough Waterfall (Just off the Longdendale Trail)
13. Folly Dolly Falls (Meltham, near Holmfirth)
Honourable Peak District Waterfall Mentions
As well as the ten Peak District waterfalls mentioned above, there are a few more honourable mentions that I can't leave out – so much choice!
So, here are some extra 'waterfalls' accompanied by good walks to add to your list. All of the below are certainly more child-friendly than some of the hard-to-get-to places above.
14. Padley Gorge
The Padley Gorge area is one of my favourites in the Peaks. It's in the Hope Valley and just a stone's throw away from Grindleford.
It's a picturesque spot, and you get a mixture of woodland, greenery and running water courtesy of Burbage Brook, which runs through the middle of the woodland. There are a few mini-waterfalls along the gorge, which is why I give it an honourable mention here. In the summer, you can paddle in the pools too.
There's lots of parking along the nearby roads, but I like to park at Fox House or in the large Longshaw Estate car park and start a circular walk from there.
On a side note, the chip butty from the Grindleford Station café is good!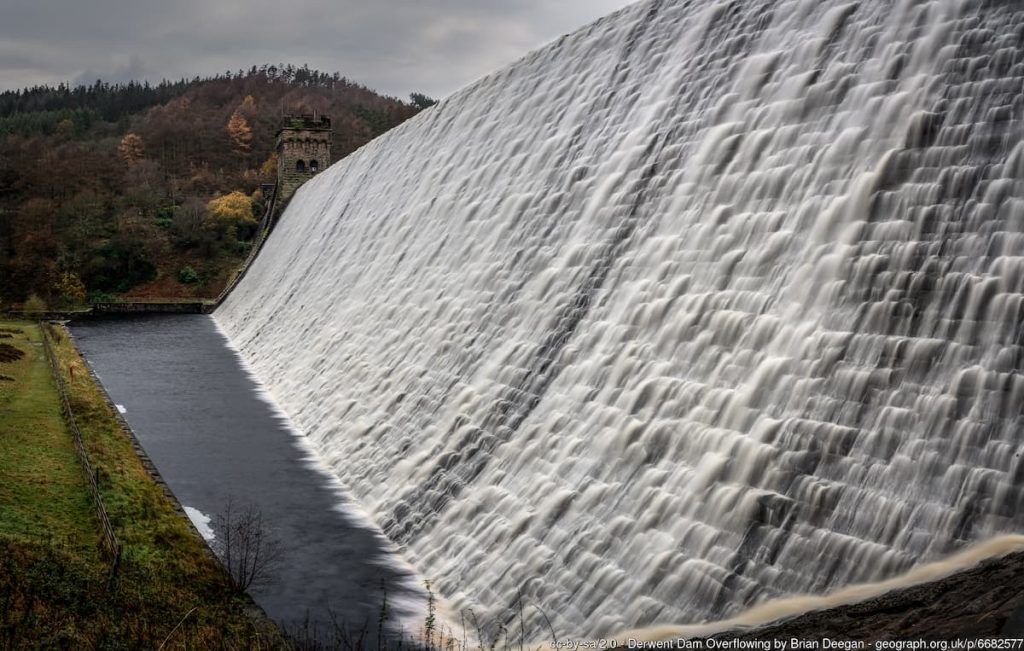 Derwent Dam is another notable mention. Ok, not strictly a waterfall, but hear us out. After heavy rainfall, there's a dramatic overspill at the dam that creates an impressive body of falling water that cascades below.
Derwent Dam also has a rich history. It played a significant role during World War II when it was used as a training site for the famous Dambuster raids.
The surrounding area is perfect for walkers and cyclists. I've hired a bike before from the Upper Derwent Visitor Centre and took a leisurely ride around the upper reservoir.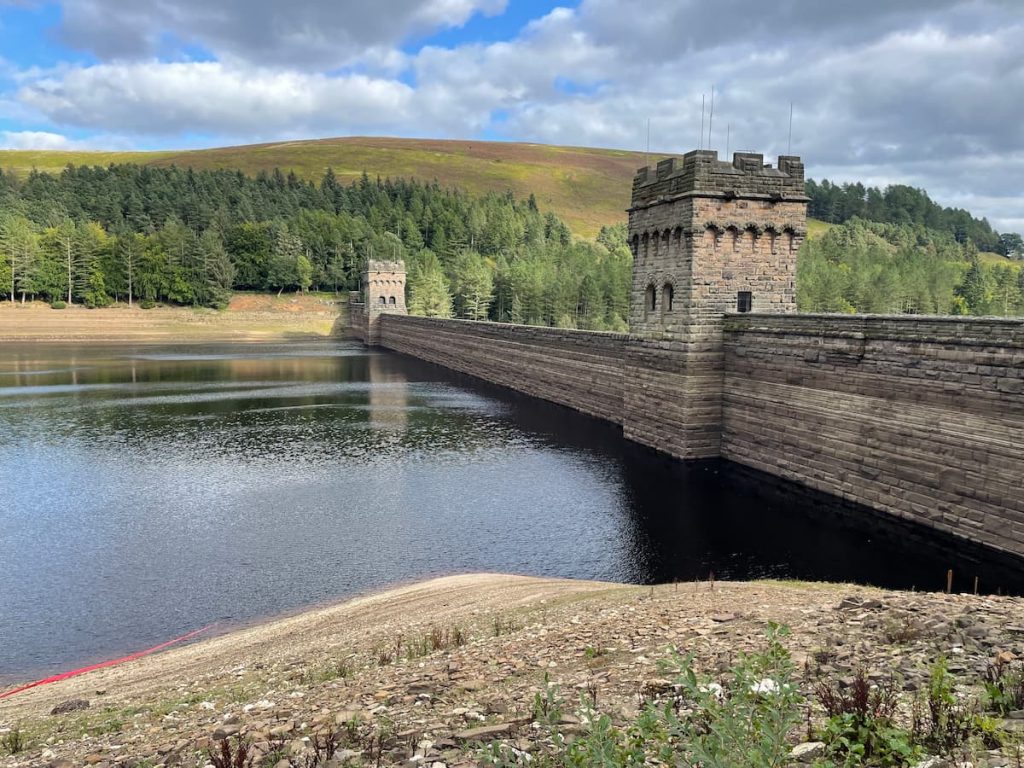 16. Chatsworth Aqueduct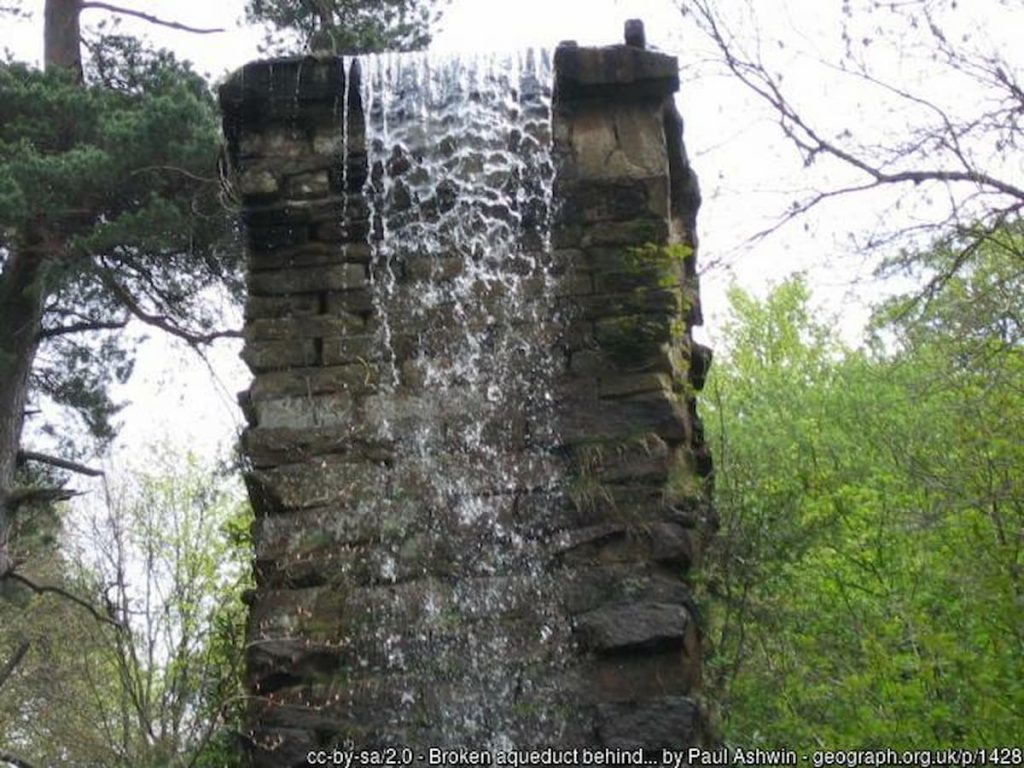 Located within the grounds of the beautiful Chatsworth Estate, the aqueduct is quite a sight to behold. The aqueduct is located in the woodland behind the house, which you can access for free.
Although man-made, Chatsworth Aqueduct is a great piece of architecture dating back to 1839. The result is a really impressive waterfall that makes for a brilliant photo spot!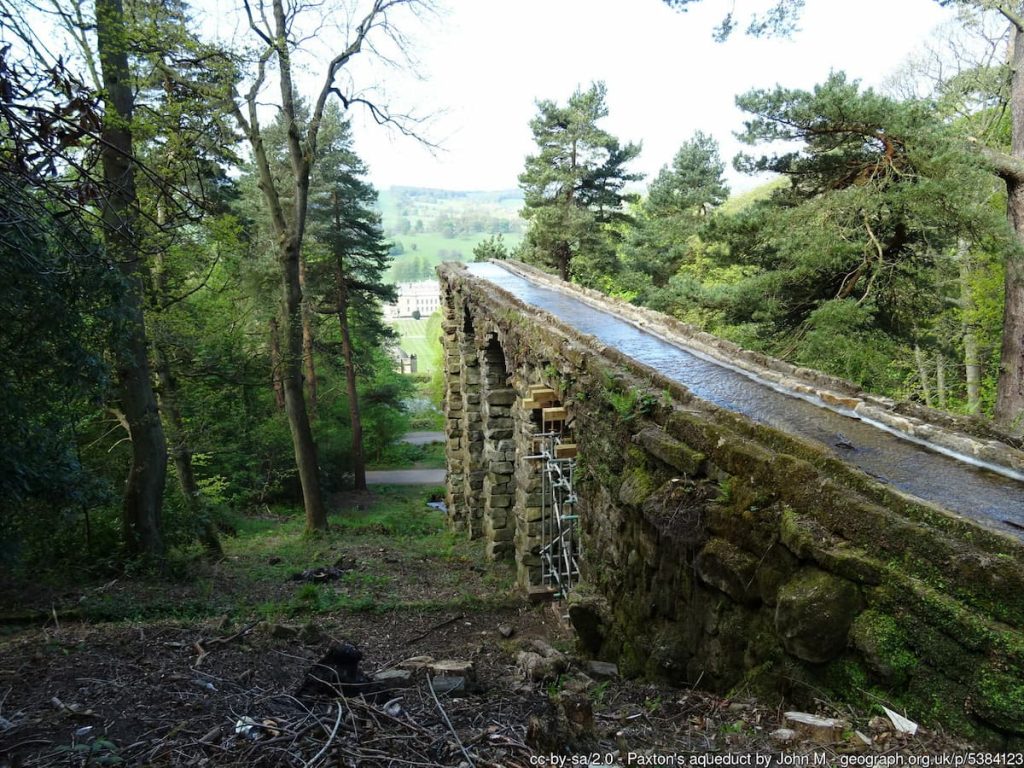 When to Visit Peak District Waterfalls
In my view, the best time to visit a Peak District waterfall is between March and October. During this time, the temperatures shouldn't be too cold, the days are longer, and it's likely that there's been a bit of rainfall. This is particularly true for the extremities of the range.
You see, rainfall is needed to help create the waterfalls in the first place. The absolute ideal time is to head on a waterfall walk the day after there's been a good amount of rainfall. You'll then have a much better chance of seeing a full and flowing waterfall.
I'd avoid going to see a waterfall in the height of summer or in the middle of winter, unless the weather is unseasonably warm. The walks and paths leading up to the waterfall are also likely to be more treacherous during mid-winter.
How to find Hidden Waterfalls? (Going Waterfall Hunting)
For waterfall lovers, the best way to find small natural waterfalls, often off the beaten track, is to find them on ones marked on the map.
Do some research and try and find a bonus waterfall to explore. The best way to do this is:
1. Open up your OS Map near a location you want to search. In the example below, this is near Dovestone Reservoir. If you zoom in to 1.25k, the map will show in a lot more detail with waterfalls displayed with the word 'Waterfall' in light blue text. A 'V' shaped valley should also be visible where contour lines form a 'V' shape facing up a slope.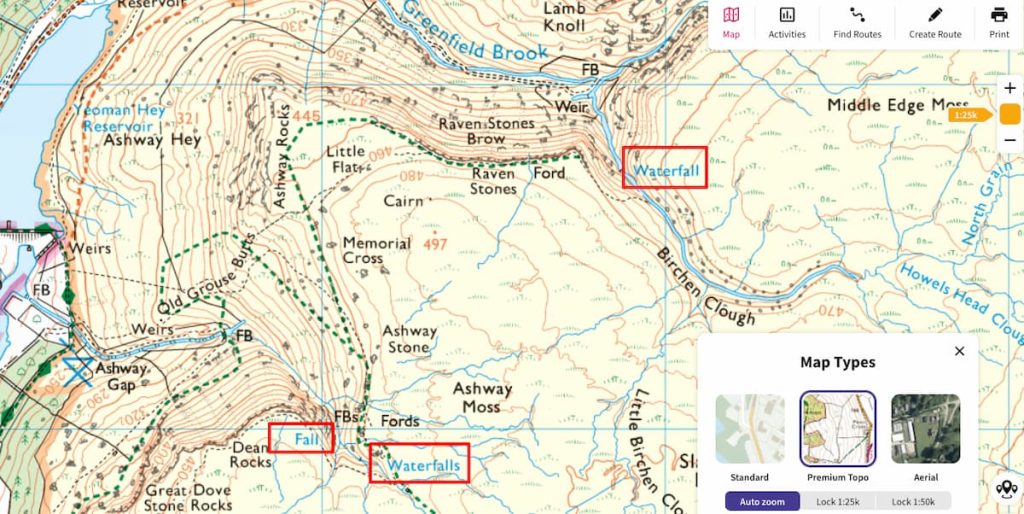 2. You should then be able to research it further using Google satellite view, or if you are lucky enough, there could be a Google photosphere of the waterfall to give even more clarity, as seen below. But ultimately, there's nothing like just getting out there and seeing it with your own eyes.
Best Peak District National Park Waterfalls FAQs
What is the easiest waterfall to get to in Peak District?
Lumsdale Waterfall, provided you can get a parking spot nearby, offers only a short walk and rewards visitors with a pretty waterfall. While some might argue that other waterfalls are easier to access, Lumsdale Waterfall remains a solid choice.
What is the biggest waterfall in the Peak District?
Kinder Downfall stands as the largest and tallest waterfall in the Peaks, boasting a 30-metre drop.
How many waterfalls are in Peak District?
The Peak District is home to hundreds of so-called waterfalls, marked as such on OS Maps. However, only a select few are considered noteworthy enough to visit, 17 of which are listed in this article.
Does Buxton have a waterfall?
There are no waterfalls in Buxton itself; however, Three Shires Head is a brief 15-20 minute drive away from the town.
Is wild swimming allowed at the waterfalls?
In general, wild swimming is permitted at waterfalls throughout the Peak District National Park. However, one should always research restrictions and advice at each site, and assess the risks before entering the water to ensure an enjoyable and safe swim.