Set within the scenic Peak District, Mam Tor, also known as the "Shivering Mountain", is an iconic destination for hikers and nature enthusiasts alike.
Whether you're deciding which walking route to take, this guide offers you detailed insights.
From parking tips to maps for walking and amenities in nearby Castleton to understanding what makes this mountain special, get ready to embark on a memorable journey to Mam Tor!
Getting to Mam Tor
The most straightforward way to reach Mam Tor is by car. The main car park is situated a short distance, just a few hundred metres from the viewpoint.
For those without access to a car, you can take a train to nearby village stations and then either walk or catch a bus to Mam Tor.
Mam Tor – By Car & Parking
Mam Tor is a renowned destination in the Peak District. Due to its popularity, parking might prove challenging, especially on busy days. It's advisable to arrive early.
There are two parking options available: the official National Trust car park or several laybys in the vicinity.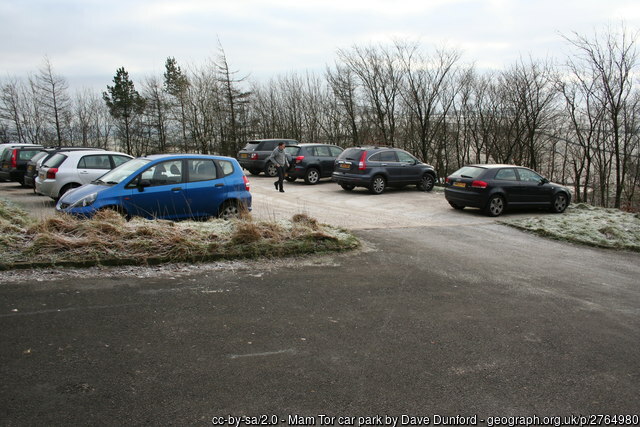 The National Trust Mam Nick Car Park is quite basic and doesn't provide toilet facilities.
Parking fees are as follows:
National Trust Members: Free
Up to 4 hours: £4.50
24 hrs: £6
Payments must be processed using the PayByPhone app. During my visit, I didn't spot any payment machines, but mobile reception appeared reliable.
What Three Words: ///efficient.contracting.slogans
Postcode: Not accurate
Laybys & Roadside Parking (Free)
Should the official car park be full, there are alternative parking options along the roadside, particularly near or on Old Mam Tor Road.
Here are specific locations where I've observed cars parked on crowded days:
Old Mam Tor Road: Ample spaces available.
Public Transport
Mam Tor is somewhat challenging to access via public transport, but a few indirect options exist:
Train to Edale: Edale's train station is serviced frequently by trains running between Manchester and Sheffield. From the station, it's a 1-hour uphill walk to Mam Tor's viewpoint – a feasible option if incorporated into a day out.
Train to Hope & Bus to Castleton: An alternative is to continue on the train, one more stop (or one less, depending on your direction from Sheffield or Manchester), and disembark at Hope station. Subsequently, you can take a bus to Castleton and embark on a longer trek.
3 Mam Tor Walking Maps & Routes
Very Short – Direct Back & Forth
Circular Short Route
Circular Long Route via Back Tor, Lose Hill Castleton
Three routes for Mam Tor: one direct route to the viewing point with the option to extend on the pathway as far as you'd like before returning the same way.
Additionally, two circular routes; a longer one following the entire ridge via Castleton and another circling back via the broken road.
Direct Back & Forth: 0.6km (0.4mi) – 15-30 mins
Download file for GPS
This direct route covers just a short distance from the car park up a steep hill to the Mam Tor viewing point. From here, you can extend your walk along the ridge to Back Tor (+3.2 km / 2 mi) or even to Lose Hill (+3.9km / 2.4 mi).
Starting from the car park, ascend the hilly steps and continue along the road.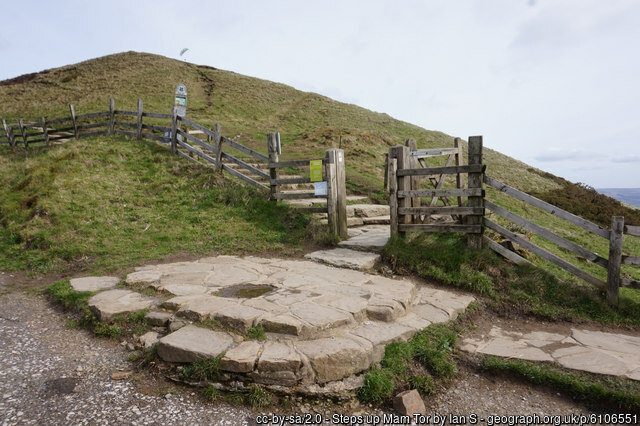 Proceed through the gate and ascend the path until you reach the summit with the toposcope. Savour the magnificent views!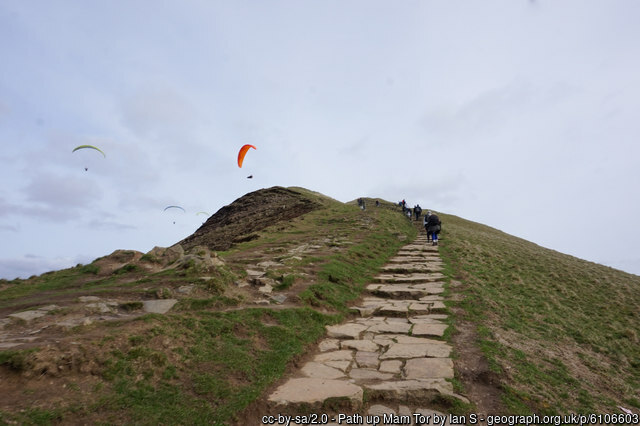 At this point, you'll be at the highest point of Mam Tor, known as the "Shivering Mountain".
If you wish, you can choose to venture further. Map:
Circular Short: 4.5km (2.8mi) – 1.5hrs
Download file for GPS
This short circular Mam Tor walk reaches the summit and continues along the stone path. You'll then descend the hill, passing a few farmhouses and journeying up the broken road to return to the car park.
Begin at the rear of the car park and ascend the hill. After passing through the gate, you'll soon find yourself at the summit.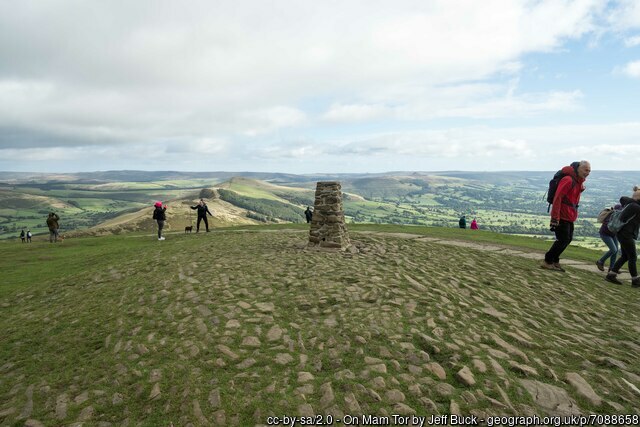 Continue on the path, which meanders down the beautiful ridge line.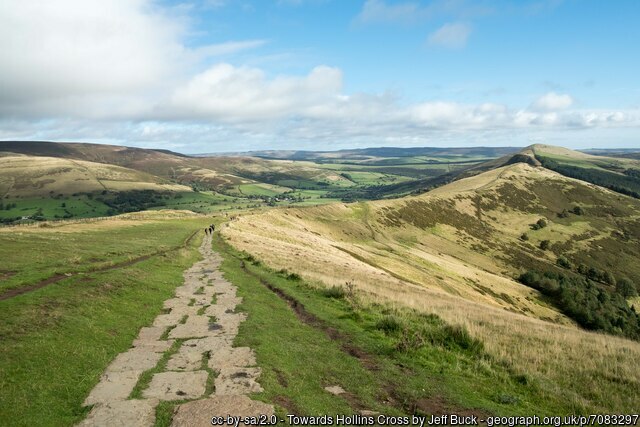 You'll come to a gate after a brief distance with a Memorial stone at Hollins Cross (Image below. Once you reach a convergence of paths from both right and left, make a sharp right, almost doubling back, and descend steeply across the hillside.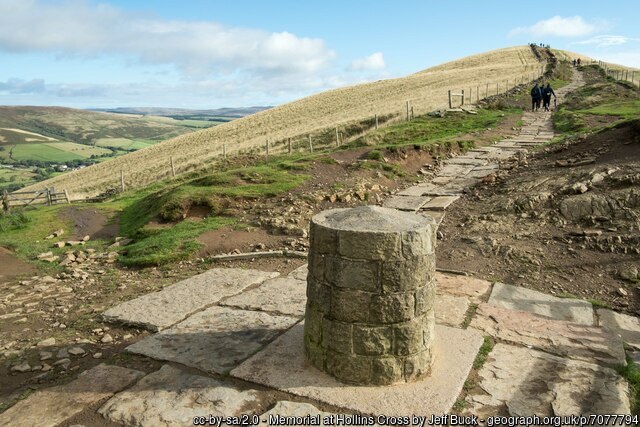 Note: Do note that the path quality worsens here, quite unlike the paved slabs on the ridge.
Journey downhill until you approach the tree line. Bypass several farm buildings, and eventually, you'll merge with a main road with a gate across it.
Pass through and head up the broken road, which was closed due to a landslide in 1979 affecting the A625. Soon after, you'll pass through a car park near Blue John Cavern.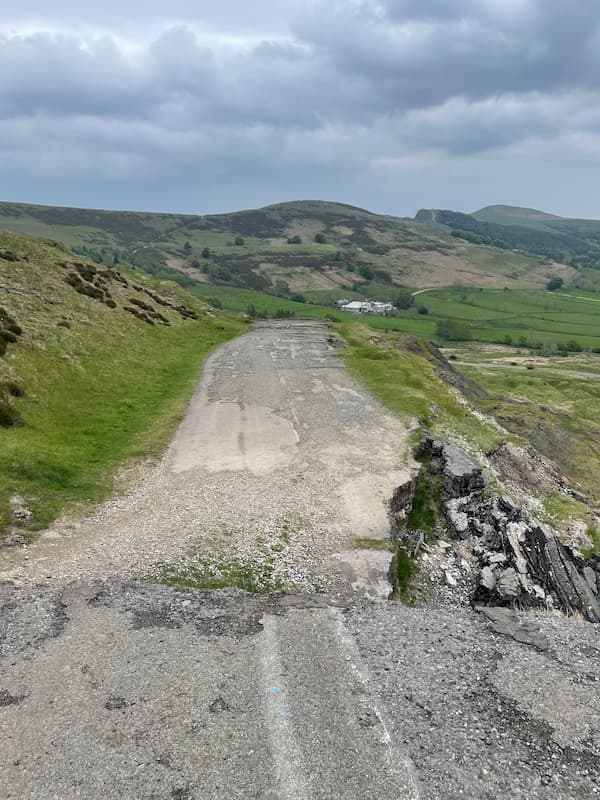 Exit the car park, take a right onto the road (exercise caution, as it can be busy), and you'll shortly be back at the original car park.
Circular Long via Back Tor, Lose Hill & Castleton: 7.13mi (11.5km) – 3.5/ 4hrs
Download file for GPS
This longer circular route summits Mam Tor, continuing along the ridge past Back Tor and Lose Hill's peak before descending into Castleton. You'll then climb back up towards the car park.
Commence out of the car park, ascend the hill and pass through the gates to reach the summit.
Proceed downhill along the ridge, just before the hill heading over a stile and then climb towards Back Tor, which serves as the second major peak and viewpoint.
Walk for about 1km, and you'll find yourself atop Lose Hill, the walk's highest point – a good spot to rest.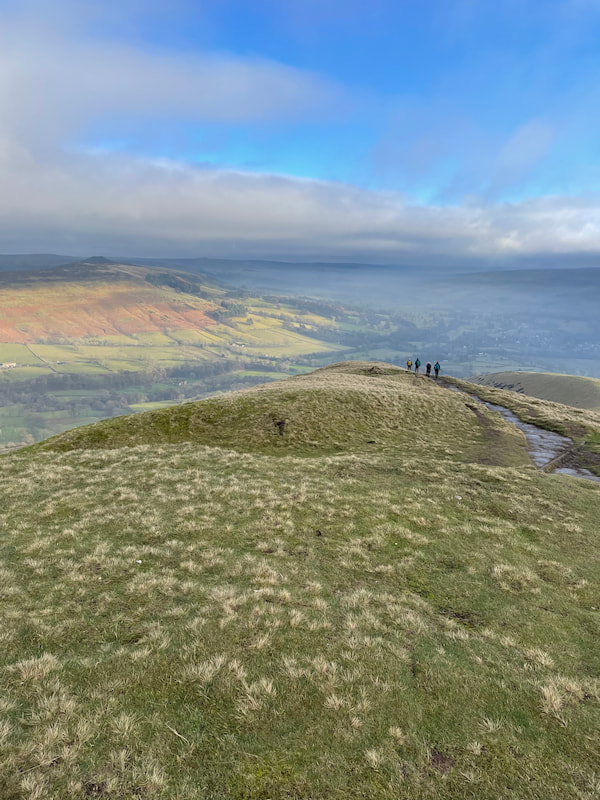 Then, descend to a farmer's track and follow it until you reach Castleton, a great place to stop for food or drink.
If you're staying in Castleton for a while, view my article on the best things to do in Castleton.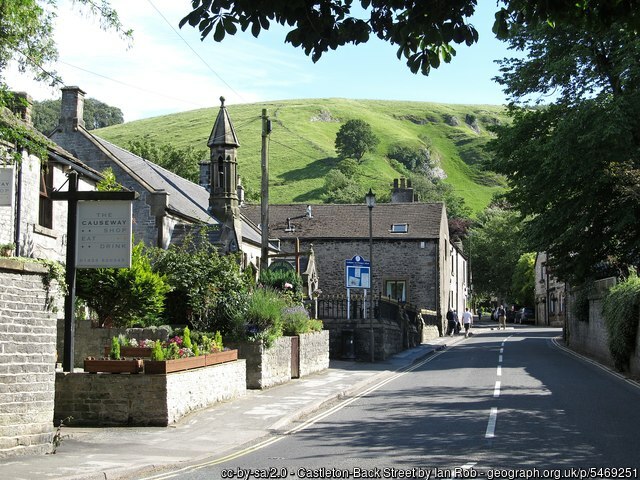 As you leave the village, turn right just before the last houses, entering a public footpath. Traverse several fields until you return to a tarmac road.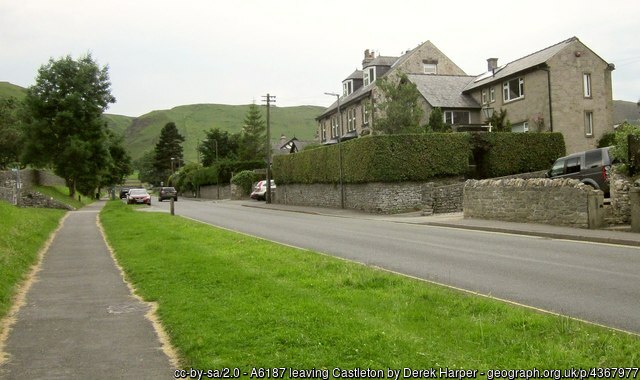 Continue on this winding road, passing through a gate and the broken section, eventually reaching the car park by Blue John Cavern.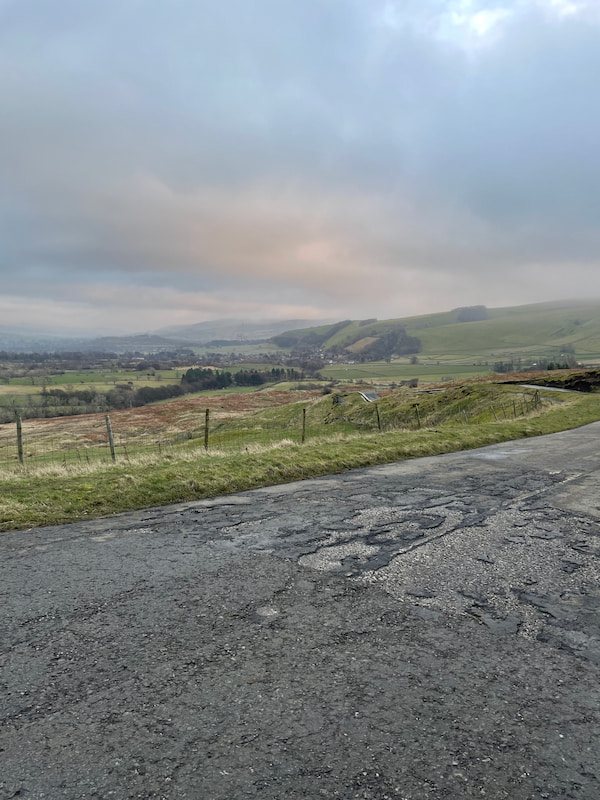 At the top of the car park, turn right. Walk along the main road, and soon you'll arrive back at Mam Nick Car Park.
Mam Tor Amenities & Facilities
There are no Amenities near or at the car park, but Castleton is just a short distance from Mam Tor, and the long circular route passes through the village.
So, stopping here could be a good option.
Public Toilets:
Public Toilets @ Bus Station (Open 8am – 6pm)
Castleton Visitor Centre & Public Toilets (Open 8am – 5pm)
Food & Drink:
Cafes & Small Bites:
Pubs: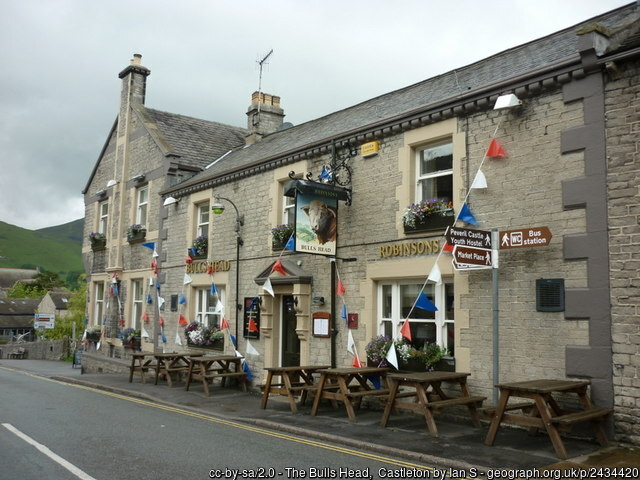 There's a huge range of hotels, hotels and food options available in Castleton.
See our article on the best peak district hostels for more information on accommodation. Or if you've got a dog, then a pet-friendly hotel in the Peak District, of which our best budget pick was in Castelton.
When or When Not to Visit Mam Tor
On a Clear Day:
Visit Mam Tor on a clear day to enjoy panoramic views that encompass neighbouring peaks, valleys, and quaint villages. However, clear days, especially on weekends and school holidays, tend to draw larger crowds, making the area busier.
On Windy Days with Poor Weather:
The ridge route of Mam Tor is exposed, making it challenging during strong winds and adverse weather.
While the main path is well-marked with stone slabs, adjacent trails are less defined and might pose a challenge in poor visibility.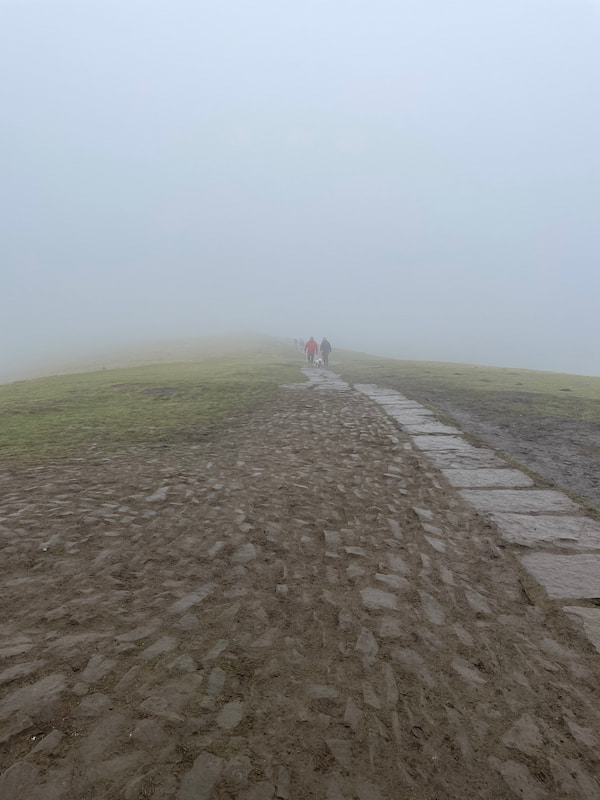 To make the most of your visit, consider going on a weekday and outside of school holiday periods to avoid the busiest times. Always check weather forecasts in advance to ensure a safe and enjoyable hike.
Mam Tor – FAQs
How High is Mam Tor?
Mam Tor stands at a height of 517 meters (1,696 feet) above sea level.
Do you have to pay to go to the national trust Mam Tor?
No, access to Mam Tor itself is free. However, there can be parking charges in some areas nearby, especially if you use National Trust car parks.
Mam Tor Postcode:
The postcode for Mam Tor is S33 8WA. However, always cross-check before planning your visit, as postcodes can cover large areas, especially in rural settings. It's best to use the What Three Words ///efficient.contracting.slogans, which is the exact location of the official car park.
Where is Mam Tor?
Mam Tor is located near Castleton in the Peak District National Park in Derbyshire, England. It's often referred to as the "Shivering Mountain" and provides stunning panoramic views of the surrounding area.
Is Mam Tor a difficult walk?
Mam Tor is generally considered a moderate walk. While the path is well-maintained and accessible for most people, there are some steep sections. It is suitable for both beginners and experienced walkers, but as with any hike, it's essential to wear appropriate footwear and check the weather conditions before setting out.
What is special about Mam Tor?
Mam Tor is special for several reasons:
– It offers panoramic views of the Peak District, and on clear days, you can see for many miles.
– Its name, "Shivering Mountain", comes from the frequent landslides that occur on its eastern face. The geological activity makes it an area of interest for both geologists and visitors.
– The summit of Mam Tor has the remains of an Iron Age hillfort, indicating its historical significance.
– It serves as a popular site for paragliders due to the updrafts created by its shape.