Exploring the natural beauty of the Peak District requires a convenient and comfortable place to stay, and youth hostels are a popular choice for travellers seeking budget-friendly accommodation.
The YHAs are currently the only hostels located directly in the Peak District National Park, right in the heart of this stunning landscape. Whether you're a hiking enthusiast, a lover of history, or someone seeking a blend of outdoor adventure and relaxation, the top YHA hostels spread across the district have something to offer.
From the historical charm of YHA Ilam Hall to the activity-focused YHA Edale Activity Centre and the convenient access to local trails at YHA Ravenstor, your ideal base for exploring the Peak District awaits.
Top Peak District Youth Hostels
I've picked the top three choices spread out across the district, so you'll be able to find one that suits your needs.
What 3 Words: ///sparrows.splash.sectors
Address: Ilam Hall, Ilam, Ashbourne, Derbyshire, DE6 2AZ
Overview
YHA Ilam Hall is the highest-rated hostel in the Peak District, boasting a 93% approval rating. Set in a historic 15th-century building crafted by the Sir John Port family, this establishment blends history and hospitality effortlessly.
The hostel is nestled within the National Trust Parkland and a short distance from the enchanting Dovedale stepping stones.
Accommodation & Pricing
YHA Ilam Hall offers two types of accommodation.
Shared Room: A bed in a shared room is available from £15.00 per night.
Private Room: If you prefer a more private setting, a room starts at £29.00 per night.
Pros
Historic Charm: The charm of the 15th-century building and the atmospheric surroundings make for a unique stay.
Good location: Its location within the National Trust Parkland and proximity to the Dovedale stepping stones provide easy access to the wonders of nature. The hostel is also just a short drive from Ashbourne.
Licensed bar: There's a bar on the premises, perfect for a nice cold drink after a long day of activities.
Cons
Restricted Parking: While parking is available, it's only free for National Trust members. Other guests need to purchase a discounted parking ticket from the reception.
No WIFI: There's no WiFi at YHA Ilam Hall, and mobile phone signal is limited within the building. While this provides a great opportunity for a digital detox, it could be inconvenient for those who need to stay connected.
No Pets: Unfortunately, pets are not permitted at the hostel. The exception is assistance dogs, which are welcome provided the hostel is informed at the time of booking.
Despite some limitations, YHA Ilam Hall's high approval rating reflects its reputation as a quality choice for visitors seeking a blend of historical ambience and natural beauty in the Peak District.
YHA Edale Activity Centre – 92%
What 3 Words: ///broadcast.glows.geek
Address: Rowland Cote, Nether Booth, Hope Valley, Edale, Derbyshire, S33 7ZH
Overview
Edale Activity Centre is a grand country house with amazing views and close proximity to a range of outdoor activities in the Peak District.
Accommodation and pricing
Shared Room: A bed in a shared room is available from £14.00 per night.
Private Room: If you prefer a more private setting, a room starts at £25.00 per night.
Pros
Great location: just south of Kinder Scout hiking paths, and next to iconic spots, such as Lose Hill and Mam Tor, near caving or to canoeing activity locations
Self-catering: Guests have access to a self-catering kitchen.
Parking: There is free parking available at YHA Edale Activity Centre. Please park with consideration to later arrivals.
Cons
WiFi: There is no WiFi at this hostel.
Dogs: Pets are not permitted at YHA Edale Activity Centre. Assistance dogs are welcome – but notify them at the time of booking.
Overall the YHA Edale Activity Centre is a great option, especially for those doing more activities than just hiking; there are amble options right on your doorstep.
What three words: ///visitor.track.passwords
Address: Millers Dale, Buxton, Derbyshire, SK17 8SS
Overview
Located just off the Monsal Trail that runs from Buxton to Bakewell, this hostel provides easy access to the Chee Dale Stepping Stones and offers a convenient location for hiking enthusiasts.
Accommodation & Pricing
Private Rooms: Available from £65 per night, with the option for a private ensuite.
Whole Hostel: Available from £950, with a two-night minimum stay required.
Pros
Free Parking: Parking is available on the premises at no additional charge.
Free WiFi: Guests can enjoy free WiFi in shared social spaces.
Cycle Store: Secure storage for bicycles is provided.
Self-Catering: A self-catering kitchen is available to guests.
Meals: Dinner and breakfast options are available for purchase.
Cons
Intermittent Mobile Coverage: Mobile phone signal may be unreliable.
No Shared Rooms: The lack of shared room options may make the accommodation quite expensive for some guests.
Dated Design: Some guests have complained about the outdated design of the property.
While the lack of shared room options and dated design may be downsides for some visitors, the hostel's location near the Monsal Trail, free parking, WiFi, and self-catering facilities make it a viable option for those looking for convenient access to local attractions and the added comforts of modern amenities.
The option to store bicycles and the availability of meals on-site adds to the appeal for cyclists and those looking to explore the natural beauty of the surrounding area.
Some other hostels, in the Peak District, included:
YHA Eyam (Group hire only)
YHA Hartington Hall
YHA Hathersage
YHA Castleton Losehill Hall
Alternatives For larger groups (Bunkhouses):
If you're in a larger group a bunkhouse could be a good option. They can be more basic than a hostel, but you can get the whole building, and its facilities to yourself, usually for a good rate.
Some of these options included:
Factors to Consider when Choosing a Youth Hostel in the Peak District
Location
When choosing a Peak District hostel, location is of paramount importance. Consider a hostel that's within easy reach of hiking trails, whether you're a solo trekker or a group of explorers. In addition, it's beneficial if the hostel is near attractions such as museums, historical sites, or local markets, enhancing your cultural experience.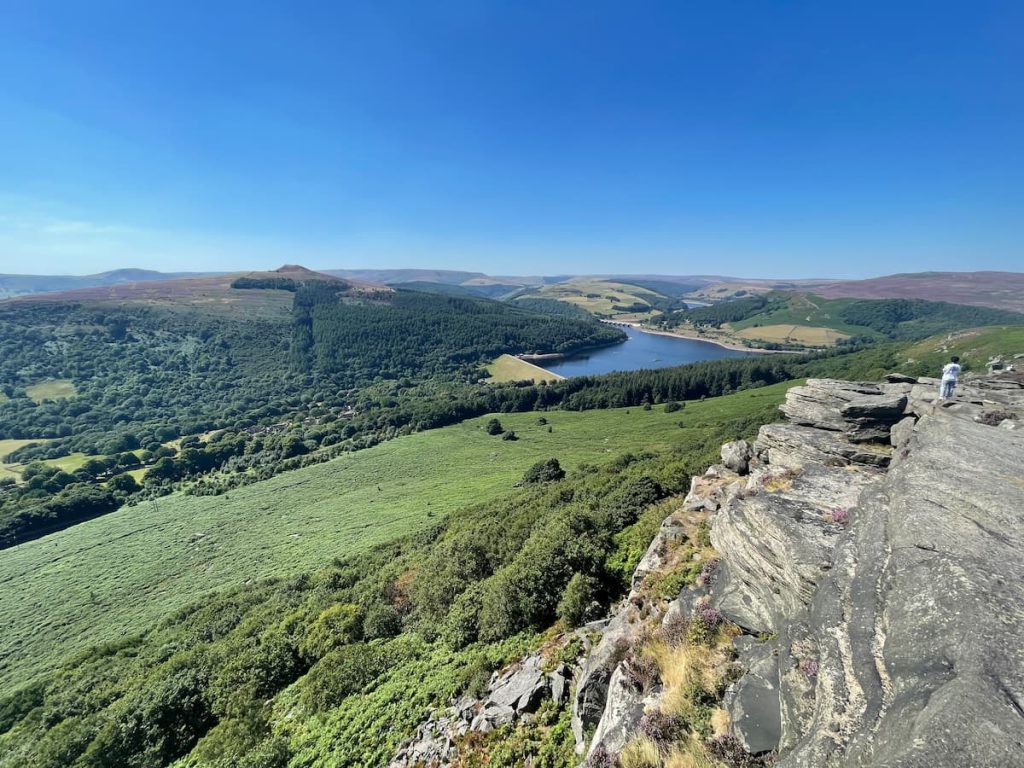 Proximity to public transport is another critical factor, particularly if you're not planning on driving. If you are arriving by car, check if the hostel offers parking facilities.
Facilities
The facilities provided by a hostel can greatly impact the comfort of your stay. Prioritize cleanliness, as a well-maintained hostel indicates good management.
Look at the room types on offer; some may prefer the communal setting of a dormitory, while others might want more privacy in a private room.
Common areas are crucial as they offer spaces to relax and socialize. If you prefer self-catering or have dietary restrictions, ensure the hostel has a kitchen available for use.
Cost
When picking a hostel, consider your budget. Compare the average prices of hostels in the Peak District and see which ones provide the best value for your money. Don't forget to check if they offer member discounts, as this could significantly reduce your costs. Remember, however, that the cheapest option might not always provide the best experience.
Reviews
Always check the reviews before booking a hostel. They provide first-hand experiences from previous guests and can give you an insight into the cleanliness, staff behavior, and overall quality of the hostel.
Hostelworld is a great place to view, reviews, as you'll see detailed traveller info.
Community
If you're interested in meeting new people and engaging in social activities, the hostel's community is an essential factor to consider.
Some hostels organize communal events, pub crawls, or group tours, which can be great opportunities to make new friends and share experiences.
Try to get a feel for the atmosphere of the hostel through the reviews.
Location
Location, location, location, it's of the most important factors when booking a hostel, especially if you're hiking in the Peak District—proximity to hiking trails, attractions, and public transport. (If parking is available, should be considered.
Tips for Staying in a Youth Hostel in the Peak District
If you've never stayed in a public youth hostel before, the thought may be nerve-wracking, but with the following tips, you should fit right in.
In my younger years, I stayed in hostels around the world, including many in the Peak District. So, I know a thing or two about best practices, as well as what distinguishes good hostels from bad ones.
Booking in Advance, Especially During Peak Seasons
Hostels may have a reputation for last-minute bookings and go-with-the-flow travel, but those in the Peak District tend to get booked up weeks in advance, particularly by school groups, especially during the summer months.
What to Bring to a Peak District Hostel
Hostels are known for being basic, but you will usually need to bring a few more essential items than you would to a hotel. These might include:
Towels: Consider a microfiber towel. It's fast-drying and compact.
Locks for Lockers: Essential if you are in a shared room.
Body Wash and Shampoo: Sometimes dispensers are provided, but this is not guaranteed in the showers.
Groceries for Self-Catering: If you're planning to cook.

Also, consider whether you're going to be cooking meals yourself or eating out. Not all hostels provide meals or have kitchens, so you'll need to check this before booking, depending on your plans.
Peak District Hostel Etiquette
You should be mindful of noise levels, and respecting communal spaces. Remember, you share your space in a hostel, so you'll need to think about this when using communal areas.
If you're in a shared room, it's even more crucial to be considerate. But this shared space also gives you the opportunity to meet some new people and maybe make some new friends.
Conclusion
Exploring the Peak District's stunning landscapes, rich history, and vibrant outdoor activities has never been more accessible, thanks to the selection of YHA hostels strategically spread across the region.
Catering to a range of preferences and budgets, these hostels provide a homely base whether you're seeking a weekend getaway or an extended exploration of the area. From historic charm to activity centres, the offerings are diverse, yet all underscored by the promise of a warm welcome in the heart of England's beautiful countryside.
So pack your hiking boots, bring along your sense of adventure, and embrace the convenience and camaraderie that the Peak District's top hostels have to offer.
Happy exploring!