Most visitors flock to the Peak District to explore its stunning landscapes, beautiful towns, hiking trails and reservoirs.
But the area also boasts some fantastic wild swimming locations.
Taking a dip in these pristine, nature-filtered waters is an experience like no other. Refreshing dip, uplifting and rejuvenating.
So, whether you're a seasoned wild swimmer or a beginner seeking a new adventure, there are plenty of Peak District wild swimming spots to make the most of in this magnificent National Park.
In a hurry? Here's an overview:
Best for Scenic Wild Swimming – Slippery Stones, Upper Derwent offers a picturesque and serene dip in nature's own waterscapes.
Best Family-Friendly Wild Swimming Spot – Youlgreave & Bradford Dale, with its clear, gentle waters and easy access, is perfect for swimmers of all ages.
Best for a Heated Swim with a View – Hathersage Pool, where heated comfort meets the beauty of the Peaks, just steps away from your car.
Is Wild Swimming Safe?
Wild swimming simply refers to swimming in outdoor bodies of water like rivers, lakes, streams and pools. It offers a connection with nature and a sense of freedom.
While wild swimming can be an amazing experience, it does carry some inherent risks that you need to be aware of before you take the plunge.
Some tips for staying safe in the Peak District include:
Check weather and water conditions, including depth and underwater currents, before swimming. Avoid fast-flowing or flooded rivers.
Acclimatise slowly, and don't overestimate your swimming ability. Even in the summer months, there's a risk of cold water shock.
Dry off and warm up quickly afterwards to prevent hypothermia.
Never swim alone. Have a friend with you in case of emergencies.
Wear appropriate footwear to avoid cutting feet from rocks, glass and underwater debris.
Watch out for blue-green algae.
Follow local guidance and avoid restricted areas.
The Peak District National Park states that you aren't allowed to swim in any reservoirs. Also, if you're planning to swim in a river, you're only allowed to do so in designated areas with on-site signage.
While every precaution has been taken to advise on suitable swimming spots in the Peak District, individuals participate at their own risk. Only swim if you feel the conditions are right.
With the necessary safety information out of the way, let's get into the fun stuff!
Best Wild Swimming Spots in The Peak District
Here are some of the best wild swimming areas in the Peaks.
Please note the list isn't in any particular order.
1. Slippery Stones, Upper Derwent
Slippery Stones, located in the Upper Derwent Valley, is a picturesque wild swimming spot in the heart of the Peak District.
It's a fair walk from the main car park at Derwent Dam that will take you up past Howden Reservoir. But it's a lovely walk through woodland, it's not particularly challenging, and it's pram-friendly.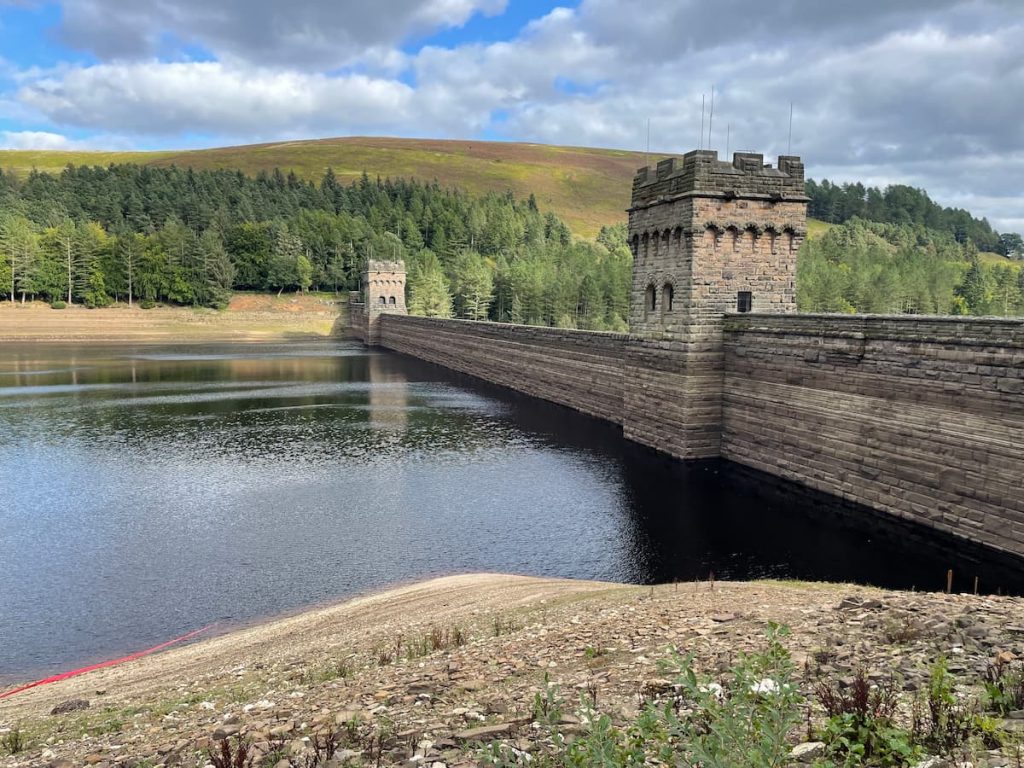 Once you make it to Slippery Stones, take a deep breath, soak up the idyllic scenery and slowly breathe out. Now, you're ready to submerge yourself in tranquil waters.
Thanks to the stones, there are lots of mini waterfalls and plunge pools that add to the relaxed vibes. As the name suggests, take care of the wet stones.
Slippery Stones is, without a doubt, one of the best places for wild bathing in the Peaks.
2. Three Shires Head, River Dane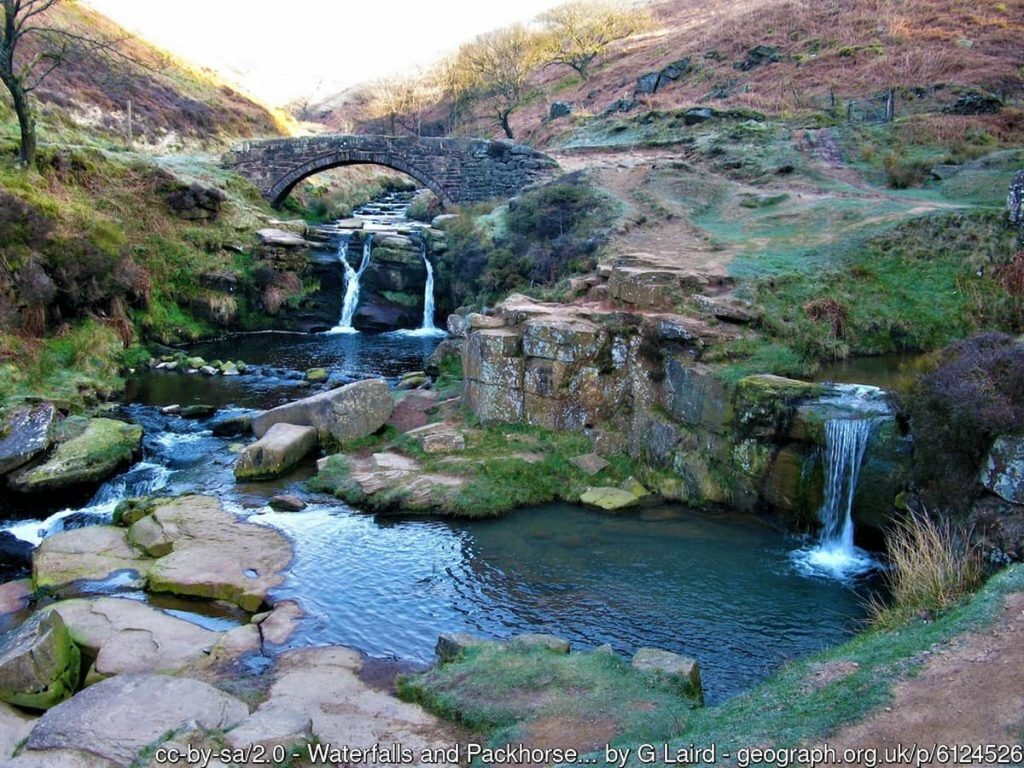 Three Shires Head is a well-known beauty spot within the Peak District. The three heads refers to the point where the counties of Derbyshire, Cheshire and Staffordshire meet.
The Three Shires Head is a top spot for a wild dip. The junction of the River Dane and Black Brook creates a couple of delightful natural pools and waterfalls, all under the view of the pack horse bridge.
You won't be able to properly swim here as the pools are small, but the water is cool, clear and peaceful. There are shallow and deep parts at Three Shires head, plus slippery rocks, so be careful when exploring.
You can view the full Three Shires Head walk to include a nice walk with your dip.
3. Mermaid's Pool, Kinder Scout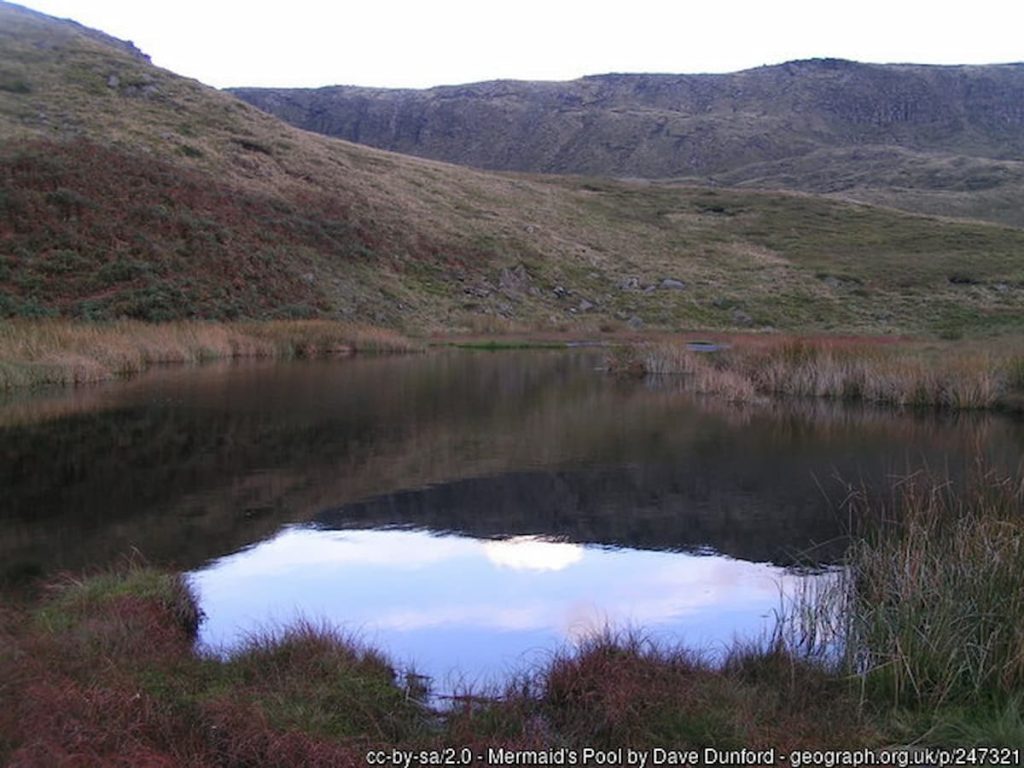 Positioned on the slopes of Kinder Scout, the highest point in the Peak District, Mermaid's Pool is a small, yet legendary bathing location.
Not to be confused with Black Mere Pool, Mermaid's Pool at Kinder Scout is well off the beaten track. It's a difficult trek and not one for the faint-hearted. Once you get near the pool, be warned there isn't a proper path, and it can be boggy. But it's a beautiful walk nonetheless, through woodland, hills and by streams.
The view from the pool itself is breathtakingly good, including scenes of Kinder Downfall, the highest Peak District waterfall. The pool can be a little muddy and silty, so you might want to wear shoes.
4. Hathersage Pool, Hathersage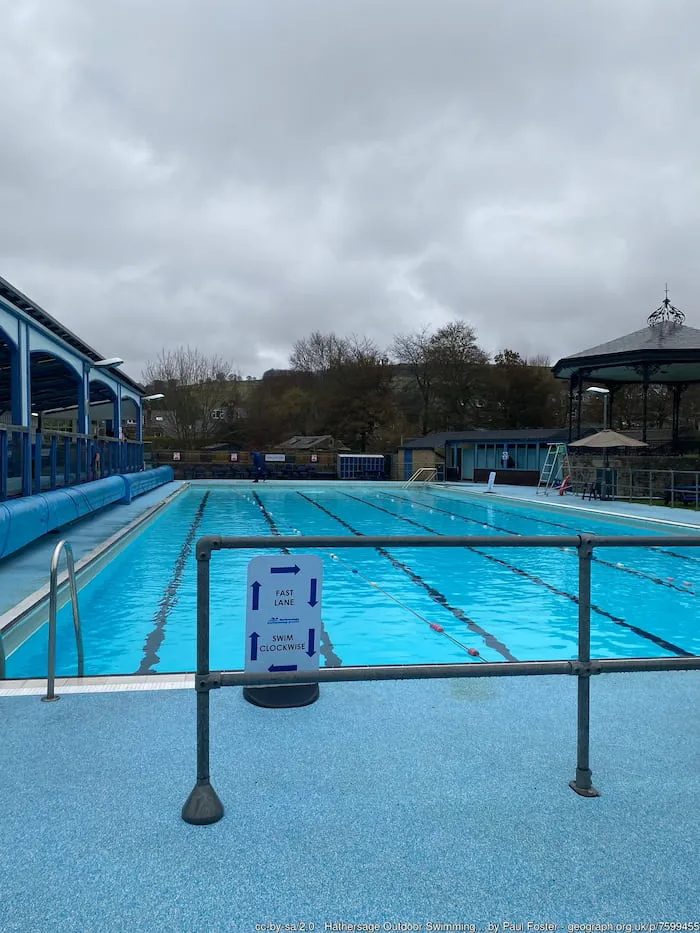 Located in the charming village of Hathersage, this outdoor swimming pool offers a more conventional swimming experience than some of the wild spots on this list. Being open-air, you get great views of the surrounding rolling hills and Stanage Edge.
The pool is heated to 26oC and has a mixture of pre-bookable and pay-on-entry sessions running from early morning till late evening.
You can find the full schedule on the Hathersage Swimming Pool website.
General Admission prices are as follows:
Adult Swim:

£7.50 per session
Aged 18-64

Concession Swim:

£6.50 per session
For 65 years and over, disabled swimmers, and students

Junior Swim:

£4 per session
Aged 4-17
Ages 0-3 years free

Family Swim:

£21 per session
For 2 Adults and 2 Juniors

Aqua Aerobics:

£7.50 per session
Price applies to all

Spectator:

£3 per session
For any age
Hathersage Pool is very family-friendly. There's a good cafe, picnic space, changing facilities and warm showers. If you find yourself in the area, it's well worth a visit.
5. Youlgreave & Bradford Dale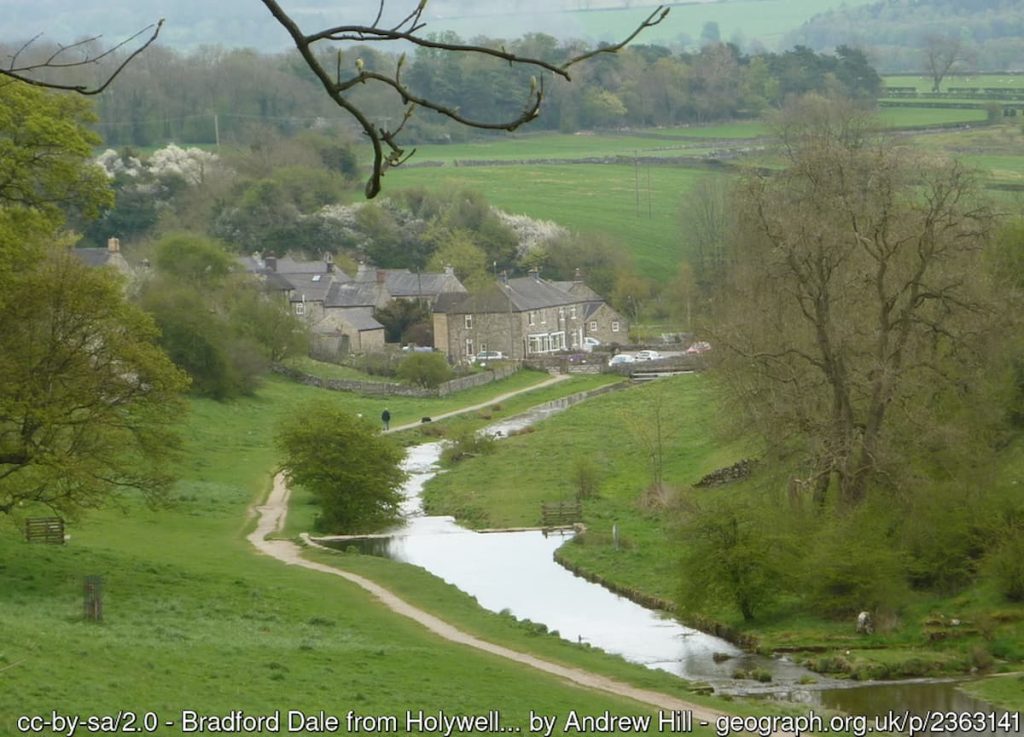 Nearest car park: Limited roadside parking in Youlgreave or a small car park on Alport Lane
Walk time: 2-5 minutes from Youlgreave village
What3Words: ///probing.wedding.nightfall
Around 10 minutes from Bakewell, the Youlgreave swimming spot is located on the River Bradford. At this point, it's a peaceful, winding river that sits between two green banks of grass and trees.
It's a delightful area for paddling and a bit of swimming.
Thanks to the flowing nature of the river and the limestone rocks underneath, the water is clear and fresh. Although a little chilly, it makes for an invigorating, life-affirming swim!
The swimming spot at Youlgreave, sometimes written as Youlgrave, is a designated swimming area, suitable for families and all ages.
The village itself has a great playground on the outskirts for the kids and a few pubs for the adults.
6. Padley Gorge
Nestled in a stunning wooded valley, Padley Gorge is the place for a cool, relaxing paddle.
You won't be able to have a full swim here as Burbage Brook is too shallow, but you'll be able to soak up the stunning surroundings. A little further up into the woodland, you can also find mini waterfalls and rock pools.
When the sun's out, it's a popular spot with families as there's plenty of room for picnics.
You can access Padley Gorge from the Longshaw Estate, or you can park at Surprise View and walk the path that takes you past the majestic Owler Tor – one of my favourite parts of the Peaks.
7. Sparth Reservoir, Yorkshire
Nearest car park: Limited parking next to the reservoir
Walk time: Less than 5 minutes from car park
What3Words: ///cornering.tribes.inhaler
Situated right on the northern edge of the Peak District, Sparth Reservoir is a go-to spot for wild swimmers of all abilities. It's a good-sized reservoir and up to 4.5 metres deep in places. For these reasons, you may find paddleboarders and kayaks on the water, too.
For swimmers, it has easy stepped access and a water temperature that's not too cold. As it can get busy at Sparth, it's best to visit in the mornings or mid-week if you can.
8. Black Mere Pool, Staffordshire (SWIMMING NO LONGER ALLOWED)
Nearest car park: No car park but free roadside parking
Walk time: 1-2 minutes (pool is next to the road)
What3Words: ///disco.obvious.supposed
Black Mere Pool, sometimes known as Blackmere Pool or Black Mere Pond, is a rather mysterious spot for a wild swim.
It's surrounded by beautiful landscapes and tales of folklore. Legend has it that a mermaid occupies the waters, with a last recorded sighting in the mid-19th century. This accounts for the pool's other name, Mermaid's Pool, which isn't to be confused with another Mermaid's Pool below.
This small body of water is located in the southwest corner of the Peak District, offering fine views of the Roaches. If you're brave enough, the sunset from this spot is stunning.
The water may not look the clearest, and there may be submerged objects in the pool, but if you can see past that, it's very pleasant. Just a note: there are new signs from the MOD stating that swimming isn't allowed here.
And there you have it, my 8 top spots for swimming in the Peak District. If you do fancy a dip, please make sure you take adequate precautions and plan ahead to make your experience as good as it can be.