Peak District is well known for its popular climbing locations boasting some of the best climbing spots in the UK. We will help guide you through the different difficulties, locations, courses and experience days.
The most popular locations to climb in the Peak District include Stanage Edge, Froggatt Edge, Curbar Edge, and Burbage. The climbing routes vary from easy to hard, so you should choose your location based on skill level. All of the routes chosen here are a short walk away from a car park, ensuring that they are all easily accessible.
Locations for beginners and children
Burbage South Boulders
For the younger kids, Burbage South Boulders has plenty of boulders to climb over. The primary benefit for Burbage South is the wide variety of difficulties, it will make a great day out for the whole family. You can park on the A6187 on the roadside and from there it is an almost entirely flat short walk to reach the boulders. For the little ones, there are a variety of smaller boulders to climb over and hang onto, for the older ones – a small walk away – is the south edge with mid to high grades. The flat surroundings make it ideal for a picnic with beautiful landscape and views.
Windgather Rocks
Perfect for a beginner lesson, Windgather rocks is a gritstone crag with plenty of easy climbs and enclosed areas to practice. You'll find Windgather Rocks just off South Side Lane, High Peak. It is a really popular area for those wanting to start out learning how to boulder. Almost all of the climbs are rated easy and often frequented by tour groups.
Locations for advanced climbers
Stanage Edge
Stanage Edge is a Gritstone cliff located inside of the Peak District. The area is best known as one of the best locations in the UK for climbing. Read more about Stanage Edge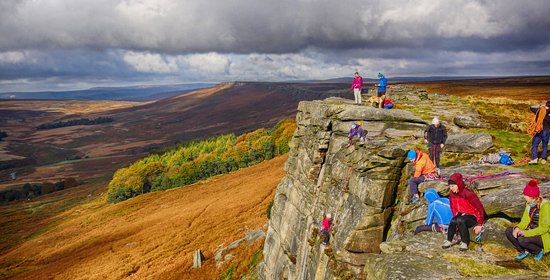 ---
Froggatt Edge
With over 160 routes Froggatt Edge is well suited for repeated trips making it the second most popular climbing location for slabs and crack climbs. Froggatt Edge is popular for walkers and rock climbers alike. If you are interested in taking a walk to Froggett Edge have a look at our Curbar to Froggett Edge walk from the south side (Curbar edge) to the north side (Froggett Edge) and climb both!
---
Curbar Edge
One to not be taken lightly, Curbar Edge is well known for its difficult climb up 330m of gritstone. With climb names such as Profit of Doom, Don't Slip Now and Insanity, I would rather you than I! Curbar Edge is to the south of Froggatt Edge and is the most challenging climb on our list. Just like its northern counterpart, it is very popular for both walkers and climbers. It is easy to access via a car park to the south called Curbar Gap car park, however, be sure to arrive early as the car park fills up quickly. Curbar Edge is featured on our Top 10 Peak District Walks.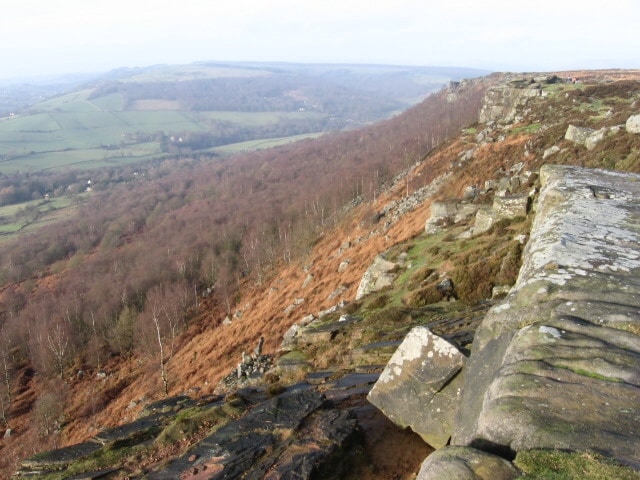 Burbage North
One of the two Burbage climbing clifts the north side of Burbage has a wide range of climbs and difficulties which makes it one of the most popular places to climb in the summer, be sure to get their early or expect a long wait. If it is too busy, you can try the south side, however, the routes are significantly more difficult. You do find a lot of lessons happening here, however, they tend to stick to one area. A short walk further down will typically find you some space.
Experience days and lessons
Blue Moutain Activities
Blue Mountain Activities offer rock climbing, high ropes, and rock scrambling in and around the Peak District. Visit Blue Moutain Activities.
Lost Earth Adventures
Lost Earth Adventures offer climbing and bouldering for all ages at Stanage Edge, Burbage Rocks, and The Roaches. Click here to visit Lost Earth Adventures
---
Peak Climbing School
Peak Climbing School offer lessons for beginners, intermediate and advanced climbers. They offer both outdoor climbing and boulders. Click here to visit Peak Climbing School.