The idea of a multiday walking holiday might put the fear of God into you, but it shouldn't. Not if you go about it the right way.
Aim to walk a manageable 10-12 miles a day and make sure your route is mainly offroad and involves ambling through as many quaint villages and past as many country pubs as possible. Follow these rules, and you'll do just fine, take my word for it – I'm living proof.
One such hike that fits this criteria perfectly is the majestic Limestone Way. A meandering route through the rolling hills and dipping dales of the Peak District National Park.
This hike gently showcases all the stunning beauty England's oldest national park has to offer without breaking your body along the way.

You will meet many woolly friends on the way. The Limestone Way near Dovedale.
About the Limestone Way
Location of the Limestone Way
The Limestone Way is a winding 46-mile waymarked route between the town of Rocester in Staffordshire and the pretty village of Castleton in the heart of the Peak District.
History of the Limestone Way
The Limestone Way was the brainchild of the good folk at the Rotary Club in Matlock. The idea was born in the early 1980s, and after a little bit of work route planning and getting the relevant local council forms filled in and stamped, the route opened for business in the summer of 1986.
The Limestone Way's distinctive ram's head logo was even designed by a member of the Rotary Club. Thanks, Rotarians!
If you're thinking that Rocester is a little bit of a random terminal point, as it's neither in the Peak District nor the Derbyshire Dales. You wouldn't be alone. Originally the route only ran from Matlock to Castelon.
The extra Tissington/Dovedale and Rochester leg was added later on in 1992 as a means to join the Limestone Way to the Staffordshire Way. Thereby allowing long-distance hikers to continue their merry way off-road on way-marked trails for as long as they please.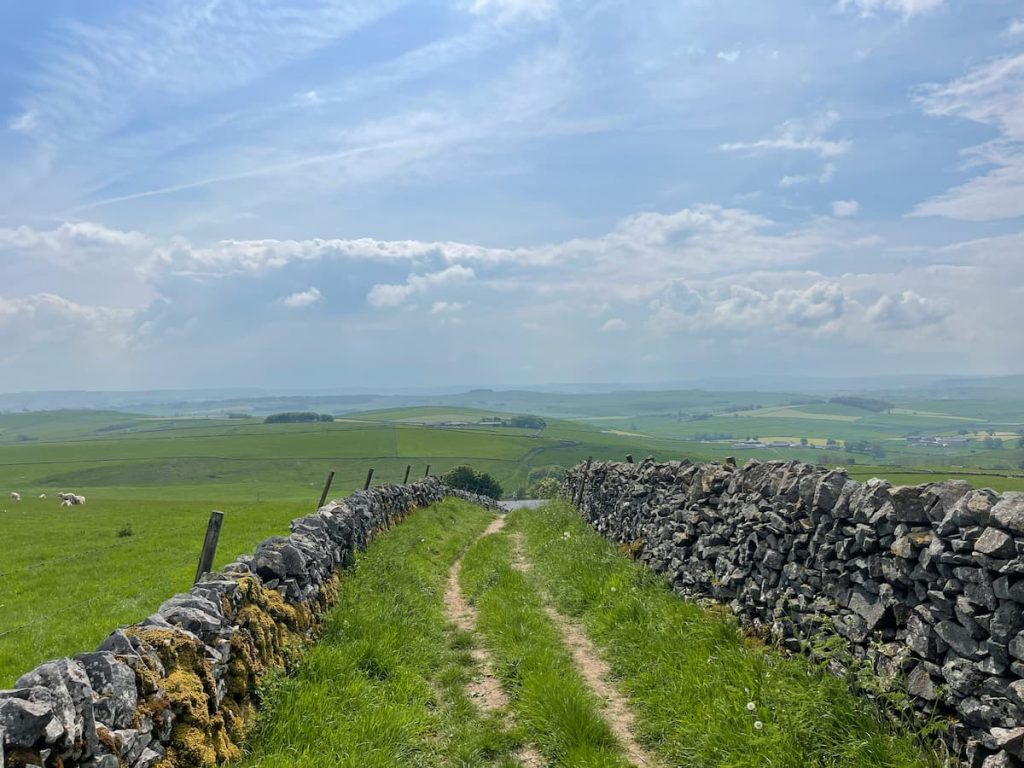 A typical Peak District view near the top of Bradwell Moor.
Walking the Limestone Way
Preparing for the Limestone Way
Don't let the peak part of the Peak District scare you too much; the Limestone Way cleverly meanders around most white peaks rather than taking them head-on. The highest point of the entire hike is the 471-metre-high Bradwell Moor. Which is more of a trudge than a steep climb.
So, in terms of preparation, there's no need to do any hardcore training. If you are of average fitness and your feet are in good shape, you will be able to enjoy this four-day hike. All you really have to prepare is where to stay en route.
Accommodation Options
One of the joys of hiking in the UK is you are never too far from a welcoming inn, B&B or Youth Hostel. Dovedale, Tissington, Matlock Bath, Monyash and Castleton all have a range of beds to suit most tastes and price ranges. From experience, I can recommend the following:
The Izaak Walton Hotel, Dovedale
1 Coach House Mews, Matlock Bath
Sheldon House, Monyash
YHA Castleton, Castleton (Or YHA Youlgreave)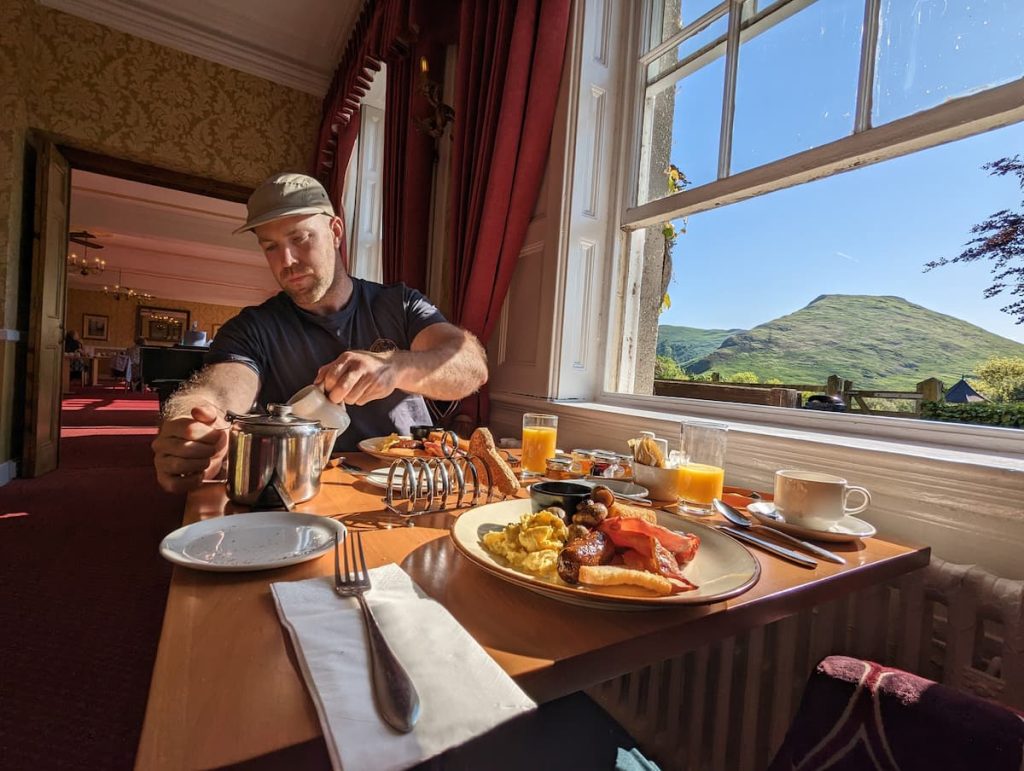 Full English at the Izaak Walton. Quite the spread.
Recommended Route Profile
We followed the official way-marked Limestone Way. For the most part, the footpaths and bridleways were very well signposted, but just to be safe, we followed the route along using our trusted Alltrails app.
Alternatively, you can use the official OS Map, as seen below:
Download file for GPS
It's advised you should also pick up physical copies of the maps just in case. Because the walk is over a vast distance, it covers 3 OS Explorer maps, which are 259 (Derby), OL1 (Dark Peak) and OL2 (White Peak).
Key towns along the Route (South-North)
1. Rocester
2. River Dove at Ellastone
3. Ellishill Brook (Near Ashbourne)
4. Dove Dale
5. Thorpe (Next to Thorpe Cloud)
6. Tissington & Tissington Trail
7. Parwich
8. Brassington
9. Ible
10. Bonsall
11. Matlock
12. Winster
13. Youlgreave & River Bradford
14. Lathkill Dale
15. Monyash
16. Flagg
17. River Wye at Miller's Dale
18. Peter Dale
19. Hay Dale
20. Cave Dale
21. Castleton, Hope Valley
Other key Landmarks Include:
Civil War redoubt (military defence) at Tissington
Tissington Hall
Carsington Water
Cratcliffe Rocks with its hermit cave
Nine Stones Close, Bronze Age stone circle
Lomberdale Hall
One Ash Grange
Five Wells chambered tomb
Wye Valley SSSI
Twin railway viaducts at Millers Dale railway station (Along the Monsal Trail)
Hay Dale
Ruins of Peveril Castle
Tips for Walking the Limestone Way
Tip 1: Hike South to North
While most online guides describe the Limestone Way as starting in Castleton and being walked from north to south, my key tip is to ignore this advice and instead reverse your route. Begin your journey in the south at Rocester and walk north.
The scenery becomes much more spectacular around the northern terminus in Castleton compared to the area near Rocester. By hiking from south to north, you can be assured that your hiking days will only become more beautiful.
Tip 2: Take a Rest Day in Matlock Bath
Located roughly at the halfway point, Matlock Bath is a wonderfully quirky town. It's a seaside town situated 60 miles from the sea, boasting an abundance of chip shops, ice cream parlours, and arcades.
Nestled along the banks of the River Derwent and overlooked by the famous Heights of Abraham, this town has been welcoming visitors since the 17th Century, when the discovery of natural springs made it one of England's first true tourist destinations.
If you happen to be in town on a summer Sunday, you will also have the pleasure of witnessing hundreds of leather-clad bikers rumbling slowly into town to enjoy an ice cream – an extraordinary spectacle.
Planning Your Trip
Suggested Number of Days for Walking
Most sensible hikers will take four days and three nights to amble the winding route of the Limestone Way. Some energetic hikers will cover the distance in just two or three long days.
While some trail runners smash out the entire lot in one go. Nutters, but very impressive, you have to admit.
As I mentioned in the intro, I've found around 10-12 miles to be the optimal distance for an enjoyable multi-day hike. The Limestone Way is 46 miles (74km), so over four days, that averages out to about 11.5 miles a day. Perfect.
This distance works out at about five to six hours of hiking time each day, allowing you plenty of time to appreciate your full English breakfast fully and still have enough time to lean on a few drystone walls and sit on a few stiles en route.
Best Time to Visit the Limestone Way
Thanks to easy navigation and well-trodden paths, you will have no issues hiking the Limestone Way all year round. The Peak District is magnificent no matter what the weather. That said, the long days and warmer temperatures of the summer months would be my particular preference.
Whenever you choose to explore the Limestone Way, you're sure to find the beauty and charm of the Peak District intoxicating.